Texas vs. Arkansas Football 2014: TV Channel, Start Time, Betting Odds, Prediction For Texas Bowl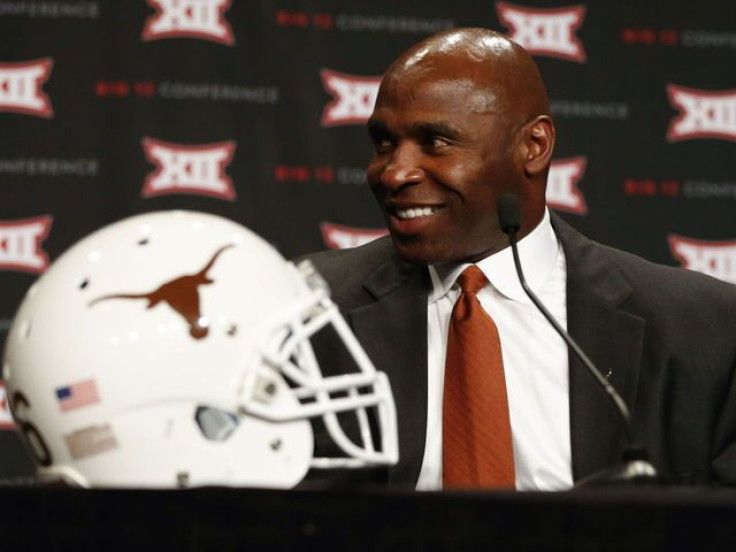 The Texas Longhorns (6-6 overall; 5-4 Big 12) and Arkansas Razorbacks (6-6 overall; 2-6 SEC) barely qualified to continue playing after the regular season, but the two teams will meet in the AdvoCare V100 Texas Bowl on Monday Night. It's a matchup between two storied college football programs that are looking to return to better days.
For much of the year, it looked like Texas might fall short of reaching a bowl game. The Longhorns lost five of their first eight games and were barely competitive in a few of their defeats. After a 38-7 season opening win against North Texas, the team lost by 34 points in a home game against BYU. Texas went on to lose by 21 points to Baylor, and the team was shut out in their visit to Kansas State.
The Longhorns, however, did have a few bright spots this season, which helped them qualify for the bowl game. Before losing 48-10 to then-No.5 TCU in their last game, Texas had won three consecutive games. Most notably, the team had an easy victory over then-No.23 West Virginia. The win was the Longhorns' first over a ranked opponent in 2014, after losing four games to teams in the top 25.
The Razorbacks' season was very similar to that of the Longhorns. Arkansas had a .500 record, but most of their losses came against some of the top teams in the nation. Bret Bielema's squad finished last in the SEC West, which proved to be the best division in all of college football.
All of the Razorbacks' losses came against opponents that were ranked at the time, and no team that they lost to was ranked lower than No.17 when they played them. After losing by 24 points in the season opener to Auburn, Arkansas came dangerously close to upsetting national championship contenders. They lost to then-No.6 Texas A&M in overtime, and fell to Alabama by just one point. In between seven-point losses to Mississippi State and Missouri, Arkansas defeated LSU and Ole Miss by a combined score of 47-0.
A top defense is the reason why Arkansas will be playing Texas on Monday. Allowing 20.3 points per game, the Razorbacks own the No.17 scoring defense in the country. They held five ranked opponents to 21 points or fewer.
Texas will play in a bowl game, despite having an offense that has been anemic at times. The Longhorns rank 104th in the nation, scoring 22.6 points per game. They were held to 10 points or fewer on four different occasions in 2014.
Arkansas averages nearly 10 more points per game than Texas, utilizing Jonathan Williams and Alex Collins, who have each rushed for over 1,000 yards. The Longhorns are without a running back who has totaled 700 yards this season, but Charlie Strong's offense has used Malcolm Brown and Johnathan Gray for a combined total of 317 carries for 1,311 yards and 13 touchdowns.
Sophomore quarterback Tyrone Swoopes has had his ups and downs, throwing for 2,352 yards, 13 touchdowns and 10 interceptions. Nearly half of his yards have come on passes to senior John Harris, who will be playing in his final contest with the team. The wide receiver leads the team with 64 catches for 1,015 yards and seven touchdowns.
In their last meeting in Sept. 2008 in Austin, Texas trounced Arkansas, 52-10.
Start Time: 9 p.m. ET
TV Channel: ESPN
Online Stream: WatchESPN
Point Spread: Arkansas by 6.5 points
Over/Under: 44.5 points
Prediction: Arkansas over Texas, 24-17
© Copyright IBTimes 2023. All rights reserved.