Thai Protesters Cut Power, Water To Prime Minister Yingluck Shinawatra's Office; Military Chiefs To Meet With Protest Leader On Weekend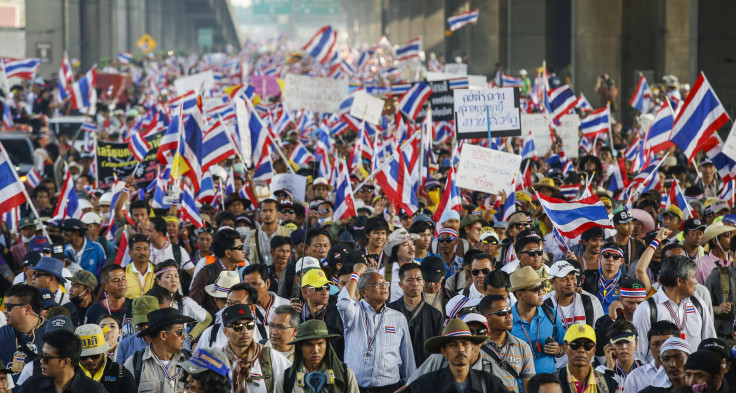 Thai anti-government protesters cut off electricity and water supply to Prime Minister Yingluck Shinawatra's office compound on Thursday, while Thailand's military leaders agreed to meet with the leader of the protesters, Suthep Thaugsuban, over the weekend, in a sign of escalating political tensions in the Asian country.
Yingluck has set a date for a snap election on Feb. 2, but her move has done little to appease the protesters who are demanding the setting up of an unelected "people's council," because of fears that a nationwide vote could return the ruling party back to power.
The massive protest movement includes supporters of the monarchy and the urban middle class who dislike former Prime Minister Thaksin Shinawatra, the powerful billionaire brother of Yingluck. Thaksin is a highly polarizing figure in Thai politics, who commands massive support from the rural poor, but the protesters argue that the nation's poor are not educated enough to make responsible choices in a corrupt political system.
The Thai military issued a statement late on Thursday saying protest leader Thaugsuban has been invited to meet with the heads of armed forces on Saturday "to find a way out for Thailand," Reuters reported. The statement said other "stakeholders" would also participate in the meeting, without elaborating.
It remains unclear whether the military's willingness to meet with Suthep signals its support for the movement because, earlier on Thursday, the military had rejected Suthep's demand to meet with him on the same day, according to Reuters.
Yingluck said, in a televised address on Thursday, that the government would hold talks on Sunday "with representatives of all sectors of society" to frame proposals for political reforms in Thailand after the February polls, Associated Press reported. Yingluck was not present at her office and made the announcement from an undisclosed location.
Meanwhile, Suthep has called on police and civil servants to protest against the government by not reporting to their jobs.
Suthep, who met with business leaders on Thursday to garner support for the movement, said the people's council will consist of about 400 members from all sections of society, excluding politicians, and stressed that he would not play any role in the council and would retire from political life once the council is set up.
© Copyright IBTimes 2023. All rights reserved.