Thai Protesters Storm Army Headquarters And Ruling Party Offices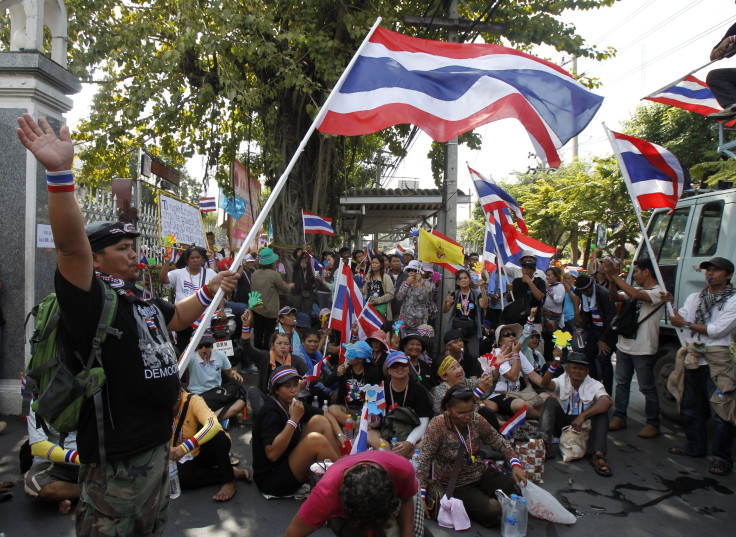 Anti-government demonstrators in Thailand, in a serious escalation of the protest movement, stormed the army headquarters and offices of the ruling party on Friday, signaling intensifying political tensions in Bangkok aimed at toppling Prime Minister Yingluck Shinawatra's administration, a day after she survived a no-confidence vote in parliament.
The disgruntled protesters belonging to varied social backgrounds, including city-dwelling middle class and supporters of a monarchy, are united in their opposition toward former Prime Minister Thaksin Shinawatra, the powerful brother of Yingluck and a highly divisive figure in Thai politics.
Protesters, led by Suthep Thaugsuban, who was the deputy prime minister in 2010 when the government ordered a crackdown that killed dozens of protesters, call for an end of the "Thaksin regime," which they propose to replace with an unelected "people's council."
Thaksin, the first Thai prime minister to lead an elected government through a full term, has been stripped of $1.4 billion in family assets over allegations of corruption, but he remains massively popular among the rural poor, mainly due to his policies that offered cheap medical care and debt relief, and his contempt for Bangkok's influential elite. He was ousted in a military coup in September 2006, following which he has been living in self-imposed exile in London and Dubai. Despite his absence on the ground, Thaksin is one of the key decision-makers of the ruling Puea Thai Party.
A protester, among thousands who had gathered inside the army compound in Bangkok, said: "We want to know whether the army will stand by the people not a dictator," Agence France-Press reported. Demonstrators, who have carried out peaceful protests so far, had earlier cut off electricity to the national police headquarters.
However, compared to about 180,000 people who took part in an opposition rally on Sunday, the protesters' numbers had fallen significantly by Friday, even as their spirits were kept up with "free food and a party atmosphere," AFP reported.
© Copyright IBTimes 2023. All rights reserved.