Through A Haze Of Tear Gas, Brazil Looks Ahead To World Cup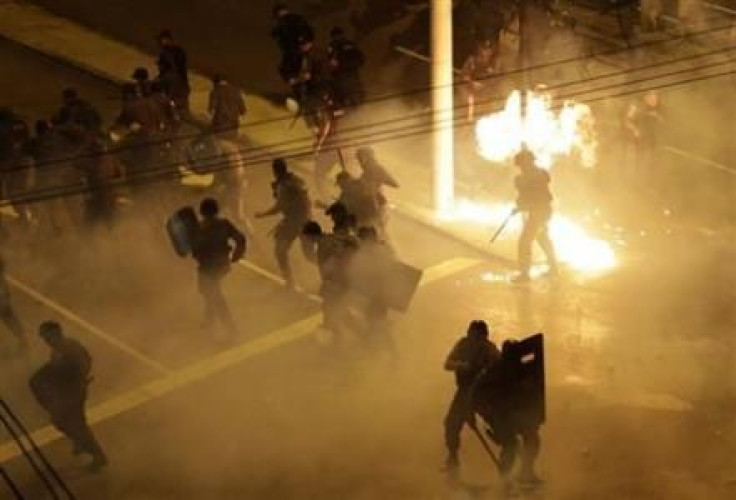 This year's Confederations Cup will mostly be remembered for the chants heard outside Brazil's stadiums, not in them, and those voices aren't likely to fade away as the World Cup approaches.
A test-run for next year's much larger event, the eight-team tournament served as the backdrop for a wave of protests, the likes of which had not been seen in Latin America's largest country for over 20 years. The unrest largely overshadowed some memorable soccer, prompting many Brazilians to dub this year's event the "Demonstrations Cup."
After a two-year run of mediocrity by the Brazilian national team, few expected the host nation to dazzle on the field. Brazilian officials were more focused on using the Confederations Cup to showcase Brazil as a stable, up-and-coming economic power.
Almost nothing turned out as expected. On the field, Brazil restored its reputation as a soccer superpower by crushing reigning world championSpain in the final. Off the field, however, the event was a public relations disaster that spotlighted Brazil's still vast social inequalities and economic imbalances.
The unrest also raised serious doubts about next year's World Cup. While the protests have diminished in size and frequency, some Brazilians are setting their sights on the much higher-profile World Cup, seen by many as a symbol of corruption and government waste in light of Brazil's woefully poor public health and education systems.
"I'll do without the Cup, what I want is more money for health care and education!" and "There will be no Cup!" were among the slogans heard at a small but violent protest outside the Confederations Cup final in Rio de Janeiro on Sunday.
Brazilians had used the soccer tournament as a stage from which to vent their grievances at the government, which range from corruption and poor public services to high bus fares. Clashes often took place outside stadiums as fans made their way to the games, the smell of tear gas hanging in the air.
One fan notably missing from Brazil's victory celebration was President Dilma Rousseff. Booed at the opening match, the tournament became a political liability for Rousseff, who saw her popularity plunge in the wake of protests that drew over a million people in more than 100 cities at their peak last month.
Rousseff's administration has scrambled to address the protesters' key complaints ahead of what is likely to be a hotly-contested election next year in which she is expected to run for a second term. Efforts include earmarking more money for public transport and a non-binding plebiscite to ask Brazilians how they would like to see the political system changed.
PUBLIC OPINION TURNING
But that is unlikely to prevent protests next year.
"We are planning many more protests from now until the cup," said Talita Gonsales, an activist from Sao Paulo's People's Cup Commission, which aims to call attention to a range of grievances around the event, including the misuse of public funds. "We are not against the cup, we like soccer, we like to cheer for Brazil, but the way things have been done is absurd. We can't shut our eyes to what is happening."
Hosting the World Cup has been a point of national pride for most Brazilians since the nation was given the nod by soccer's governing body FIFA in 2007. At the time, the event was considered another symbol of Brazil's arrival on the world stage during a run of strong economic growth.
"We are here taking on a responsibility as a nation, as a Brazilian state, to prove to the world that we have a growing and stable economy, and that we are among the countries that have conquered stability," former President Luiz Inacio Lula da Silva said at the official announcement.
While the country's economy grew steadily until 2010, it has since cooled, and so has support for the Cup, even in this soccer-crazed nation.
A poll released on Sunday showed that Brazilians are increasingly divided on whether the World Cup will bring more benefits than problems to Brazil. Those in favor of hosting the event have fallen to 65 percent from 79 percent in 2008.
"I see the good and the bad," said Marina Polonca, a street vendor stopping at an anti-World Cup protest in Sao Paulo on Sunday. "It would be good to generate work for young people, but the expenses are terrible," she said, pointing to the homeless men on the steps behind her. "How many of these people don't have a place to live? How many did not receive an education?"
RACE AGAINST THE CLOCK
Many protesters have taken to the streets to express anger over the $14 billion price tag for hosting a one-month long soccer tournament, a bill that keeps creeping higher.
Part of the appeal of hosting the tournament was improvements it would bring, such as urban mobility, refurbished airports and new roads. But many of those projects are late, over-budget, or never got off the drawing board.
Last week demonstrators kicked 594 soccer balls, the number of federal legislators, at Brazil's Congress in protest.
"The bad news is there is not really much that the administration can do to deliver on all these demands," said Christopher Garman, lead Brazil analyst with consulting firm Eurasia Group in Washington, citing the "deep-seated bureaucratic and institutional hurdles" to get those infrastructure projects off the ground.
While policymakers may not be able to offer quick solutions to Cup-related grievances, the scope of next year's demonstrations will depend on the government's ability to develop an agenda that shows Brazil is heading in the right direction, Garman added.
(Additional reporting by Lucas Iberico-Lozada in Sao Paulo and Mike Collett in Rio de Janeiro)
FOR FREE to continue reading
✔️ Unlock the full content of International Business Times UK for free
offer available for a limited time only
✔️ Easily manage your Newsletters subscriptions and save your favourite articles
✔️ No payment method required
Already have an account? Log in
© Copyright IBTimes 2023. All rights reserved.