Thunder's Durant Would Choose Wizards Over Heat: Report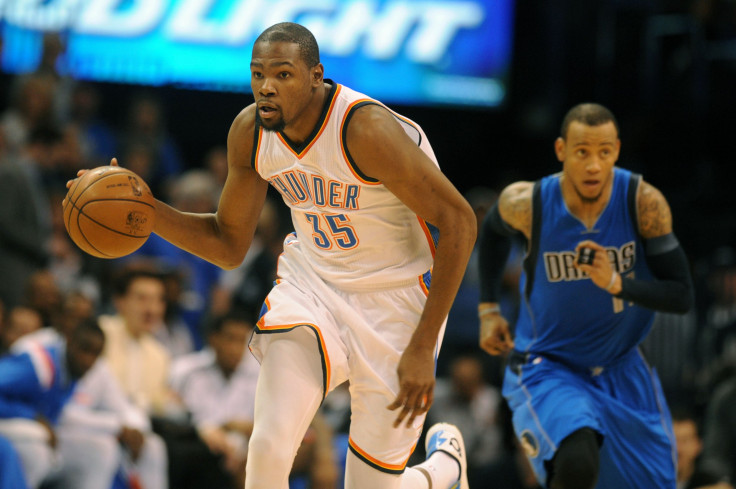 With one more season remaining on his contract with the Oklahoma City Thunder, Kevin Durant is already sparking rumors about whether he'll pursue free agency in the summer of 2016. One report states that if he chooses to leave the Thunder, he'll sign with the Washington Wizards -- not the Miami Heat.
"One of Durant's associates in South Florida has been telling me for months that if Durant leaves the Thunder it would be to return home to Washington," Sun Sentinel writer Ira Winderman wrote when asked if the Heat have a chance of landing one of the NBA's best players. Durant was born in Washington, and attended high school in Maryland and Virginia.
Winderman, who has been a Heat beat writer for years, warned that there are "too many variables" in play before the 2016 free agency happens. This includes pending contract extensions -- not only for Miami's Dwyane Wade but for other key cogs in the Heat's future, including Hassan Whiteside and Goran Dragic, who will hit free agency in 2016 and 2015, respectively. Recent reports stated that Wade and the Heat are far apart in contract talks.
According to reports, Miami has a lowball offer of about $10 million per year while the 12-year veteran wants an extension of roughly $20 million per year. There is no assurance that Durant will leave Oklahoma City, which is still primed to be one of the top contenders next season with a lineup that features Durant, Russell Westbrook and Serge Ibaka.
The Durant-chasers -- the Wizards and Heat -- both have an opportunity to clear some cap space by the 2016 offseason. Washington has young guns John Wall and Bradley Beal as their key players, while the Heat will have veteran Chris Bosh and, depending on the contract negotiations, Whiteside, Dragic and Wade.
© Copyright IBTimes 2023. All rights reserved.