Thurman Makes Crazy Bet On Himself To KO Pacquiao Within 2 Rounds
There is no question that Keith Thurman has youth on his side although it remains to be seen if that would be enough for him to pull off an impressive win against eight-time division champion Manny Pacquiao. Still undefeated, One Time believes he has everything going for him and believes he can dispose of the Pac-Man in the first or second round. He is so confident that he even placed a $10,000 bet on himself so that he can get additional money after their fight set for July 20.
Thurman and Pacquiao will be facing each other at the MGM Grand in Las Vegas in July with the former 100-percent sure he will come out on top. The said bet, he claims, is to put added pressure on his end so that he gets extra motivation to finish the fight early, TMZ Sports reported.
"That's motivation! I can't go 3 minutes going 'tap, tap, tap' when I got $10k on the round!" said Thurman in that interview.
Thurman remains undefeated so far. However, he did not exactly leave a good impression in his last fight with Josesito Lopez back in January. While he won via decision to retain the WBA Super Welterweight title, it remains that it was not one of his best performances. In fact, boxing critics felt that Thurman was lucky to escape with a win.
Regardless, the 30-year-old believes he can put on a better show compared to what Adrien Broner gave back in January as well. Broner lost via unanimous decision in what most felt was a lopsided fight. Thurman feels that The Problem lacked the offense against Pacquiao and that it will be a different story when the two meet in the boxing ring next month.
"I'm younger. I'm gonna let my hands go in a way that Adrian Broner didn't," said Thurman in the same interview with TMZ Sports ... "I'm gonna make it a fight!"
For his part, Pacquiao is busy in deep training against Thurman. The Filipino boxing icon continues to rely on the same formula that has worked for him over the years, Manila Bulletin Sports reported. That includes a mix of sparring, light morning workouts that include jogging and other conditioning exercises as he powers up for his younger and undefeated opponent. Even at 40, Pacquiao has shown he still possesses lightning-quick speed in his punches – something that Thurman may want to pay attention to if he is to accomplish his mission of sending the Pac-Man into retirement.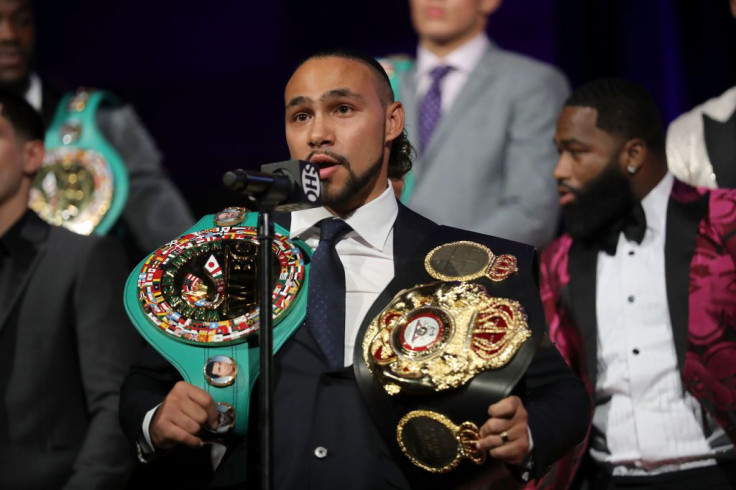 © Copyright IBTimes 2023. All rights reserved.