Thursday Night Football 2014: Are NFL Blowouts Affecting Ratings? How Many People Are Watching TNF?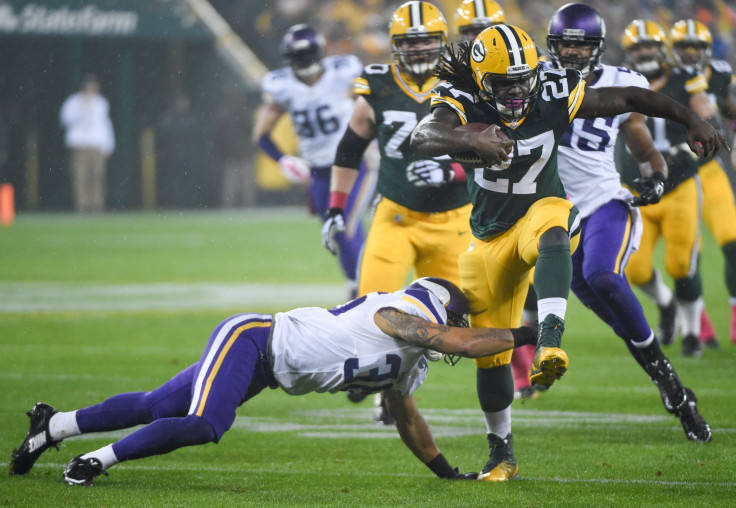 NFL players don't like it and none of this year's games have been competitive. While "Thursday Night Football" has had its issues in 2014, the American public is still watching the product in droves, offering further proof that the NFL is a television-ratings powerhouse.
In Week 2, CBS began broadcasting its first of eight "Thursday Night Football" games that are also simulcast on the NFL Network. Halfway through its slate of games, "America's Most-Watched Network" is reaping the benefits of broadcasting an extra night of football. An average of 16.2 million viewers are tuning into the first game of each NFL weekly schedule. The most recent Thursday night game increased CBS's primetime viewership by 33 percent, as compared to last year.
Last Thursday, an average of 16.5 million viewers watched the Green Bay Packers beat the Minnesota Vikings, 42-10. Even though the game was a blowout, CBS still led all networks with a 9.9 rating, surpassing ABC's 7.7 rating, and beating the combined rating of FOX (3.6) and NBC (3.3).
Closer games would likely mean higher ratings for CBS. No contest on Thursday night has been decided by less than 20 points, and tighter scores would improve fourth-quarter viewership. Overall, though, the NFL has done just fine, despite the large margins of victory, viewers aren't tuning out.
In Week 3, the Atlanta Falcons' 42-point thrashing of the Tampa Bay Buccaneers drew an 8.5 rating. Neither of the next two games were close, as they were decided by 31 and 32 points, but both contests had a higher viewership than Atlanta's blowout victory.
Houston Texans running back Arian Foster recently criticized the NFL for making teams play on Thursday, and some have speculated that the short rest is to blame for the poor quality of games. However, last year's results indicate that the first five weeks have been nothing more than a fluke. The last six Thursday night games in 2013 were all decided by seven points or less.
It should come as no surprise that "Thursday Night Football" viewership is exponentially higher in 2014 than it was in 2013. Last year, games were only broadcast on NFL Network, which the New York Times reported was in 72 million homes. In May 2013, Nielsen reported that 115.6 million American homes owned a TV.
The real test will come in Weeks 9-16, when "Thursday Night Football" is broadcast solely on the NFL Network. If the ratings for "Monday Night Football" are any indication, the NFL will see a slight decrease in viewership, no matter how close the games might be. Every home with a television has CBS, and it's a channel that is quite accessible to find compared to cable networks.
ESPN has maintained ratings supremacy on Monday nights, but viewership decreased by 12 percent through the first four games of this year. Three of those games were decided by one possession and they came down to the final plays of the fourth quarter.
The ratings on Thursday and Monday pale in comparison to those of "Sunday Night Football" on NBC, which hasn't been affected by lacking in competitive games. In Week 5, the New England Patriots and Cincinnati Bengals drew a 12.8 overnight rating, up 10 percent from the same time last year. Sunday's game was decided by 27 points, and the previous two Sunday night games were also blowouts.
The NFL's popularity continues to increase, and it will likely take a lot more than a few blowouts to slow it down. Last year's Super Bowl was decided by 35 points, and it still became the most-watched TV event in U.S. history.
© Copyright IBTimes 2023. All rights reserved.