Tianjin Explosions Update: Rain Could Release Poisonous Hydrogen Cyanide Amid Major Cleanup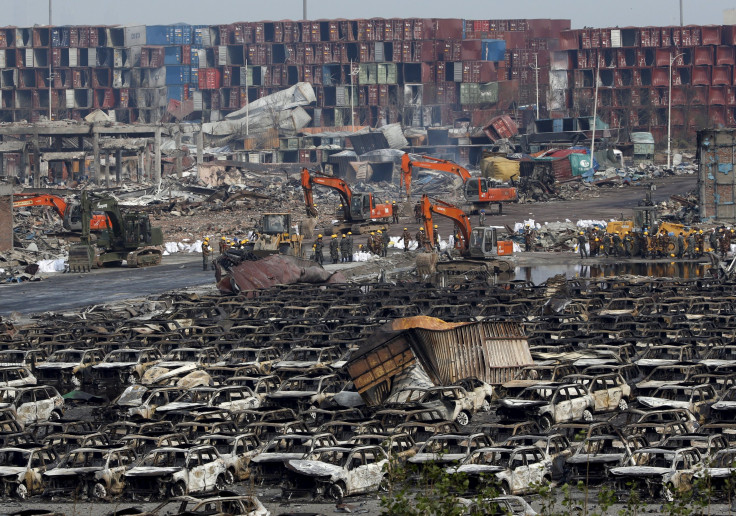 Update as of 7 a.m. EDT: China's securities regulator urged the country's financial institutions to help relief efforts in the port city of Tianjin, which suffered widespread damage from multiple explosions last week, Reuters reported Monday.
Insurance companies are working to set up a 24-hour service to handle claims related to the Tianjin disaster, which could generate total insurance losses of $1 billion to $1.5 billion, analysts from Credit Suisse reportedly said, citing initial estimates.
China Development Bank's Tianjin branch will provide loans to businesses and individuals affected by the blast that has so far claimed the lives of 114 people, a notice posted on the China Securities Regulatory Commission, reportedly said.
Original story:
Environmental officials expressed concern Monday that sodium cyanide exposed by last week's explosions at a warehouse storing hazardous materials in Tianjin, China, could release poisonous hydrogen cyanide into the air if it rains. Storms in the area also triggered fears of more blasts as chemicals in the warehouse could form combustible substances if they come in contact with water.
The death toll from the series of chemical explosions Wednesday night in the Chinese port city rose to 114 on Monday morning, with 70 people still missing. Rescue workers in gas masks and hazard suits were working to clear dozens of tons of sodium cyanide at the site by late Monday afternoon before it rains, authorities reportedly said.
Sodium cyanide is water-soluble, and "if there is rain, it will produce hydrogen cyanide, so we are monitoring it closely," Bao Jingling, chief engineer for the Tianjin Environmental Protection Bureau, said, according to NBC News. Bao added that members of the Army's anti-chemical warfare division were sent to the explosion site Sunday, though the situation "currently ... isn't very serious."
The U.S. Centers for Disease Control and Prevention describes hydrogen cyanide gas as a "rapidly fatal" toxic chemical that reduces the body's ability to use oxygen.
Meanwhile, hundreds of residents protested Monday outside the Tianjin hotel, where officials have held news conferences about the disaster, to demand compensation from the government.
"We victims demand: Government, buy back our houses," a banner carried by the residents read, according to the Associated Press. "Kids are asking: How can we grow up healthy?" read another banner.
"This is not a demonstration. This is simply our only channel to attract the government's attention. Up until now they have not acknowledged us at all," Li Jiao, whose home was close to the blast site, said, according to Reuters.
A 1.8-mile area in Tianjin, southeast of capital Beijing, was cleared Saturday, displacing over 6,000 people as new explosions were heard and fires continued to rage. Another small explosion Monday was reported by Xinhua, a local news network.
Tianjin's Deputy Mayor He Shushan reportedly confirmed late Sunday that about 700 tons of sodium cyanide stored at the warehouse blew up. He said that, "after searching, most was concentrated in the core" blast area.
The blasts caused massive damages while companies in the area were forced to halt production, especially in the automotive sector. Tianjin is China's largest auto import hub.
About 600 of Mitsubishi Corp.'s imported cars may have been damaged due to the blasts, the automaker's China sales subsidiary said, according to Reuters. However, this could not be confirmed as the area surrounding the blast is cordoned off. Renault SA said that nearly 1,500 of its cars had been damaged, while many other automakers, including Volkswagen AG, are yet to release the extent of damages.
© Copyright IBTimes 2022. All rights reserved.
FOLLOW MORE IBT NEWS ON THE BELOW CHANNELS