Tiger Woods At Masters: Does Golf's Top Star Have A Real Chance To Win The Major?
Tiger Woods plans to play in the 2022 Masters and attempt to do what seemed unthinkable only a short time ago. Less than 14 months after a single-car accident nearly ended his career for good, golf's No. 1 star will try to win another major tournament.
Assuming Woods tees off in the first round at Augusta Thursday morning, it'll mark his first official PGA Tournament since November 2020. Coming off a serious injury, Woods believes he can win the 2022 Masters for his 16th major championship.
"I don't show up to an event unless I think I can win it," Woods told reporters Tuesday. "So that's the attitude I've had. There will be a day when it won't happen, and I'll know when that is, but physically the challenge this week is I don't have to worry about the ball striking or the game of golf, it's actually just the hills out here. That's going to be the challenge, and it's going to be a challenge of a major marathon."
It probably shouldn't come as much of a surprise that Woods thinks he can finish atop the Masters leaderboard. The greatest golfer of his generation, Woods has made multiple comebacks throughout his career to regain his position at the top of the sport.
Woods has overcome the very public collapse of his marriage and several serious injuries. At the 2019 Masters, Woods won his fifth green jacket and his first major championship in over a decade. Counting Woods out hasn't proven to be a good idea.
Does that mean Woods has a real chance to win the 2022 Masters?
As improbable as Woods' 2019 Masters championship seemed at the time, winning a sixth green jacket this year would be even more of a shocking achievement. With 14/1 odds on the day before the first round, Woods was given the fourth-best chance to win at Augusta three years ago. Woods is tied for 20th at BetMGM with 50/1 odds to win the 2022 Masters.
Even though it had been 11 years between major championships, Woods entered the 2019 Masters at No. 12 in the world golf rankings. Woods finished sixth and second, respectively, in the last two majors of 2018. He was the runner-up in the 2018 FedExCup standings.
Woods is nowhere to be found in the current rankings because he missed the entirety of the 2021 PGA season. The 2021 PNC Championship in December is the only tournament that Woods has participated in over the last 16 months. Woods and his son Charlie finished in second place at the exhibition event, and the 46-year-old used a golf cart in between holes.
"It's been one of those things where I've had to endure pain before," Woods said Tuesday, admitting that walking the course will be a new challenge. "This is different, obviously. This is a lot more traumatic, what has transpired to my leg. We've had to put in a lot of work. As I said, I'm very thankful to my surgeons and my [physical therapists] and physios that have worked on me and have given me this opportunity to play golf."
Woods' performance in December and reports of his prowess in practice offer some hope that he can be competitive at Augusta. There is even evidence that Woods can hold his own after a long layoff due to a serious injury.
Well before his car accident, four back surgeries derailed Woods' career. He didn't compete in four straight rounds of an official PGA event from August 2015 through December 2017. Woods made his comeback at the Farmers Insurance Open in January 2018, where he tied for 23rd place at three-under-par. Less than three months later, Woods tied for 32nd place at Augusta.
Woods' 50/1 odds to win the Masters are far from insurmountable. Patrick Reed won the green jacket in 2018 with 50/1 odds to start the tournament. A year ago, Hideki Matsuyama started the Masters with 46/1 odds before winning the championship.
Woods' chances of making the cut at the Masters are considered to be a virtual toss-up. BetMGM gives Woods -115 odds to survive the first two rounds and -105 odds to miss the cut.
Woods and golf fans alike are aiming for much more than a respectable showing. Woods thinks he can win the tournament. The 15-time major winner is the most popular bet to win the championship Sunday.
"When I decide to hang it up when I feel like I can't win anymore, then that will be it," Woods said. "But I feel like I can still do it."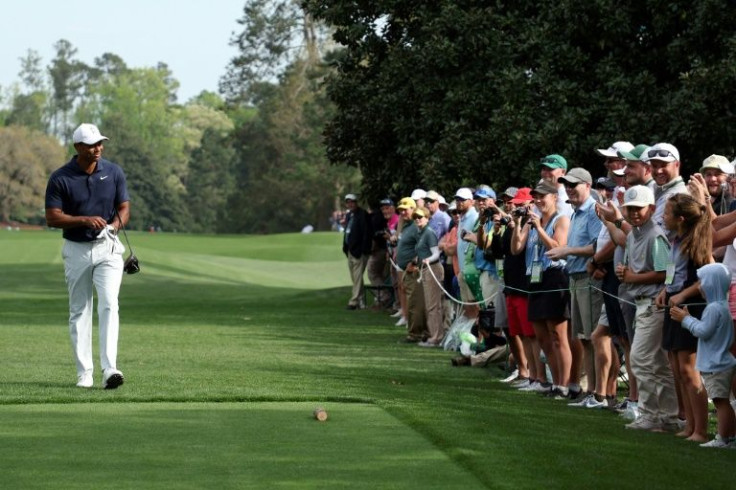 © Copyright IBTimes 2023. All rights reserved.