Tiger Woods vs. Phil Mickelson Odds: Which Golfer Is Favored In A Head-To-Head Match?
Tiger Woods and Phil Mickelson have gone up against each other in countless tournaments over the course of their illustrious careers. Now, it appears that fans might get the chance to see the two golf greats go head-to-head with no other competition in the field.
According to Golf.com's Alan Shipnuck, there have been negotiations for Woods and Mickelson to face off in a prime-time TV special with $10 million on the line. The event was nearly scheduled for July 3 in Las Vegas, though it could happen sometime in the not-too-distant future.
"We're working on a different date," Mickelson told Golf.com Thursday. "I thought it was done for the 3rd but obviously it wasn't."
Talk of a potential Woods vs. Mickelson event began at this year's Players Championship in May when the two greatest golfers of their generation were paired together. Negotiations were reportedly underway when Mickelson indicated that he'd be interested in such a match.
"The excitement that's been going on around here, it gets me thinking: Why don't we just bypass all the ancillary stuff of a tournament and just go head-to-head and just have kind of a high-stakes, winner-take-all match," Mickelson said. "Now, I don't know if he wants a piece of me, but I just think it would be something that would be really fun for us to do, and I think there would be a lot of interest in it if we just went straight to the final round."
If Woods and Mickelson do play in a one-on-one competition, which golfer should be considered the favorite?
Woods has had the more accomplished career. He ranks second all-time with 79 PGA Tour victories and 14 major championships. Mickelson is in the top-10 in total wins, and he's won five career majors.
A lot, of course, has changed in recent years. Woods' last major championship came at the 2008 U.S. Open, and he hasn't won any tournament since the 2013 WGC-Bridgestone Invitational. He won five times in 2013 and was named the Player of the Year.
It took Mickelson 12 years to win his first major, but he didn't fall off like Woods. He won majors in 2010 and 2013. Mickelson finished in first place just four months ago at the WGC-Mexico Championship and has six top-10 finishes this year.
Mickelson currently ranks 20th in the world. Woods is 67th in the world golf rankings.
That might not mean much to gamblers, who always seem to give Woods a shot, no matter how poorly he might be playing. He would open as a -125 betting favorite at the Las Vegas Westgate SuperBook if the match was made official today.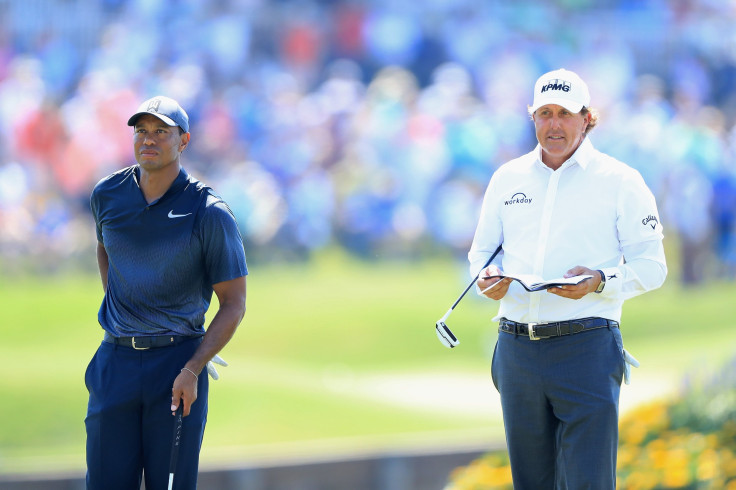 © Copyright IBTimes 2023. All rights reserved.