Tim Tebow News: In Polls, Tebow More Liked Than Russell Wilson, Drew Brees, Other Top NFL QBs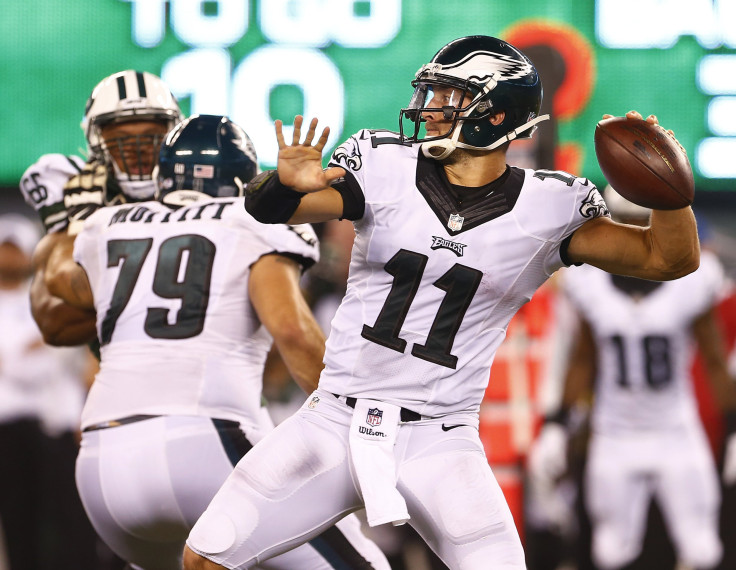 It's been more than three years since Tim Tebow's attempted a pass in the NFL, but the former New York Jets and Denver Broncos star still stands out as the fifth most popular quarterback in the league, according to a study conducted and released by Public Policy Polling earlier this month.
The findings show Tebow beating out established veterans and Super Bowl champion quarterbacks Ben Roethlisberger, Eli Manning, Russell Wilson, and Drew Brees with seven percent of those polled selecting him as their favorite quarterback. The former Heisman Trophy scored the highest with people between the ages of 18 to 29.
Tebow, 28, sits behind only New England's Tom Brady (23 percent), Denver's Peyton Manning (16 percent), Green Bay's Aaron Rodgers (13 percent), and Carolina's Cam Newton (11 percent) as the NFL's most popular field generals.
The findings, however, also showed Tebow to be the second least-favorable quarterback and he again rests behind Brady. Ten percent of participants named Tebow their least-favorite quarterback, with Brady named 29 percent of the time and Newton sitting at third with nine percent.
Released Feb. 5 prior to this past season's Super Bowl and mainly devoted to determining whether fans supported Denver or Carolina in the title game, PPP stated it included Tebow in the study because he's still such a "lightning rod" for controversy and discussion nearly three years after the Jets cut him.
Brady's polarizing effect on the poll makes sense given his Hall of Fame work on the field as well as New England's link to two of the NFL's biggest scandals, but Tebow's effect may have more to do with his work away from football. The Patriots have built a seemingly endless dynasty with Brady under center, claiming four Super Bowls and 13 AFC East titles, but that's also acted as a reason for fans of the NFL's 31 other teams to greatly dislike Brady.
Throw in New England's involvement in the "SpyGate" and "DeflateGate" scandals, and it's much easier to understand Brady's both favorable and unfavorable results in the poll.
Tebow's stem from his perceived hard work ethic, overall underdog-like ability, charity work, and even his religious and political affiliations. PPP added that Tebow's especially popular with Republican voters, with 16 percent of the participants who identified as members of the political party naming him as their favorite quarterback. Tebow tied with Rodgers and was bested only by Peyton Manning's 20 percent favorability amongst Republicans.
Tebow's popularity as a player largely stems from his Heisman Trophy and championship-winning college career at Florida, as well as his status as an underdog given his unorthodox skills under center. Even though Denver selected him No. 25 overall in the 2010 draft, NFL scouts, executives, and media analysts have all been critical of his throwing technique and mechanics and his propensity to run rather than make a play down field with his arm.
Spanning three seasons, Tebow appeared in 35 NFL games and made 16 starts at quarterback for an 8-6 record, 2,422 passing yards, 17 touchdowns and nine interceptions for a 47.9 pass completion rate. He also gave credence to prognosticators by rushing for 989 yards and 12 touchdowns at a rate of 5.0 yards per attempt.
Tebow's biggest moment came in his second season, 2011, when he guided Denver to its then-first playoff victory in six years with an 80-yard touchdown strike to beat Pittsburgh in the AFC Wild Card round. The Broncos would then get blown out by Brady and New England 45-10 the following week.
Currently a football analyst for SEC Network while running his self-titled charity, Tebow hasn't made an NFL roster since 2012 but has continued to pursue his dream of playing the position in the NFL.
It's that kind of determination that's likely the main reason Tebow remains in the hearts of NFL fans. Before last season began, the Philadelphia Eagles invited Tebow to training camp as part of a four-man quarterback competition and he made it to the last round of cuts.
And in 2013, the NFL's most polarizing quarterbacks were teammates, briefly. New England signed Tebow and subsequently cut him during training camp that year.
© Copyright IBTimes 2023. All rights reserved.