Tony Ferguson Expects To Fight In 2018, Hopes To Face Khabib Nurmagomedov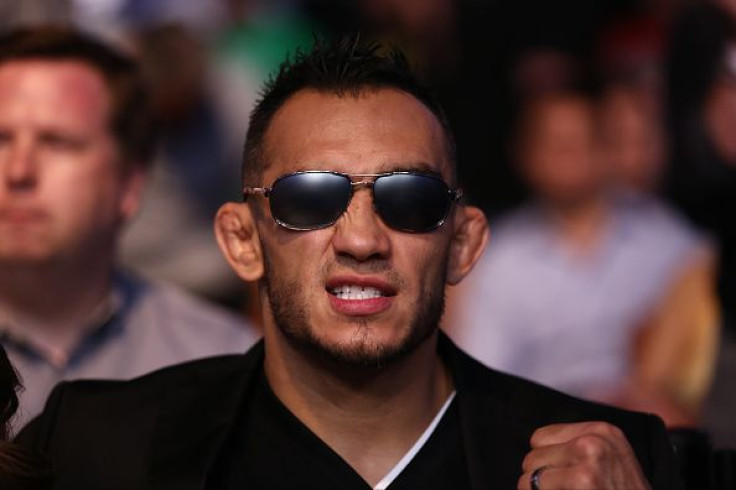 Tony Ferguson is hoping to return to action soon and is even targeting a fight with lightweight champion Khabib Nurmagomedov by the end of this year.
The interim lightweight champion at the time, Ferguson was scheduled to face Nurmagomedov for the vacant undisputed lightweight title at UFC 223 in Brooklyn, New York, on April 7.
It was the fourth time the two dominant 155-pounders were booked to face each other with all three previous occasions resulting in cancellations.
However, ironically on April Fool's Day, Ferguson was ruled out a couple of days before the event as he tore the lateral collateral ligament in his knee after tripping over wires in a freak accident. He would later require surgery and was even controversially stripped of his interim title by UFC president Dana White.
Nurmagomedov though, would still compete at UFC 223 as he went on to defeat short-notice opponent Al Iaquinta to become the new undisputed lightweight champion.
Since the freak accident, "El Cucuy" has been recovering and just over three months on, is hoping to be cleared next month as he plans on fighting before the end of 2018 — ideally against Nurmagomedov.
"I'm looking for next month," Ferguson told TSN on Thursday. "Tomorrow, hopefully at one o'clock, the doctor will pass me to go running. Once I start impact, I can start jumping, start doing all these different things."
"I'm actually going to take up gymnastics, I've been hitting a pommel horse a lot so a lot of different things for the upper body, I did a lot of jiu jitsu, a lot of my lower body, my lower clinch is a lot better so just kind of making sure there's no holes in my game."
Coincidentally, Nurmagomedov claimed Ferguson was not a real champion when he defeated the No. 7-ranked Kevin Lee to win the interim title. The Russian would then win the undisputed title by defeating Iaquinta, ranked No. 11 in the rankings at the time.
It is one of the reasons why Ferguson does not view Nurmagomedov as a true champion but he believes if anyone are champions, it's the two of them as he urged fans to keep believing in their dream fight.
"Yes, but I kind of see how he was acting when I won with Kevin Lee," Ferguson said when asked if it was hard to consider Nurmagomedov as a real champion. "Obviously, we're both champs. [Conor] McGregor, in my opinion, is not in the mix. It is Khabib and myself, it's El Cucuy vs. the Bear, the Eagle."
"I know many people have invested time into this in wanting it but they need to believe in this, and I think honestly, we'll turn f------ heads with this, we'll probably have one of the biggest pay-per-view sellouts."
One of the reasons why Ferguson believes a meeting with Nurmagomedov will be huge is because of their stylistic match-up. "The Eagle" is 26-0 and has dominated every opponent he has faced with his wrestling.
Ferguson though, believes he has the tools to offset Nurmagomedov's talents and inflict his first-ever defeat, especially as he has seen holes in his game for quite some time.
"I've seen holes in his game since I first started even preparing for Khabib," he added. "When I saw him and [Gleison] Tibau doing the dance inside the octagon and Khabib couldn't even finish him, I was like 'no wait, dude I already finished this guy in the first round.' My skills are too much, I'm too smooth for him, he doesn't have the same tempo as I have. If we're talking music, I love all music so I can't not play anything, but he's not at the right tempo, I'm double beat, he's single beat."
© Copyright IBTimes 2023. All rights reserved.