Top 10 Tennis Players Of All Time: Rafael Nadal, Roger Federer Or Pete Sampras The Greatest Men's Player In Open Era?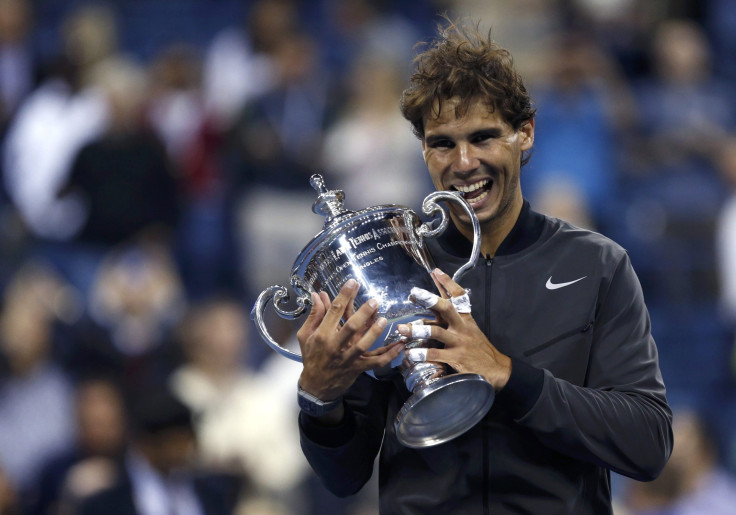 Rafael Nadal's incredible victory at the U.S. Open on Monday has led to many wondering whether the 27-year-old Spaniard can now go onto become the greatest player in history. Everyone will have their own view, but it seems a fitting time then in the midst of an amazing era of men's tennis to reevaluate the 10 greatest players of all time.
1. Roger Federer
There can be no dispute about who currently deserves the title of the greatest of all time. A record 17 Grand Slam titles -- and counting -- would be enough to make Federer's case, but the Swiss master is more than just trophies. When the obsessed club player goes to sleep at night they dream of just once being able to play like Federer. To a far greater degree than any of his contemporaries at the top of the game, it is easy to imagine Federer excelling in a previous age of wooden racquets when a tennis players' instrument was more of a wand than a blunt instrument. An incredible record of, before Wimbledon this year, having reached 36 Grand Slam quarterfinals speaks volumes, not only for his sustained brilliance, but also for the grace with which he played and moved which enabled him to avoid the injuries that impacted many of his rivals.
2. Rafael Nadal
Eight French Open titles mean that the man from Mallorca can without hesitation claim to be the greatest clay-court player of all time, but he has become so much more than just the master of the terre battue. Throughout his career Nadal has displayed a relentless determination not only to fight for every point but to constantly improve himself as a player and become a winner on all surfaces. That fortitude is also responsible for his improbable recovery from a knee injury that had some observers already preparing his tennis eulogy just a year ago. Instead, he returned and enjoyed arguably his best year yet, culminating in taking his game to another level at the U.S. Open. Straining every sinew of his body for every point may prevent him from having the same longevity of success as Federer -- the man who in many ways is his stylistic opposite -- but it would be most unwise to bet against it.
3. Pete Sampras
With 14 Grand Slam titles to his name and 286 weeks ranked as the best player in the world -- second only to Federer -- Sampras was a winning machine. His joint record seven Wimbledon titles say much for the quality of both his first serve and perhaps more notably his second serve, both of which may well be the greatest ever. The Californian with a Greek background was a phenomenal serve and volleyer in an era where that thrilling strategy was still employed. Yet, he could also cut it from the back of the court, with a fine one-handed backhand and a sensational running forehand. The only knock against his name was failing to get beyond the semifinals at Roland Garros.
4. Rod Laver
Had this list included achievements before the Open-era then it is likely that the "Rocket" will have been even higher on the list. Having won a calendar year Grand Slam in 1962, the Australian then spent six years as an outcast after making the decision to turn professional, which made him ineligible to compete in the Grand Slams. When the major tournaments became open to all players, amateur and professional, Laver promptly won Wimbledon in 1968 before taking a clean sweep of Grand Slams the following year among an Open-era record 17 titles.
5. Bjorn Borg
Amassing 11 Grand Slam titles is an incredible achievement and that's before you consider the fact that they were all achieved by one day after Borg's 25th birthday. His retirement just over a year later in 1983 sent shockwaves not only through tennis but also through the wider world where the Swede with the flowing blond locks had become quite the celebrity. Borg was the iceman and relentless baseliner to the fiery, all-court game of his great rival John McEnroe. All his Grand Slam wins came at the French Open and Wimbledon, with his achievement of having won both tournaments back-to-back for three consecutive years perhaps never to be matched. Given that he only played the Australian Open once, in an era where the top players often gave the long trip a miss, combined with his early retirement, one can only imagine how many grand slams Borg could have won.
6. Andre Agassi
The Las Vegas native began his career as the flamboyant wild man of tennis and ended it as the sport's most respected ambassador. In between, Agassi amassed eight Grand Slam titles in a career that experienced the most exhilarating highs and crushing lows. One of the best returners of all time, he had an extraordinary hand-eye coordination honed by hours of practice as a child under the tutelage of his strict father that enabled him to stand on the baseline and move his opponent from side-to-side as if on a piece of string. Having made his breakthrough at the most unlikely venue of Wimbledon, Agassi slipped to 141 in the world and apparently fading out of the sport due to personal problems in 1997. His recovery was the thing of fairytales. Less than two years later he won the French Open to complete his career Golden Grand Slam -- he also won Olympic gold in 1992 -- before returning to No. 1 in the world. Phenomenally fit, Agassi played on until persistent back pain eventually forced his retirement at the age of 36.
7. Novak Djokovic
While those below him on this list have won more than his six Grand Slams, it is hard to downplay the challenge that Djokovic has faced in competing in the greatest era men's tennis has ever witnessed. That he has finished as the world No. 1 for the past two years is an incredible achievement given the presence of Federer, Nadal and Andy Murray. Indeed, the Serbian enjoyed perhaps the finest year in the sport's history when he claimed 10 titles, including three Grand Slams in 2011. With a return and two-handed backhanded among the best of all time, Djokovic has proven a force on all surfaces. His desperation to complete the Career Grand Slam has seen his game dip since failing to do so at Roland Garros earlier this year, but it is hard to imagine that he won't soon be back to his best and adding to his collection of Grand Slam titles.
8. John McEnroe
His legendary temper and accompanying catchphrase have become so widely known that they have almost overshadowed his actual on-court achievements. A quick look at his record of seven Grand Slam singles titles together with a further nine in doubles should correct that oversight. Although he came close to winning on the clay, losing a two-set lead to Ivan Lendl in the 1984 French Open final, McEnroe's big lefty serve and ability at the net was made for the fast courts at Wimbledon and U.S. Open where he won all his Grand Slams in a dominant five year spell between 1979 and 1984. His legacy is enhanced by his incredible rivalry with Lendl, Jimmy Connors and most notably Borg, which resulted in one of the best finals ever at Wimbledon in 1980.
9. Ivan Lendl
His rather dour personality and his less than spectacular playing style have meant that that the Czechoslovakia-born Lendl has often been under appreciated when tennis's greatest are considered. While he was never one for talking, his accomplishments are more than capable of doing it for him. Lendl was a virtual ever present at the latter stages of Grand Slams throughout the 1980s, winning eight Grand Slams in his extraordinary 19 appearances in finals. In addition, only Federer and Sampras have spent more weeks at No. 1. The now U.S. citizen's understanding of the game and the steely mentality required to win has been shown in his helping to turn around the career of Andy Murray.
10. Jimmy Connors
At 5-foot-10, Connors was smaller than the leading rivals of his era, but what he lacked in height he more than made up for with his intense will to win and one of the best returns in history. The California native claimed five U.S. Open titles, as well as two Wimbledon crowns together with a win on one of only two visits to the Australian Open. His peak was in the mid-1970s when he spent 159 straight weeks ranked at No. 1 in the world, but key to his legacy is his longevity. Indeed, it can be argued that Connors's greatest achievement was reaching the semifinals of the U.S. Open in 1991 at the age of 39.
© Copyright IBTimes 2023. All rights reserved.