Tottenham News: Can Spurs Overhaul Leicester City To Claim 2016 Premier League Title?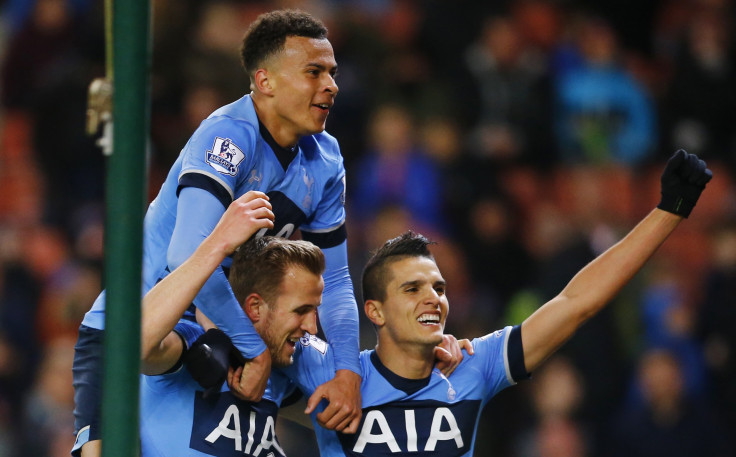 Being a Tottenham fan has not been the easiest of pursuits over the past two decades. While their club has seen a constant turnover of managers and the selling off of star players whenever signs of promise emerge, they have had to watch their greatest rivals, Arsenal, be a model for consistency, finishing above them in the Premier League standings in each of the last 20 seasons.
Yet Spurs supporters now have reason for real optimism, even beyond the likelihood of ending Arsenal's superiority this season. A 4-0 destruction of Stoke City at the Britannia Stadium on Monday was the latest in a string of hugely impressive and joyous performances from a youthful, hungry team led by exceptional young manager Mauricio Pochettino.
All the ingredients are there, including a move to a state-of-the art 61,000-capacity stadium in 2018, for Tottenham to be a real force for years to come. While Leicester City have been the story of the Premier League season and they remain favorites to lift the title, their rise can be seen as something of a glorious one-off. For Tottenham, it should be just the beginning.
And Tottenham are far from writing off their chances of landing the title this campaign. Certainly their fans believe it, chanting "Leicester City, we're coming for you," in full voice during the supreme win over Stoke. And striker Harry Kane has faith, too.
"We are not going anywhere," Kane said after Monday's win. "If we keep playing like that, there are not many teams who will beat us."
The weekend has certainly given Tottenham fresh hope. Leicester could only draw 2-2 with West Ham on Sunday, allowing Tottenham to close the gap at the top to five points with four rounds of Premier League fixtures remaining. Tottenham's chances have been boosted, too, by Leicester's top scorer Jamie Vardy being given a one-match suspension that will very likely be increased to two.
The biggest reason for optimism, though, is the way Tottenham are playing. Spurs have taken 29 points from the last 36 available, and, despite Pochettino's intense pressing style, the team only appears to be getting stronger as the end of the season approaches. The 4-0 win over Stoke was preceded by a 3-0 triumph over Manchester United, two performances that showcased both the team's impressively cohesive defense as well as a delightfully incisive attack.
With two goals against Stoke, Kane moved out in front in the race for the Premier League Golden Boot, with 24 goals. Given that the 22-year-old only scored once in his first nine league appearances this season, it is a remarkable tally. It has also has extinguished any question marks over whether he was a one-season wonder after his breakthrough last campaign. With eight goals in his last six league outings, the England international has proved himself not just a prolific scorer, but one capable of spearheading a team in the crunch moments.
But Kane's supporting cast has been mightily impressive, too. Chief among them, of course, is Dele Alli. When he arrived at White Hart Lane to start his Tottenham career last summer, Alli was a 19-year-old without any experience beyond England's third tier. His target for his first season was simply to start 10 games. Instead, with his brace against Stoke, he now has 10 Premier League goals already to his name, along with nine assists. Alli's development embodies not only Pochettino's willingness to give young players the chance to impress, but to expertly guide them to success.
That is not the only achievement of Tottenham's manager, however. And the performances of Erik Lamela have symbolized another key to Pochettino's success. While there were some positive signs in the former Southampton manager's first season at White Hart Lane last campaign, it was also obvious that he was hamstrung by not having the players suited to his demanding approach. Thus, although there were some shrewd acquisitions last summer, notably defender Toby Alderweireld, just as significant were the players shown the exit door.
Four of the players who had arrived in the post-Gareth Bale splurge—Roberto Soldado, Paulinho, Etienne Capoue and Vlad Chiriches—departed. Meanwhile, those unwilling or incapable of fulfilling the commitments required of Pochettino's style, namely Emmanuel Adebayor and Andros Townsend, were dealt with ruthlessly.
Lamela looked like he would be exiting, too. At one point the player's father even revealed that negotiations were ongoing over a move to Inter Milan and a return to Italy, where Lamela had rose to prominence before joining Tottenham for £30 million in 2013. Few Spurs fan would have mourned his departure. While clearly immensely talented, he struggled to meet the physical requirements of the Premier League, and, particularly, the reduced time available on the ball.
Yet, as well as ditching many of Tottenham's expensive flops, Pochettino has transformed the one he kept. The Argentine attacking midfielder has become a phenomenal workhorse with the ball and he is now using his ability on the ball to maximum effect.
Tottenham have every reason for confidence, then, heading into their final four fixtures. That belief should be boosted by the fact that their next three matches come against teams with little to play for, in West Brom, Chelsea and Southampton. It could be a very difference scenario on the final day when visiting relegation-threatened Newcastle United. Yet the North-East side have been pushovers for much of the season and could already be consigned to the drop by the time the encounter comes about. With trips to Manchester United and Chelsea, Leicester's run-in looks marginally tougher, particularly if they are without Vardy for their next two matches.
To the delight of long-suffering Tottenham fans, this most remarkable of Premier League seasons could yet have a final twist.
© Copyright IBTimes 2023. All rights reserved.