Transfer News: Dutch Midfielder Stays At Liverpool, Says Barcelona Interest Was 'Not Serious'
KEY POINTS
Gini Wijnaldum stays at Liverpool after the transfer deadline
Wijnaldum says there was "nothing concrete" about the reported interest from Barcelona
The Reds' recent shocking 7-2 defeat to Aston Villa leaves them at fifth place in the Premier League ladder
The transfer window has passed and Gini Wijnaldum is staying at Liverpool.
As he entered the final year of his contract with the Reds, Wijnaldum had been linked to a move to Barcelona. However, the Dutch midfielder has now clarified that there was "nothing concrete" regarding the reported interest from the La Liga giants.
"I don't think (the Barcelona interest) was that serious, otherwise you would have read a bit more, or more would have happened," Wijnaldum said at a press conference ahead of the Netherlands' friendly against Mexico on Wednesday, Goal reported.
"There was nothing concrete. I didn't have to think about it," he continued. "I will stay on [with Liverpool] it looks like now. My contract will run for another 10 months. It could still change, of course, you never know that in football. So we'll see."
According to Goal, the reigning Premier League champions planned to evade Wijnaldum moving out of Anfield on a free transfer by shipping the 29-year-old to another club before his contract expires.
Liverpool manager Jurgen Klopp said last month that he was completely fine with the talks revolving around Wijnaldum's speculated exit.
"I spoke to Gini when he came back from international duty and we have the talk as always. That's all, really," Klopp said in an earlier Goal report.
"I cannot speak about the future in a few years but it is all fine," he added. "It's all good for the moment. You know the situation. Between me, Gini, and the club, everything is completely fine. So apart from anything to announce to you, that's more your problem, not ours because we are completely fine in the situation."
Wijnaldum moved from Newcastle to Liverpool in 2016 for a five-year deal worth an initial £23 million, with a further £2 million in conditional add-ons.
The 29-year-old has since proven to be a great fit under Klopp as he helped Liverpool capture the European Cup in 2019 and the latest league title.
But Wijnaldum and the Reds have entered a rather dismal stretch to start the new season, with the 7-2 upset loss against Aston Villa on Sunday leaving them at fifth place in the league ladder.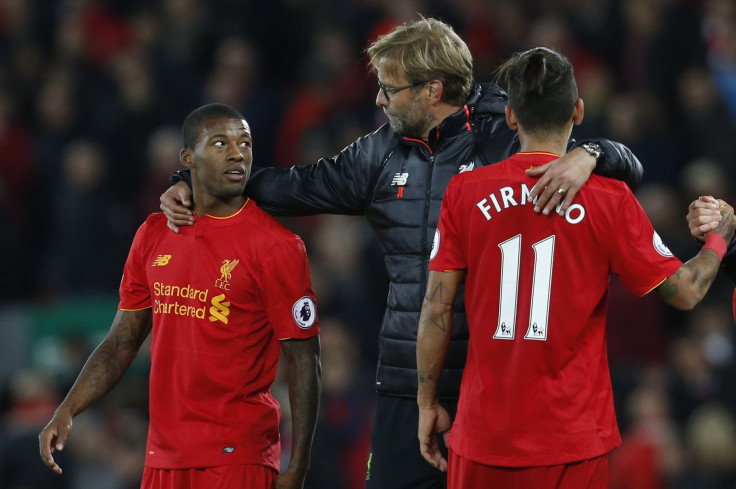 © Copyright IBTimes 2023. All rights reserved.