Transfer News: Juventus Director Says Superstar Has Shown 'No Signs' Of Leaving
KEY POINTS
Cristiano Ronaldo has been linked to a return to Manchester United
Juventus director says that there have been "no signs" of him leaving
Ronaldo's current fees may not be favorable to the Red Devils
No summer transfer window would be complete if there weren't any Cristiano Ronaldo transfer rumors.
The Portuguese superstar has long been linked to a return to Manchester United after reports indicated that Ronaldo would be signing a new deal with Juventus.
After Italian transfer news king Fabrizio Romano basically confirmed that the 36-year-old superstar Ronaldo wouldn't be extending his contract with the Italian club, the speculation of a return to the English Premier League got underway.
Reports also indicated that Ronaldo has been in consistent contact with Manchester United boss Ole Gunnar Solskjaer, further intensifying the news of his possible return to Old Tafford.
In early May, Ronaldo and the Juventus management were set to hold talks about the five-time Ballon d'Or winner's future with the club.
However, Juventus' football director Federico Cherubini has denied all rumors of a Ronaldo exit from Italy.
"There has been no sign from Ronaldo about a possible move, and no sign from Juve," said Cherubini.
"We are very happy that Ronaldo will rejoin the team once the rest period after the European Championship is over."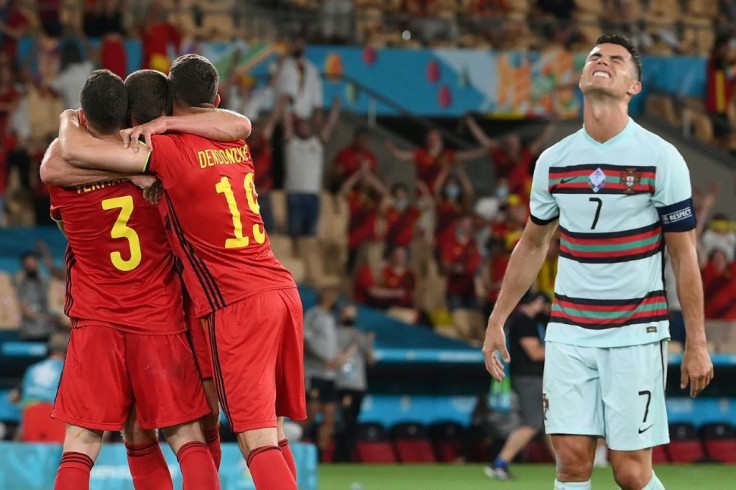 Despite his age, Ronaldo has been banging in goals for Juventus since he joined the club for the 2018-19 season.
In 133 appearances for the club, Ronaldo recorded 101 goals, 81 of which were scored in the Serie A in 97 total appearances.
However, Juventus finished fourth in Serie A with 78 points; 13 points away from league-leading Internazionale.
Ronaldo's €31 million ($36.7 million) per season contract with Juventus is still active until June 2022, but with the club dealing with an economic setback due to the COVID-19 pandemic, a transfer could be in the works.
For Juventus, the club is currently looking at raising at least €400 million ($474.1 million) to offset the club's massive financial losses.
Looking forward, a return to Manchester United may be impossible this summer as Ronaldo's wages and Juventus' transfer fees are simply too much for the English side to stomach for now.
© Copyright IBTimes 2023. All rights reserved.