Transfer Rumors: Argentine Striker Plays Waiting Game, Settles Row With Inter Milan boss
KEY POINTS
Martinez and Conte settle their issue in a funny boxing match
Martinez's camp is waiting for a new offer from Inter Milan
Martinez is expected to draw heavy interest if Inter lets him go
Lautaro Martinez has yet to commit to Inter Milan, and it appears his camp will play the waiting game with San Siros.
The 23-year-old has been linked to a move to Barcelona, but all that could depend if the Argentinian will get a new lease at Giuseppe Meazza.
Per the agent of Martinez, Alejandro Camano, there remains no new offer for the Argentine striker and such has fueled speculations that he could leave the Nerazzurri.
Regardless, it appears this is no cause for alarm despite transfer rumor talk.
Camano explained that Martinez is happy with Inter, but all that may still hinge on what the offer is on the table, Gazzetta Dello Sport reported.
"The lad is happy in Milan, he has just won a championship as a protagonist, but we cannot help but wait. At present, it's useless to make predictions. We, like the others, first want to understand what the future of the club will be," Camano stated.
It appears like some clubs, a big obstacle for Inter is their financial situation. They have not been spared from it, much of which was brought in by the pandemic.
If Nerrazzuri folds, Martinez is expected to draw heavy interest from rival teams, particularly the English Premier League.
Despite the claims of Camano, there is reason to believe that Martinez could be a bit sore, especially in his recent appearance for the Serie A champions.
He was replaced by Antonio Conte at the 77th-minute mark against Roma after being inserted to take over from Alexis Sanchez with 35 minutes on the clock.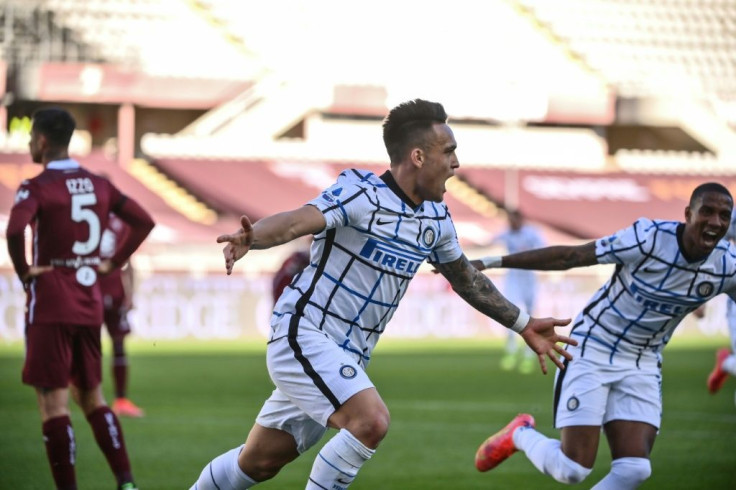 Martinez was seen kicking a bottle on his way to the bench, leading to an intense argument with Conte.
But it appears all that is now in the past--with reports that Conte and Martinez settled the issue through a friendly boxing match on Thursday where Romelu Lukaku served as the ring announcer.
Both did not exchange big blows in a light-hearted end to a heated instance with everyone ending up smiling in the end.
© Copyright IBTimes 2023. All rights reserved.