Transgender Woman Fulfils Impossible Dream Of Playing Pro Football
KEY POINTS
Mara Gomez makes history as the first transgender to play pro football
Gomez explains how football changed her life
Gomez believes she has a lot to go through in her new career
Mara Gomez officially became the first transgender woman to play professional football
The 23-year-old got approval from the Argentina Football Association (AFA) to play on Monday, starting for Villa San Carlos against Lanus in the Primera A.
Gomez revealed that football was more of therapy, an outlet at first. She kept it at that level and knew that her play in the top division faced a lot of obstacles.
All those barriers were officially broken. Villa San Carlos won over Lanus, 7-1, ESPN reported.
"A few years back this was unthinkable to talk about or debate but now we are opening new roads. This is a huge achievement. I'm totally grateful to my club, to my teammates, and the coaching staff for opening the doors for me and for showing me respect from the beginning," Gomez stated.
"I'm proud to represent a community but also a part of society and to know that I have become a reference for a lot of people."
It was an important moment for Gomez who thanked AFA and the International Olympic Committee for allowing her to play professionally. However, she needed to go through a lot to get the green light to play.
Gomez had to provide blood samples to have her testosterone levels evaluated. Under IOC rules from 2015, an athlete must demonstrate testosterone levels are below a certain level for at least 12 months.
New guidelines were expected after the Tokyo Games, though that was before the 2021 Olympic postponement.
Though they lost the game, Lanus did its share of honoring Gomes. They presented her with a club jersey to commemorate the occasion.
"We celebrate and accompany this enormous step on the road to expanding rights. Congratulations Mara Gomez," an official statement read.
Several other random congratulatory messages followed. It was a big obstacle that she overcame, but Gomez maintains that it was football that came to her rescue.
"It came at a time when I was struggling psychologically because of discrimination, exclusion, and I saw it as a therapy. I realized that football could be a style of life for me," she explained.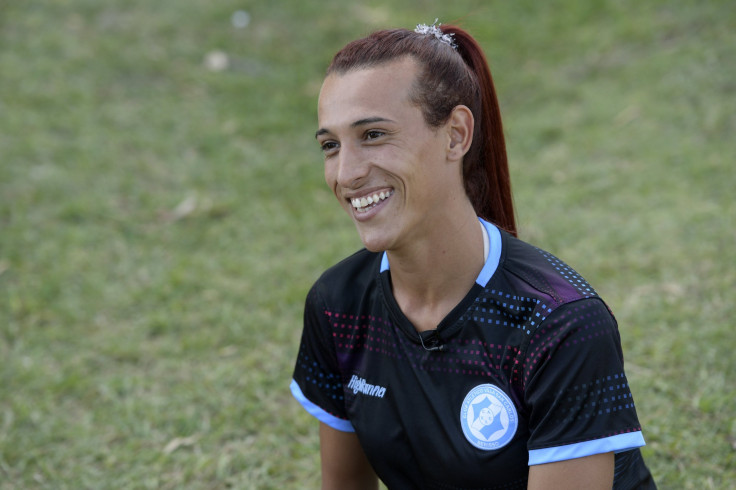 © Copyright IBTimes 2023. All rights reserved.