Trump Due In Court To Face Historic Criminal Charges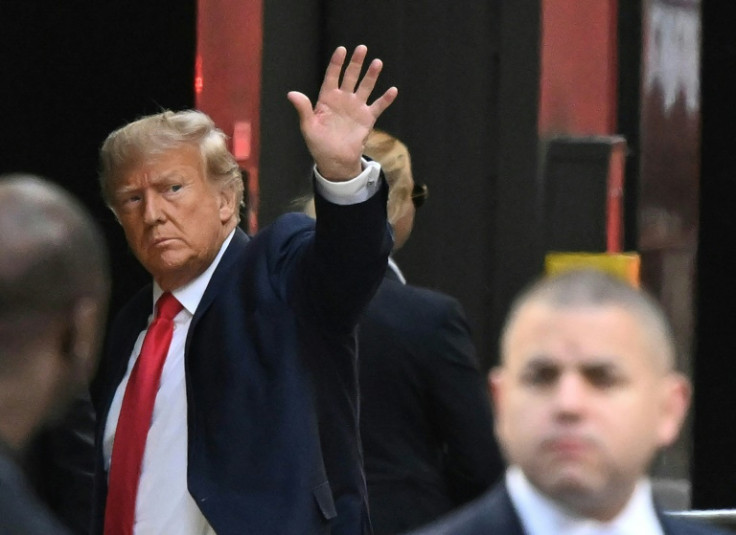 Donald Trump will make an unprecedented appearance before a New York judge Tuesday to answer criminal charges that threaten to throw the entire 2024 White House race into turmoil.
Trump is the first sitting or former American president to be criminally indicted -- a historic development that has propelled the United States into uncharted political waters.
Amid tight security in Manhattan -- and a global media frenzy -- the 76-year-old will learn at his arraignment precisely what charges he faces over hush money paid to a porn star ahead of the 2016 election that brought him to power.
The twice-impeached Republican claims he is the victim of "political persecution" -- but is also using the case to energize his support base, and raise millions of dollars for his bid to reclaim the White House next year.
Trump is expected to leave his skyscraper on Fifth Avenue late morning to make the six-mile journey to the Manhattan court complex where he will surrender to authorities.
Thousands of police, and unknown numbers of Trump supporters and detractors, will be on the streets for the journey that will be carried live on US networks -- although it was not yet known if the hearing itself would be televised.
Trump is likely to undergo the standard booking procedure of being fingerprinted -- and potentially photographed, which would result in an all-time famous mug shot.
But there is no precedent for a former president's surrender to court authorities and it remains to be seen whether the famously unpredictable Trump will follow procedure.
A "perp walk" -- in which a defendant is escorted in handcuffs past media cameras -- is unlikely for an ex-president under US Secret Service protection.
What is certain is that Trump's lawyers have said their client will plead not guilty to all charges during the court hearing, scheduled to start at 14:15 GMT (2015 GMT).
Around 30 counts, including at least one felony, are expected to be unsealed during the arraignment, which is only likely to last around 15 minutes.
Afterwards, Trump is due to return straight to Florida, where he plans to deliver an evening speech.
Trump was indicted last week by a grand jury in the case brought by Manhattan District Attorney Alvin Bragg, an elected Democrat.
The charges revolve around the investigation of $130,000 paid to adult film actress Stormy Daniels just days before Trump's election win.
Trump's former lawyer and aide Michael Cohen, who has since turned against his ex-boss, says he arranged the payment to Daniels in exchange for her silence about a tryst she says she had with Trump in 2006.
Trump, whose third wife Melania had recently given birth at the time, denies the affair.
Legal experts have suggested that if not properly accounted for, the payment could result in charges for falsifying business records, possibly for the purpose of covering up a campaign finance violation.
Late Monday, Trump on his Truth Social platform accused Bragg of "illegally" leaking details of the indictment, after Yahoo News reported that the charges included 34 counts related to falsifying business records.
Trump is facing a series of separate criminal investigations at the state and federal level that could result in further -- more serious -- charges between now and election day.
They include his efforts to overturn his 2020 election loss in the state of Georgia, his handling of classified documents, and his possible involvement in the storming of the US Capitol on January 6, 2021.
Republicans have largely rallied around Trump, including his rival in the party's presidential primary, Florida Governor Ron DeSantis, who called the indictment "un-American."
President Joe Biden, mindful anything he might say could fuel Trump's claim of a politically "weaponized" judicial system, is one of the few Democrats holding back over the indictment of his rival.
Asked Monday whether he had faith in the legal system, Biden simply replied, "Yes."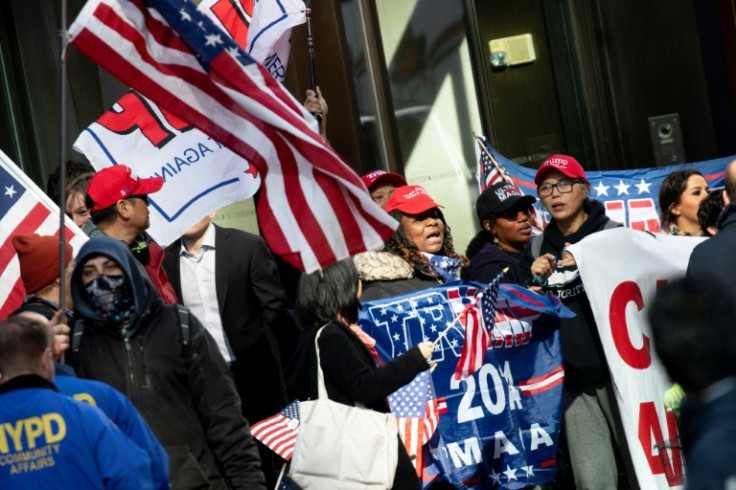 © Copyright AFP 2023. All rights reserved.