Trump-Kim Jong Un Meeting Coming Soon After War Of Words Between Leaders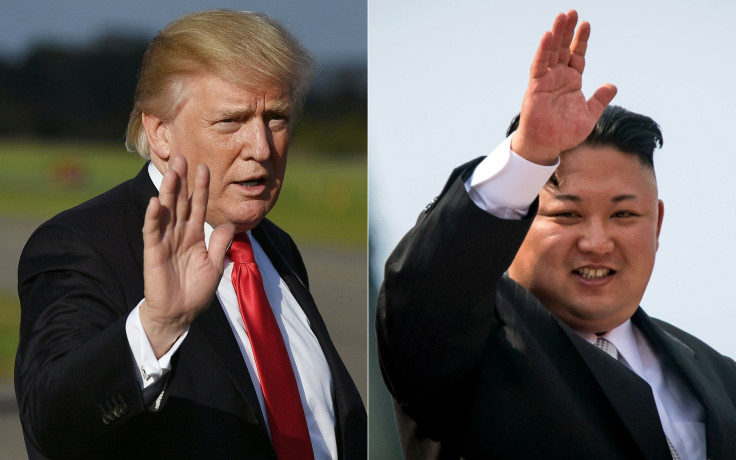 A meeting between Donald Trump and Kim Jong Un will take place "as soon as possible" after the president accepted an invitation from the North Korean leader for talks to discuss the reclusive country's nuclear and missile program. The White House confirmed Thursday that Trump was ready to meet Kim "by May," but the time and location are yet to be determined.
The upcoming meeting could be a major breakthrough in the months-long tension in the Korean Peninsula over North Korea's growing nuclear threats. In a letter presented to Trump on behalf of Kim by senior South Korean officials in Washington, the North Korean leader said he planned to halt nuclear and missile tests and was "committed to denuclearization."
In a tweet Thursday, Trump also confirmed the possibility of a meeting with Kim, but also added despite North Korea's positive step forward to bring peace in the Korean Peninsula, sanctions against the country will be in place.
Many believe it was Trump's "maximum pressure policy" that brought the parties to this point.
"After numerous discussion with President Trump, I firmly believe his strong stand against North Korea and its nuclear aggression gives us the best hope in decades to resolve this threat peacefully," Sen. Lindsey Graham (R-South Carolina) said in a statement. "I am not naïve. I understand that if the past is an indication of the future, North Korea will be all talk and no action. However I do believe that North Korea now believes President Trump will use military force if he has to."
"A word of warning to North Korean President Kim Jong Un – the worst possible thing you can do is meet with President Trump in person and try to play him. If you do that, it will be the end of you – and your regime," Graham added.
Pak Song Il, North Korea's ambassador to the United States said in a statement Kim "demonstrated a broadminded and resolute decision," adding the U.S. "should know and understand our position and should further contribute to the peace and security building in the Korean peninsula with sincere position and serious attitude."
For the last few months, Trump and Kim have exchanged heated rhetorics against each other. Tensions increased with Trump vowing to retaliate with "fire and fury" if Kim's regime continued testing its ballistic missiles.
The two leaders, who would be creating history after their meeting, have been involved in a war of words since North Korea tested a hydrogen bomb, the country's sixth nuclear missile.
Below are some of the insults the two leaders have hurled at each other in the past.
1. "North Korea has just launched another missile. Does this guy have anything better to do with his life?" — Trump said in July 2017.
2. "I spoke with President Moon of South Korea last night. Asked him how Rocket Man is doing. Long gas lines forming in North Korea. Too bad!" — Trump said in September 2017.
3. "Whatever Trump might have expected, he will face results beyond his expectation. I will surely and definitely tame the mentally deranged US dotard with fire." — Kim said in response to Trump's "Rocket Man" comment.
4. "Kim Jong Un of North Korea, who is obviously a madman who doesn't mind starving or killing his people, will be tested like never before!" — Trump said reacting to North Korea's "dotard" comment.
5. "The entire United States is within range of our nuclear weapons; a nuclear button is always on my desk. This is reality, not a threat." — Kim said in September.
6. In response to Kim's threat about the "nuclear button" Trump said: "North Korean Leader Kim Jong Un just stated that the 'Nuclear Button is on his desk at all times.' Will someone from his depleted and food starved regime please inform him that I too have a Nuclear Button, but it is a much bigger & more powerful one than his, and my Button works!"
7. "The spasm of Trump in the new year reflects the desperate mental state of a loser who failed to check the vigorous advance of the army and people of the DPRK." North Korea's Rodong Sinmun commentary wrote about Trump in January. "He is making (a) bluff only to be diagnosed as a psychopath."
FOR FREE to continue reading
✔️ Unlock the full content of International Business Times UK for free
offer available for a limited time only
✔️ Easily manage your Newsletters subscriptions and save your favourite articles
✔️ No payment method required
Already have an account?
Log in
© Copyright IBTimes 2023. All rights reserved.