Trump Promises New Stimulus Measures, Hails Friday's Jobless Report As Sign Coronavirus Recession Is Over
KEY POINTS
Trump said he would propose a payroll tax cut, more stimulus money and incentives for the restaurant and entertainment industries
He signed legislation easing requirements on the small business paycheck protection program
Trump tweaked economists who had predicted a 20% unemployment rate for May
President Trump took a victory lap on Friday's May unemployment report, likening the coronavirus recession to a hurricane and predicting the economy will recover like a "rocketship."
At a White House appearance before reporters, Trump said further stimulus measures are in the works, including a payroll tax cut, additional stimulus money and incentives for the restaurant and entertainment industries.
Trump did not take any questions.
Trump tweaked economists who had predicted an additional 9 million job losses in May and an unemployment rate around 20%. Instead, the Bureau of Labor Statistics reported unemployment dropped more than a point from April's rate to 13.3%.
"It was shocking even to great pros," Trump said, adding he heard one analyst ask, "Is this a typo?" He called predictions of 20% unemployment "the greatest miscalculation in the history of business shows talking about Wall Street." He said the recovery is underway because "we had a really strong patient" before the economy shut down.
After making his remarks, he signed legislation altering the paycheck protection program to give small businesses more time to meet the program's requirements to qualify for loan forgiveness.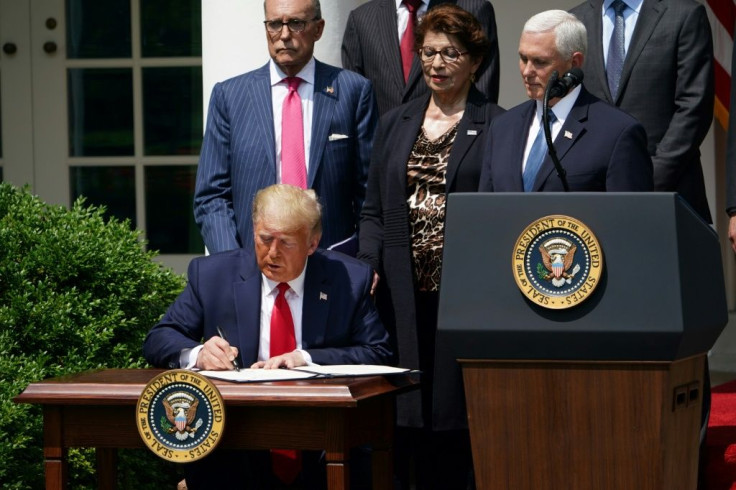 Trump taunted Berkshire Hathaway founder Warren Buffet for selling his airline stocks, saying they soared on Friday's unemployment news. The stock market overall climbed on the report, with the indexes up 2% to more than 3% before noon.
"This is better than a V[-shaped recovery]," Trump said. "This is a rocketship. This is wonderful. … This was the greatest recovery in history."
Trump noted the recession was artificial, triggered by a virtual nationwide economic shutdown mandated to stem the spread of the coronavirus vaccine, which had killed more than 108,200 Americans by late morning Friday.
"We were able to close our country, save millions of lives, reopen and now we're on our way," Trump said, adding New York and California were barely included in the figures since their largest cities are still under tight restrictions.
"This was artificially closed. … You know what also stopped. Big numbers on death," Trump said.
He continued: "We are going to be stronger than when we were riding high."
White House economic adviser Larry Kudlow said he expects the June report, which was scheduled for release July 2, will show further progress.
"It [the contraction] was like a bad hurricane or a bad snowstorm. … They are sharp and fast and they recover fast," Kudlow said.
University of Michigan economics Professor Justin Wolfers said Trump is right in saying this recession isn't typical.
Robert Johnson, professor of finance at Heider College of Business at Creighton University, cautioned "one good report does not constitute a trend" although it does increase the probability of a V-shaped recovery.
"But a second wave of coronavirus could significantly delay the recovery," he said in response to an inquiry from IBTimes, adding, "I believe that the coronavirus recession will lead to more permanent job losses as businesses realize that they can effectively operate with a shrunken workforce. I believe it will take the U.S. economy years and not months to fully recover and that a W-shaped recovery is still the more likely scenario."
Unemployment expert Andrew Stettner, a senior fellow at the Century Foundation and William Rodgers, former chief economist at the Department of Labor, pointed out the number of jobs is still 19.6 million below the level at the start of the pandemic.
"With more than 32 million workers still collecting unemployment benefits when the Census Bureau did its survey for the unemployment rate, the overall economic challenge is far greater than what this one report suggests," they said in an emailed statement.
© Copyright IBTimes 2023. All rights reserved.
FOLLOW MORE IBT NEWS ON THE BELOW CHANNELS