Tunisia Museum Attack: Manhunt Underway For Third Suspect In Bardo Assault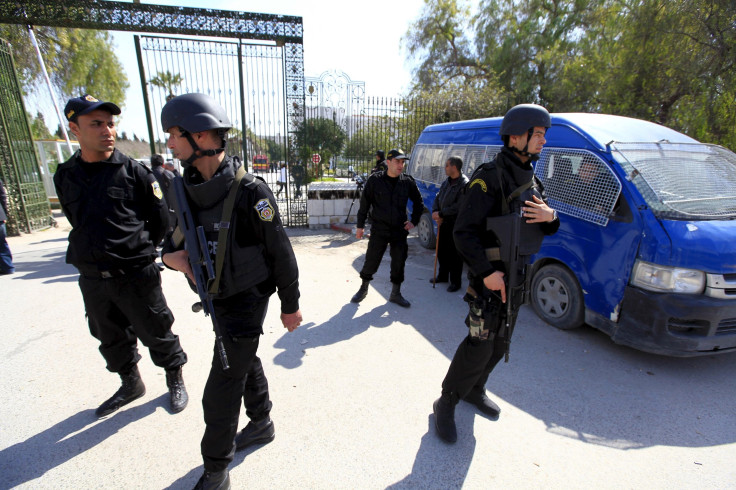 A manhunt is underway in Tunisia for a third attacker in last week's assault on the country's national museum that left 25 people dead. Three aggressors were involved in the attack on the National Bardo Museum, with the third now a fugitive, Tunisia's President Beji Caid Essebsi said Sunday.
"Two were executed but one is on the run still. But he won't go very far," Essebsi said in a live interview with French television, VOA reported. The statement marks the first time Tunisian officials have acknowledged that three gunmen were involved in Wednesday's attack.
The assault at the museum in Tunis, the capital, is the deadliest involving foreigners in the North African country since a 2002 suicide bombing on the island of Djerba, Reuters reported. Most of the victims of last week's attack were foreign tourists, including visitors from France, Italy, Japan and Colombia. Security forces have arrested more than 20 people in connection with the massacre, including 10 who are believed to have been directly involved.
Tunisia's interior ministry had earlier released security camera footage that showed two men with assault rifles walking through the museum. The men appeared to acknowledge a third man with a backpack, who they allowed to proceed in the opposite direction. The footage identified the two men, who were later killed in a shootout with police, as Yassine Laabidi, 20, and Hatem Khachnaoui. Both men were trained in neighboring Libya in an area controlled by the Islamic State militant group, authorities said in the days after the attack.
Essebsi acknowledged Saturday that security failures had helped to facilitate the attack at the museum and that the state was now facing a threat posed by the thousands of young Tunisians who have turned to jihad. "Among the often desperate young unemployed, the call to jihadism has worked," he said in an interview with Paris Match magazine. "Four thousand Tunisians have joined jihad, in Syria, Libya and elsewhere, and some 500 have already come back here, where they pose a threat. That is not to mention the five or six thousand others we have succeeded in preventing from leaving."
The instability in Libya is seen by many as posing a threat to Tunisia's security, particularly as the Islamic State group and other jihadist militias establish more of a foothold in that country. At least 1,500 Tunisian fighters are believed to have been armed and trained in Libya while nearly 4,000 are estimated to have traveled to Iraq and Syria to join the fighting there.
© Copyright IBTimes 2023. All rights reserved.