Turkish Military Convoy Of 30 Armored Vehicles Heading For Syrian Border: Report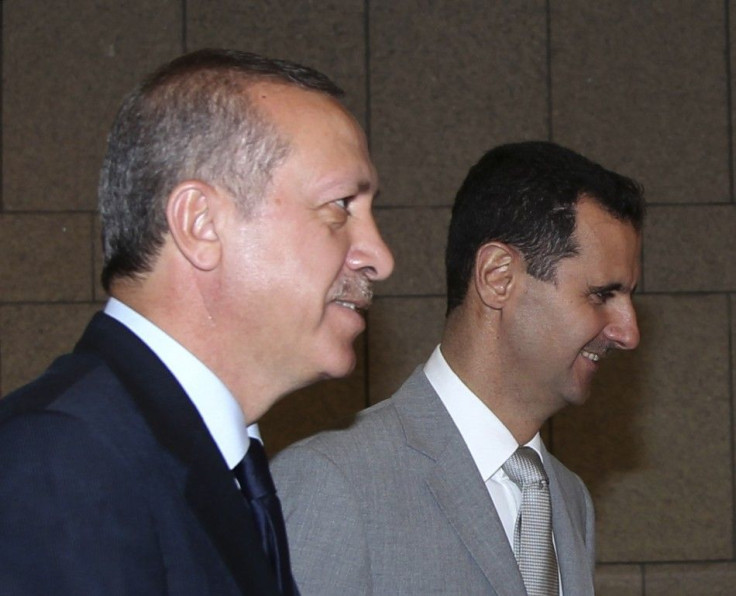 A Turkish convoy of 30 military vehicles and trucks loaded with missile batteries is heading for the Syrian border 50 kilometers away from Turkey's coastal town of Iskenderun in the Hatay province, a Turkish state-run news agency reported Thursday.
Turkey's Anatolia news agency reported deployment of heavily armed and guarded military vehicles to military installations in Sanliurfa province, a panhandle region with Syria to the South.
Turkish military units have reportedly bolstered security measures even as Turkish Prime Minister Recep Tayyip Erdogan announced toughened steps against Syria a week after Syrian forces shot down a Turkish military jet on the Mediterranean near the joint border.
Although Turkey hasn't declared war on Syria, Erdogan on Tuesday called Syria a clear and present danger for Turkey and all military vehicles approaching the 900-kilometer Turkish border with Syria are to be considered a threat.
We just wish to defend our borders and we don't want any kind of incursions, Turkish foreign ministry spokesman Selcuk Unal was quoted saying. Last month there were five different and separate airspace violations by Syrian helicopters and there (are) also other negative developments affecting the daily situation on our side of the border.
Following NATO's emergency talks in Brussels on the incident, Secretary General Anders Fogh Rasmussen said the alliance considered Syria's actions in shooting down the Turkish plane to be unacceptable.
Though American and allied officials said some intelligence reports since the downing last Friday were conflicting, they affirmed that the available data suggest that the Turkish warplane may have been on a military mission rather than what Turkey claims to be a routine training exercise to test its air defenses.
The coalition has also questioned the reason behind the Turkish airplane venturing into Syrian territory despite the tensions between the countries.
Syria maintains that the plane was shot by anti-aircraft fire well within its airspace. But Turkey contradicts the Syrian stance saying the plane was targeted over international waters after it strayed briefly into Syrian space.
Though NATO and the US military are examining the claims, their ally Turkey's version of the events is bound to gain greater acceptance over Syria's.
On a political level, NATO is taking the Turks at their word, a senior US official who has reviewed classified reports of the episode, was reported as saying by the New York Times.
Even if Turks were spying on Syrian military readiness, it does not justify the attack, a senior NATO diplomat said. When this happens between neighboring countries, you give a warning and then send up interceptors, an official, who wished to remain anonymous, told the New York Times. You don't just shoot down the plane.
However, Turkey's deputy prime minister, Bulent Arinc, denied the claim that the Turkish plane was on a reconnaissance mission, but acknowledged that the two-seat RF-4E Phantom, an unarmed reconnaissance version of the F-4 fighter jet, was equipped for surveillance.
If it had had a reconnaissance mission as claimed, our plane should have been accompanied by other warplanes for security purposes and the maneuvers required as part of such a mission could have been clearly seen on the radar screens, Arinc was quoted saying by the Anatolia News Agency.
On April 9, the Syrian Observatory for Human Rights, a Britain-based group, reported that the Syrian forces had fired across the border into Turkey at camps housing refugees just within the Turkish territory.
In October last year, Anatolia reported that Colonel Riyadh al-Asaad who defected from the Syrian military had set up a Free Syrian Army, an armed Syrian opposition group and was operating out of Turkey.
© Copyright IBTimes 2023. All rights reserved.