Typhoon Melor Kills At Least 9 In Philippines; New Storm Approaches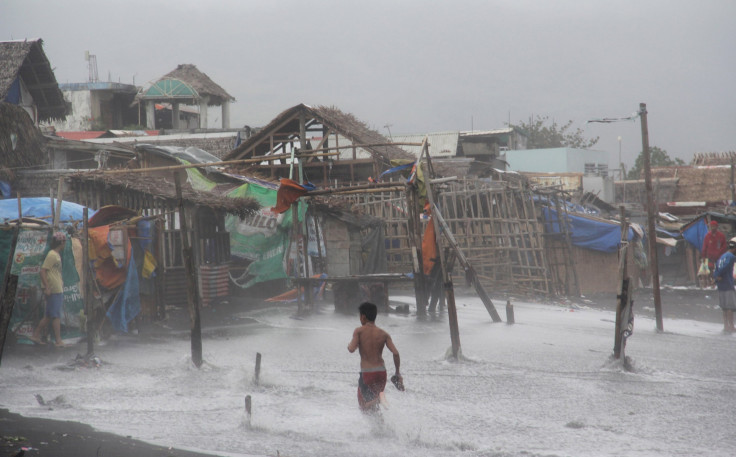 UPDATE: 12:50 a.m. EST — The number of casualties from Typhoon Melor in the Philippines rose to nine, according to media reports. Four of the dead were in Oriental Mindoro province, which the typhoon is near Wednesday and five were in Samar, where Melor first hit on Monday. Ninety percent of Northern Samar was affected and it could take up to four months to restore power in some areas, Reuters reported.
Thousands will spend the Christmas holidays in evacuation centers without power or potable water, a provincial disaster management official was cited as saying.
Original story:
MANILA -- At least four people were killed as Typhoon Melor rolled through central Philippines, downing power and communication lines, damaging roads and bridges and causing floods as far as Manila. As of 4 a.m. in Manila (3 p.m. EST), the typhoon was 78 miles northwest of Calapan City, Oriental Mindoro province, probably the closest it will get to Manila. The typhoon had slowed to 6 mph and its winds weakened, the Philippine weather agency said.
The four reported dead were all in Northern Samar, the first province hit by Melor. Three were killed in a flood and the fourth by flying debris, media reports said.
While casualties are expected to rise as more reports come in, authorities are counting on evacuations enforced before Melor hit to minimize the death toll. More than 700,000 people were evacuated in various provinces over the weekend, the government said. Flights were canceled and some airports and seaports closed.
The Philippines is one of the most typhoon-vulnerable countries in the world, getting hit by about 20 a year. Typhoon Koppu left more than 50 dead in October. Typhoon Haiyan killed more than 7,000 in 2013.
A potential tropical storm is approaching and could hit the southern island of Mindanao later in the week as Melor exits, Philippine Daily Inquirer reported.
© Copyright IBTimes 2023. All rights reserved.