UCLA - Arizona State 2014: Early Prediction, Betting Odds, Preview For Thursday Night Football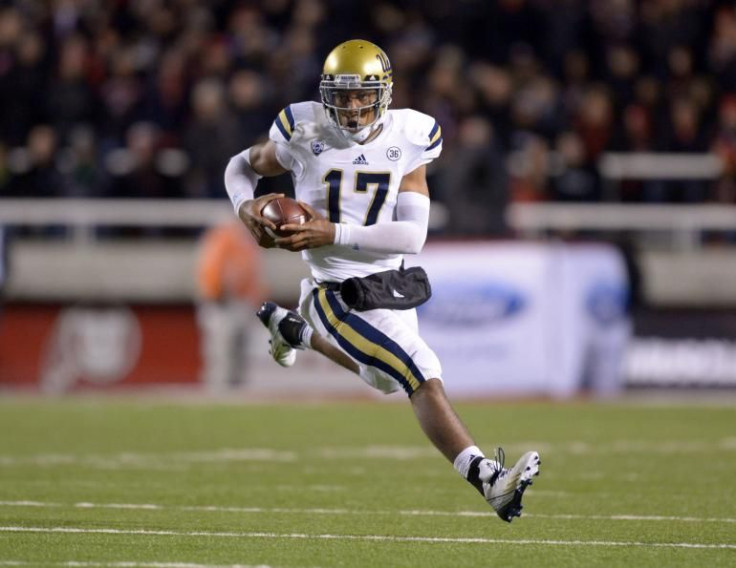 Thursday night marks the start of conference play for UCLA, and it could be the most important game in their quest to reach the Pac-12 Football Championship game. The Bruins will head to Arizona State and take on their conference rivals.
Both No.11 UCLA and No. 15 Arizona State are among the top candidates to win the Pac-12 title. Oregon is the top ranked team in the conference, but UCLA and Arizona State are the two top teams in the South Division, having gone undefeated in their first three games.
The Bruins entered the 2014 college football season with high expectations, and though they are 3-0, the team hasn't played as well as many experts thought they might. UCLA has been a heavy favorite in each game, but every contest has been decided by one score, and they are 0-3 against the spread. The Bruins beat three-touchdown underdogs Virginia by just eight points, and needed a score with three minutes left to beat a poor Texas team in their last matchup.
UCLA barely got by Texas in their last game, in large part because their Heisman Trophy candidate missed most of the contest. An elbow injury forced quarterback Brett Hundley to sit after just four pass attempts. Backup Jerry Neuheisel went 23-of-30 for 178 yards, two touchdowns and no interceptions.
Having Hundley in the lineup on Thursday will be key for UCLA. In his last game, the junior completed 75 percent of his passes for 396 yards and three touchdowns.
Most signs appear to be pointing in the direction of Hundley playing this week. On Sunday, he was in full uniform at practice, though it's unknown if he was a full participant. Arizona State is preparing as if Hundley will be on the field, but UCLA head coach Jim Mora won't give specific details about his quarterback's health.
"All of our players that are out, what we try to do is try to make the best decision for them based on the knowledge that we have," Mora said, via the Los Angeles Times. "We depend on our doctors to give us good information. We've got the best doctors in America, in my opinion."
"If they clear him and they say that he can play, just like everybody else, we'll play him."
One thing that is for certain is the status of Arizona State's starting quarterback. Taylor Kelly won't play because of a right foot injury. Kelly got hurt in the team's 14-point victory at Colorado on Sept. 13.
In 2014, Kelly has thrown for six touchdowns and no interceptions. In addition to his 625 passing yards, the quarterback has added 168 rushing yards and two scores on the ground.
Mike Bercovici will start in Kelly's place, after completing two passes for eight yards in his absence. In three seasons, the backup has only attempted 24 passes and thrown for 112 yards.
The Sun Devils have the No.7 offense in the country, scoring 47 point per game. UCLA might be able to put up similar numbers against an inexperienced Arizona State defense. The defending Pac-12 South champions lost nine starters from last year's defense, which helped beat the Bruins by five points in 2013.
The initial betting odds had UCLA as three-point road favorites, but the point spread on Monday afternoon has the Sun Devils getting 5.5 points. Arizona State is 1-2 against the spread in 2014.
Prediction: UCLA 38, Arizona State 31
© Copyright IBTimes 2023. All rights reserved.