UFC Castoffs Getting Second Chance At Glory Through PFL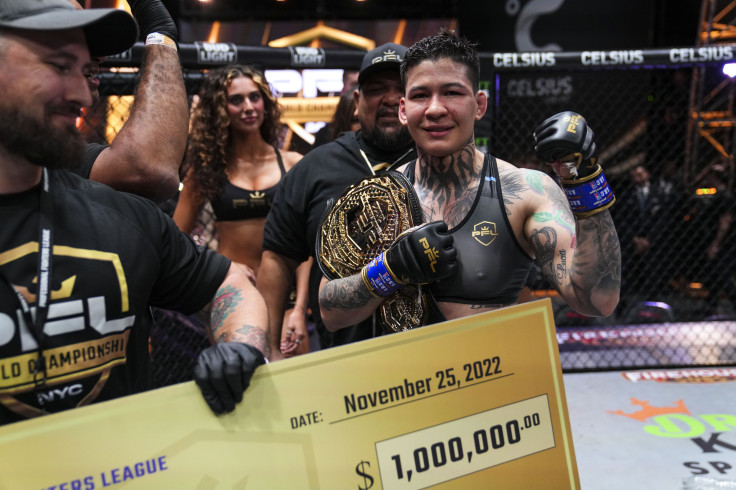 KEY POINTS
Four of PFL's 2022 champions came from the UFC
Larissa Pacheco fought in the UFC before beating Kayla Harrison in PFL
Brendan Loughnane competed on The Ultimate Fighter in 2012
What do Larissa Pacheco, Brendan Loughnane, Olivier Aubin-Mercier and Robert Wilkinson all have in common?
For starters, they're all newly-crowned Professional Fighters League (PFL) titleholders and millionaires.
These four fighters were among the six champions crowned at the 2022 PFL World Championship back in November, with Pacheco getting the most notable victory after becoming the first person to ever defeat former two-time PFL titleholder Kayla Harrison.
Moreover, they all had to go through the promotion's sports tournament format and emerged as the best fighters in their respective weight classes to earn a PFL world title and a million-dollar payday.
Another thing that these four have in common is that they all used to—in one way or another—compete in the UFC and were all eventually cut or ultimately not given a chance.
After going undefeated in her first ten bouts, Pacheco was called up to the UFC in 2014.
Under the UFC umbrella, she suffered back-to-back losses against future champions Jessica Andrade and Germaine de Randamie.
Pacheco would be released from the UFC after the loss to de Randamie and would take a near-three year hiatus before returning to competition in 2018.
In 2019, Pacheco signed with PFL and immediately became one of the league's most dominant women's featherweights, with her only two losses in the league coming against Harrison.
Last season, Pacheco made good on the third opportunity at Harrison as she shocked the world to become the 2022 PFL women's featherweight grand winner and deny the American the distinction of becoming the league's only three-peat champion.
Seven years after being cut by the UFC, Pacheco is one of the biggest names in women's MMA and is the most intriguing matchup for one of the sport's biggest names.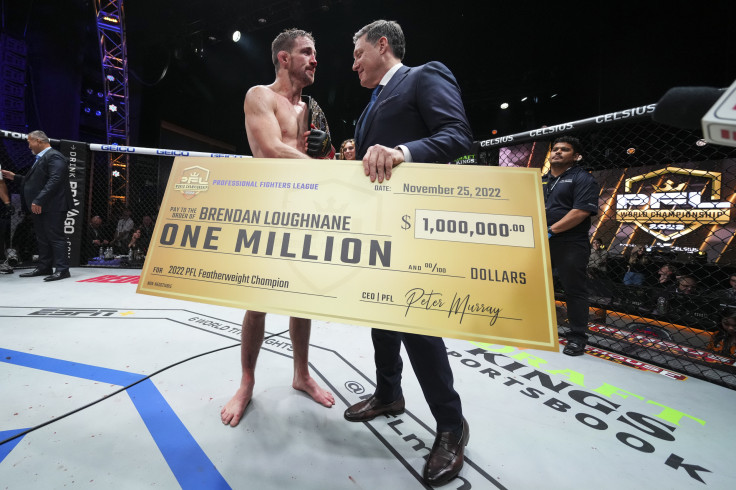 Loughnane, meanwhile, was part of The Ultimate Fighter: The Smashes back in 2012.
As part of Team UK, Loughnane reached the semifinals of the lightweight bracket, only to fall to eventual winner Norman Parke.
In the season finale, Loughnane lost to teammate Mike Wilkinson, which would mark the end of his UFC run.
In 2019, Loughnane came close to getting another shot with the UFC after competing on Dana White's Contender Series, where he defeated current UFC featherweight Bill Algeo by way of unanimous decision.
Despite the win, Loughnane would not get a UFC contract and would sign with PFL later that year.
Since joining PFL, Loughnane has lost just once in nine matches.
Last season, the Manchester native put together a stellar campaign that saw him defeat the likes of Chris Wade and Bubba Jenkins en route to the 2022 PFL featherweight championship.
Before capturing the 2022 PFL welterweight championship, Aubin-Mercier was a five-year UFC veteran, having competed inside the Octagon 12 times.
"The Canadian Gangster" lost his final three fights in the UFC before parting ways with the company in 2019.
In 2021, Aubin-Mercier made his PFL debut and hasn't lost a fight since.
Before he was blasting through PFL's light heavyweight division, Wilkinson competed in the UFC twice in 2017 and 2018, losing to Siyar Bahadurzada and future middleweight great Israel Adesanya.
"Razor Rob" would make his maiden PFL appearance last season and eventually capture the gold-plated strap.
The promotion's recently-concluded 2022 season featured the most number of former UFC fighters to win PFL championships, which just goes to show that all isn't lost when a mixed martial artist receives the pink slip from the world's premier MMA organization.
By the looks of it, PFL has been giving some of these castoffs a second chance at glory, and it certainly looks like the more lucrative path.
In a recent interview with Ariel Helwani on The MMA Hour, Aubin-Mercier hopes that the UFC is taking a look at what's happening in PFL.
"I truly hope they see what's happening. I hope there are no fighters that are mad about that, that are mad that they make less money in the UFC than I made money in PFL," he said. "Because I think truly the problem is those fighters that decide to go to the UFC instead of PFL just because of the big name."
"I think people are going to understand really soon that you can live a really good life if you go to PFL," Aubin-Mercier continued. "A lot more people are going to try to come to PFL instead of the UFC and I think I'm a great example of that."
"Other people are going to open their eyes and just going to see, UFC is great, the name is big and everything but that's it.'
In the last few months alone, PFL has already managed to bring in a handful of ex-UFC standouts, including Thiago Santos, Aspen Ladd and Shane Burgos.
In fact, Burgos actually turned down a contract from the Las Vegas-based outfit to sign with PFL.
With the rate that things are going, it wouldn't be surprising to see even more former UFC stars jump ship to PFL in the future.
© Copyright IBTimes 2023. All rights reserved.