UFC: Conor McGregor Might Fight Jose Aldo In Ireland In October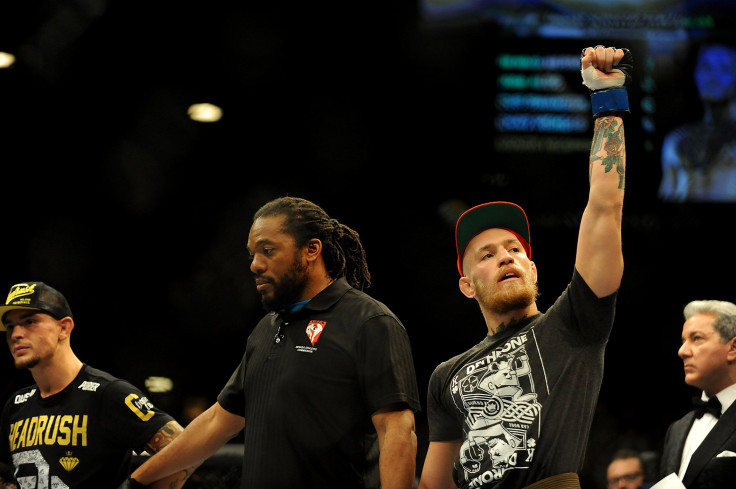 Conor McGregor, Ireland's most recognizable name in the Ultimate Fighting Championship (UFC), is insistent that the UFC will not hold an event in his home country without him being involved. After the mixed martial arts promotional outfit announced it will return to the country Oct. 24, to possibly stage "UFC Fight Night" at 3Arena, the size of the venue kept many guessing if McGregor will be included in the lineup.
After all, the stadium can hold only 9,000 spectators -- far fewer than the fighter known as "Notorious" is capable of attracting. Luckily for him, McGregor recently clarified that the Ireland rumors were not accurate. He said he spoke with promoter Lorenzo Fertitta about securing a larger venue to hold his potential first title defense, as well as a slew of other matters. "I spoke with Lorenzo a few days go about it. He was trying to say, 'We want bigger stadiums.' The O2 is a 9,000-seat stadium, so he wants a bigger one. And I'm saying that you don't have a show in my hometown and not have me on it," McGregor said.
The UFC has not confirmed any details on the upcoming event -- given that a lot can change between now and October. For example, UFC 189 was supposed to hold the "Fight of the Year" between featherweight champion Jose Aldo and McGregor. But the Brazilian's rib injury erased that possibility, leaving McGregor to contest for an interim title on Saturday in Las Vegas against fellow hopeful Chad Mendes.
Still, a silver lining looms if all events go the right way. If McGregor emerges as the first Irish champion on Saturday, the timing would be right for a unification bout with Aldo in Ireland. The world's No.1 pound-for-pound fighter is scheduled to recover fully from the rib strain by October, aligning perfectly with the UFC's return to the Emerald Isle.
McGregor -- and the UFC -- better hope that McGregor's best-laid plans aren't ruined by a diminutive man named Mendes come Saturday.
© Copyright IBTimes 2023. All rights reserved.