UFC News: Possible Ben Askren Opponents After Reported ONE Championship Trade
Ben Askren will finally get to test himself against the best welterweight fighters in the UFC — but who could he potentially face?
The unbeaten American (18-0-1) last fought in a quasi-retirement match at ONE Championship's Immortal Pursuit event in November last year in Singapore where he defeated Shinya Aoki to defend his welterweight title.
In the build-up to the fight as well as the aftermatch, Askren reiterated he would only come out of retirement if he could fight the best welterweights in the UFC to prove he was the top dog in that weight class.
And it certainly looks to be the case as ESPN reported Wednesday that the UFC and ONE Championship were finalizing a ground-breaking trade that sees former flyweight champion Demetrious Johnson get traded for Askren.
Askren has, more or less, confirmed the trade, having recently claimed he had a 98 percent chance of fighting in the UFC, which previously seemed unthinkable given his public feud with president Dana White.
So who could Askren face? Ideally, it would be current UFC welterweight champion Tyron Woodley, but given the two are not only teammates but also grew up together, it seems unlikely.
"Funky" certainly has other options though:
Georges St-Pierre
With Askren seeing nobody beating Woodley anytime soon, he turned his attention to St-Pierre over the course of the past year.
St-Pierre (26-2) is regarded as the greatest welterweight champion of all time and for many, may even be the greatest UFC fighter of all time. The French-Canadian is known primarily for his wrestling and given Askren's wrestling background, it would make for an intriguing match-up.
Earlier this year, Askren detailed how he would beat St-Pierre and there were even talks of the UFC and ONE Championship potentially making a cross-promotional fight between the two welterweights. But with Askren now on board, the fight could happen.
The question is if "GSP" would be interested in taking it, having expressed his desire of only taking fights that would further his legacy.
Khabib Nurmagomedov
Another fantasy match-up for a while has been Askren vs. Nurmagomedov. The UFC lightweight champion, like Askren, is undefeated (27-0) and is known for his devastating grappling and ground game.
However, he is still yet to face anyone with Askren's wrestling credentials and the Wisconsin native is confident he can be the one to end Nurmagomedov's unbeaten run.
The only issue is which weight class they would fight in and whether Askren could potentially drop down to 155-pounds.
Colby Covington
Covington is seemingly next in line to face Woodley for the welterweight title, but a fight with Askren seems to be a possibility in the future.
The two have gone back-and-forth on social media before and Askren even called him out Wednesday night, stating he had "dibs" on him next.
Given Covington's wrestling credentials and fighting style, it would be another intriguing match-up for Askren which many fans would be interested in seeing.
Jorge Masvidal
Masvidal is currently without an opponent and has been looking to get himself back in octagon action since losing to Stephen "Wonderboy" Thompson in November last year.
Ideally, a fighter like him would be a good welcome opponent for Askren to really test himself in the elite before taking on any other fighter.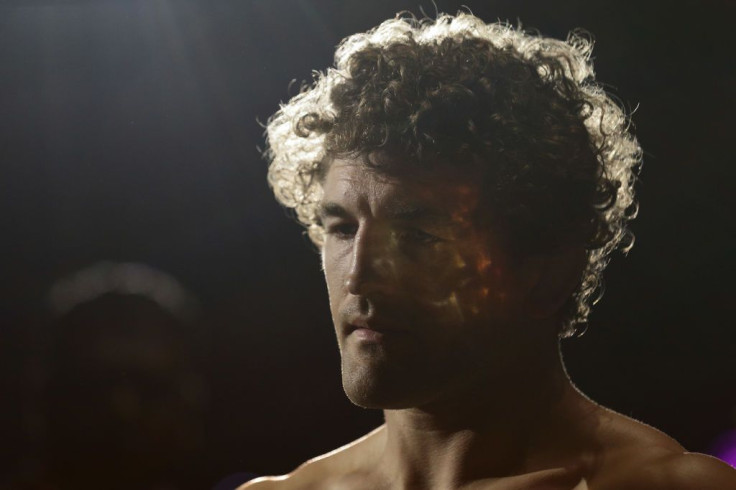 © Copyright IBTimes 2023. All rights reserved.
FOLLOW MORE IBT NEWS ON THE BELOW CHANNELS