Ben Askren Explains How He Would Defeat UFC's Georges St-Pierre In Super-Fight
Former Bellator and ONE welterweight champion Ben Askren believes he knows exactly how he would be able to defeat Georges St-Pierre if they ever met in a super-fight.
Askren recently retired unbeaten in mixed martial arts (MMA) competition after he finished Shinya Aoki in the first round of their title fight in ONE Championship's Immortal Pursuit card via TKO in November last year.
The All-American is regarded one of the best welterweight fighters in the world but never received the chance to compete in the premier MMA organization in the Ultimate Fighting Championship (UFC) due to his public problems with President Dana White.
As a result, the Wisconsin native was scrutinized by fans for never facing elite competition, though he always wanted to prove himself against the best in the world.
Current UFC welterweight champion Tyron Woodley is out of the question as he is not only a teammate of Askren's but also a childhood friend. So, the 33-year-old has been campaigning for a fight with St-Pierre in 2019 as he is the only fighter he would come out of retirement to face.
St-Pierre, often referred to as GSP, is arguably the greatest welterweight in UFC history, having dominated the competition at 170 pounds from 2008 to 2013 until his first retirement.
The Canadian, who came out of retirement in November at UFC 217 after four years of inactivity, moved up a division and defeated Michael Bisping to become the middleweight champion and just the fourth fighter to win a title in two different weight classes.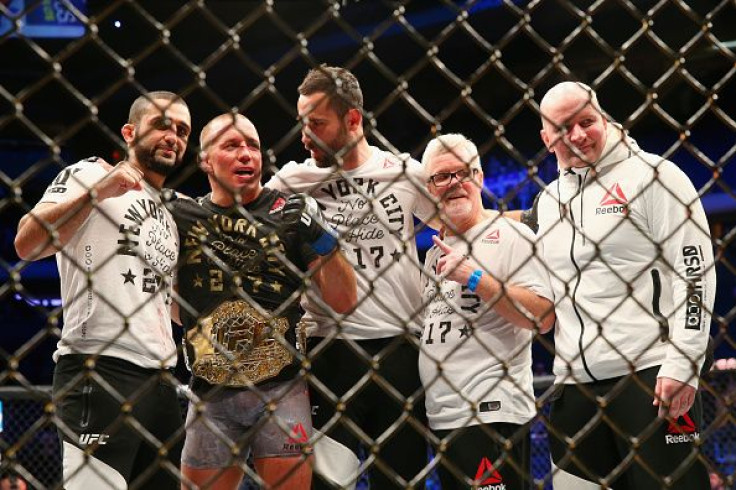 St-Pierre would eventually vacate his title due to a case of ulcerative colitis but hinted at returning once again if a fight interests him. The 36-year-old recently praised Askren's ability, who like him, also excels on the ground, and said he would loved to have faced him during his heyday but did not speak further on fighting him.
"I thought he might just say, 'Ah, I don't really know him,' or whatever, but it was nice to hear him say the truth," Askren told The MMA Hour. "Because what I've heard from behind closed doors is that he likes the skills that I bring."
"At the end of the day, in his heart, he's really a martial artist, and most martial artists appreciate what I've done in MMA. While it may not have been the flashiest or the most creative, I brought a very unique skill set and I executed in a fashion that very few have done before me, and I think very few will do after me."
As for how he would defeat St-Pierre, Askren believes he not only has the wrestling advantage, but also the stamina, which would lead to eventually breaking him mentally.
"Here's what I think happens because the one thing I have over him is I have the wrestling advantage and I don't get tired, and that's usually what he's relied on in the last, say, 10 to 12 fights or so," Askren explained. "I think he's very tough to take down early. I think he's very tough. I think he's probably going to win the striking battle, but one of the things, I never take a lot of damage. I just don't get hit a lot. That's what I'm good at."
"And over the course of the second and third round, I start to wear him down, my takedowns become more effective. By the third and fourth round, I've started dominating with my top game. He's used to being on top — he can't get me off of top. If he does get a momentary glimpse of hope, I'm back on him, no problem. And in the fifth round, he mentally breaks and he says, 'I can't do this anymore, I've never been in this position in my life,' and he let's me finish him. TKO. He just says, 'I'm done with this s**t.'"
© Copyright IBTimes 2023. All rights reserved.