UFC: Ronda Rousey Promises Slow, Painful Night For Bethe Correia In Rio De Janiero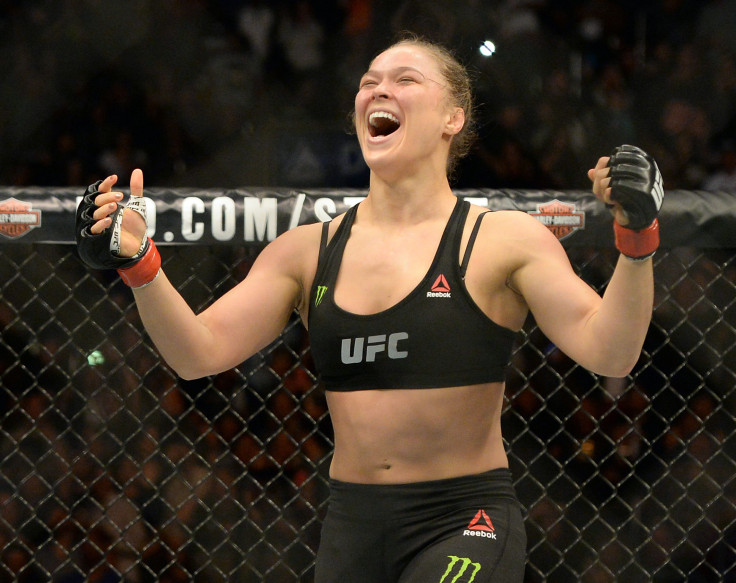 Ronda Rousey, the Ultimate Fighting Championship (UFC) women's bantamweight champion, is known for her record-setting quick wins over challengers. Her most recent title defense ended so quickly that No. 2 contender Cat Zingano could not fathom that 14 seconds was all it took to lose her shot at the title.
In UFC 190, scheduled for Aug. 1 in Rio de Janiero, Rousey is planning a different scenario. The 28-year-old expects a prolonged bout against Brazilian Bethe Correia, in hopes of inflicting further damage to her latest top rival. In her latest Instagram post, the former judo Olympian promised the self-proclaimed conqueror of the UFC's "Four Horsewomen" a serious lesson via a thorough beating.
"And this will not be over quickly. I will make sure you feel every moment of the lesson I'm going to teach you," Rousey wrote.
Rousey followed up the taunt with a series of photos from the cartoon show "The Simpsons" showing Bart Simpson hiding in the bushes in fear of Rousey, who will make the fight personal against the 32-year-old Correia. The back and forth between the two women fighters has escalated from the usual trash-talking after the challenger declared that the champion will commit suicide after receiving her first defeat.
Little did Correia know that "Rowdy's" father died of suicide, so the remark struck a deep chord with the undefeated UFC queen. Correia has apologized, citing her ignorance of the circumstances of Rousey's father's death. But apparently the display of humility was not enough, as Rousey is using the remark to fuel her game for the fight in Rio de Janeiro.
Before being officially paired together, Rousey had some praise for Correia, who defeated her pals Jessamyn Duke and Shayna Baszler. At the time, the part-time Hollywood actress said she appreciated how Correia was using her bravado to create more intrigue in the women's division. The UFC also took notice of this, resulting to the upcoming bout that Rousey has called her "Rocky IV" moment.
© Copyright IBTimes 2023. All rights reserved.