UFC's Dana White Speaks Out On Domestic Violence And The Growth Of Mixed Martial Arts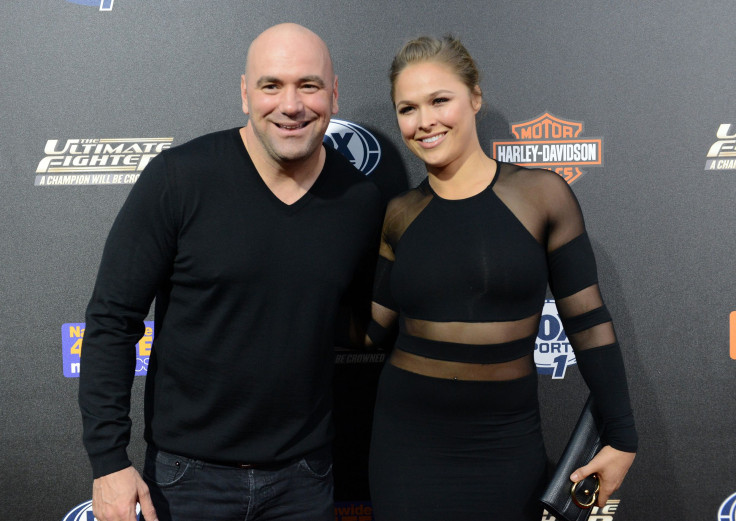 UFC President Dana White called the video of football star Ray Rice hitting his wife in an elevator "horrifying," but said the attack brought new attention to domestic violence and could result in a more effective NFL policy against violence. White highlighted UFC's strict domestic violence policy amid the recent controversy surrounding the NFL's handling of the Rice incident.
"Obviously the video, and what happened was horrifying but I think a lot of positives are happening now. It's brought a lot of attention and awareness and I think from here on out it should all be positive," White said. "We always were proactive. Since we started 'The Ultimate Fighter' we've done full background checks on all the guys coming in. If they ever had anything, any violence against women, they didn't get on."
Most recently, White suspended light heavyweight contender Anthony Johnson after allegations of domestic violence against the mother of his children. "We've been all over that and when you move as fast as we move, and the things we've been doing, it's hard to police thousands of guys and know what exactly is going on but as soon as we've found information on guys, we've acted. Of course, the way we always react is morally first then the business second," White said.
White has a reputation for being outspoken, which has led to some controversy for Mixed Martial Arts' most public figure. In an interview with the International Business Times, White discussed what's in store for the future of the UFC:
UFC Becomes Synonymous With MMA
"There are obviously some positives and negatives to it. When everything is great, it's great! It's an education process; we can't act like every reporter out there knows that there are other MMA organizations. So our PR staff will call and say, 'That one wasn't us, that was somebody else.' That one was Viacom, not us," White said.
Creating Stars and Continuing the Global Expansion of UFC
"Cain Velasquez, Jon Jones, Ronda Rousey, now finally, Anthony Pettis is back, Johny Hendricks, Dominick Cruz looked amazing the other night, Conor McGregor burst onto the scene. I mean, we're very lucky we have a laundry list of stars and those are just the champions and there are other guys in the division that people like. You have to build an entire division to make great championship fights," he said. "As the sport continues to grow and we go into these other countries and the sport just gets bigger and bigger it means more athletes competing in the sport from all over the world. Brazil is off the charts right now, Mexico and Latin America is going crazy. We're working on India, China has been fantastic, so it's all positive."
White traveled to New York this week to accept Adweek's Brand Genius Award and said he's continuing to push for MMA's legalization in the state. "This is a big one for us. We obviously want to go to Madison Square Garden and do a big event here. We've been working on it forever and, you know, sooner or later," White said.
What Fights He's Looking Forward To
"We didn't have a '2012 bad year' but this was a very crazy year too. When we come off a streak like this, a crazy streak, all that means is nothing but big, great fights coming up. End of this year and all the way into the beginning of next year. It's hard to not look forward to Jones vs. Cormier, and if Jones wins to Jones vs. Gustafsson. I'm really excited about Werdum and Cain Velasquez, the Johny Hendricks rematch with Robbie Lawler, Cat Zigano and Ronda Rousey is going to be good, Pettis and Melendez, I mean the list goes on and on," White said.
FOR FREE to continue reading
✔️ Unlock the full content of International Business Times UK for free
offer available for a limited time only
✔️ Easily manage your Newsletters subscriptions and save your favourite articles
✔️ No payment method required
Already have an account?
Log in
© Copyright IBTimes 2023. All rights reserved.