UK Floods: David Cameron Defends Flood Investment As Economic Losses Expected To Top $2B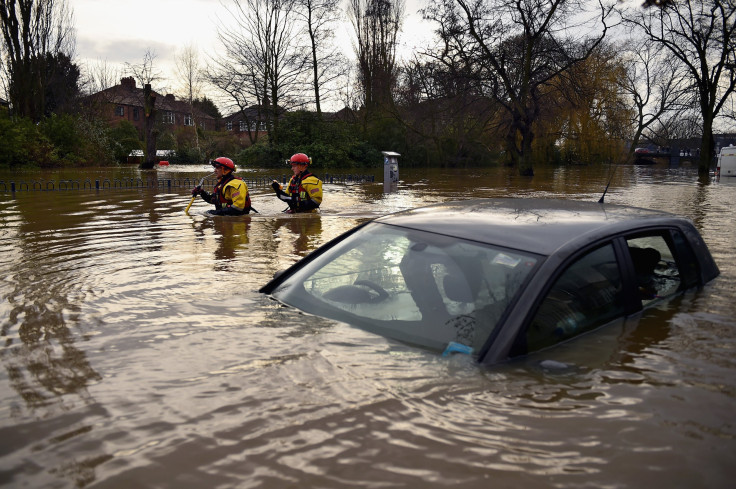 The widespread floods in the U.K. caused by storms Eva and Desmond could lead to losses of up to 1.5 billion pounds ($2.2 billion), according to accountancy firm PricewaterhouseCoopers (PwC). The estimate comes at a time when heavy flooding across northern England have led many to question the country's preparedness for such disasters and the government's investment on flood defenses.
"We will need to reassess all the defenses right across the country," David Rooke, deputy chief of the U.K.'s environment agency, reportedly said Monday, adding that better waterproofing of homes and improvements in warning systems would be vital for dealing with future disasters.
"We are moving from a period of known extremes into a period of unknown extremes," he said. "What we are seeing are record river levels … and what we need to do is to look at the historic records that we use to predict what defenses we should provide to protect people and their property and their businesses."
The Environment Agency has issued nine severe flood warnings for England and Wales following the latest storms, indicating danger to life, and 43 flood warnings, requiring immediate action. The historic city of York, which was inundated when the river Foss broke its barriers, has been the hardest hit as Eva brought down torrential rains over the Christmas weekend.
The latest floods come just weeks after Desmond hit the country earlier in December, causing widespread damage in areas that have since flooded again. Although it is still too early to estimate the exact loss, the combined economic costs, which would hit small businesses and insurance firms the hardest, are likely to be "significant," PwC warned in its estimate.
"Based on the areas where significant rain has fallen, the great number of roads submerged and including the losses arising from Storm Desmond earlier this month, we would give a very initial estimate of economic losses of between 900 million pounds ($1.34 billion) and 1.3 billion pounds ($1.94 billion), with the insurance industry bearing between 700 million to 1 billion of this," Mohammad Khan, general insurance leader at PwC, said, in a statement.
"If rain continues to fall in large quantities, and the areas with warnings in place do indeed flood significantly, it could well be that the total economic losses could breach 1.5 billion."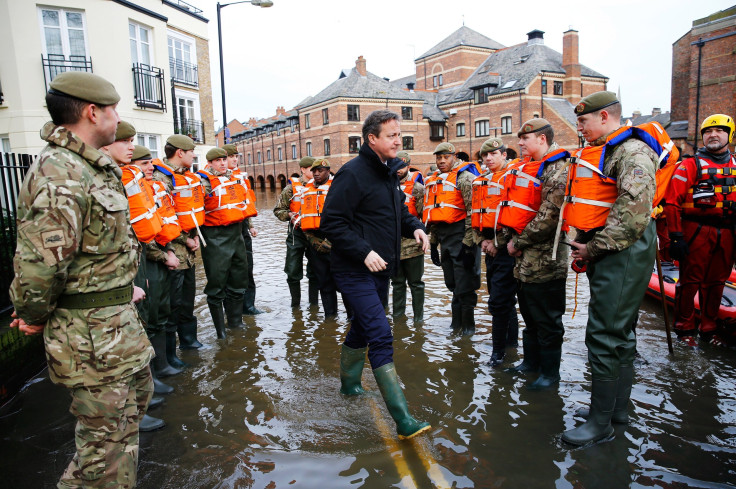 Meanwhile, Prime Minister David Cameron, responding to accusations of perpetuating a "north-south divide" in investments in the country, defended his government's spending on flood defenses.
"We are going to spend 2.3 billion pounds on flood defenses in this parliament but we will look at what's happened here and see what needs to be done," Cameron said Monday, while visiting flood-hit areas in the north. "Here in Yorkshire...we are planning to spend another 280 million (pounds)."
Cameron has long insisted that his government is spending more than ever on flood defenses. However, a report released last November by the U.K.'s National Audit Office painted a different picture.
The report revealed that spending on maintenance of the flood defenses had fallen by 6 percent in the five years of Cameron's coalition government, and overall funding fell by 10 percent in real terms, "increasing in future both the risk of floods and the potential need for more expensive ad-hoc emergency solutions."
© Copyright IBTimes 2023. All rights reserved.