UKIP Tops European Elections In Britain; Old Parties Humbled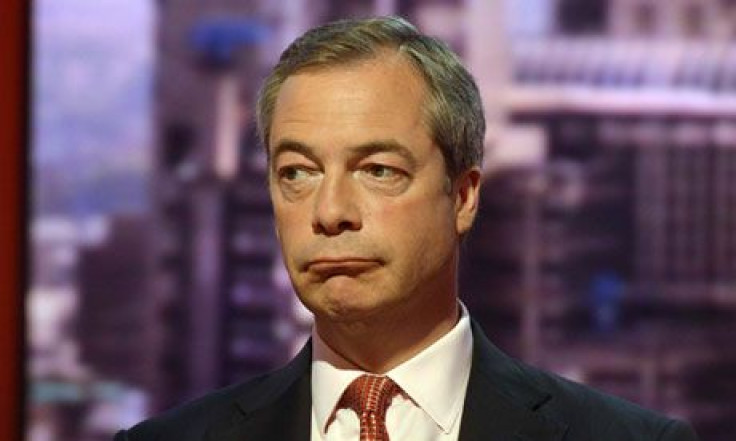 In a furious rejection of the status quo, the United Kingdom Independence Party was surpassing all of Britain's traditional parties in returns from European Parliament elections Sunday.
Labour and the Conservatives were vying for second place, while the Liberal Democrats, junior partners in the national coalition, were set to lose but one all their European Parliament members and were running fifth behind the Greens, the BBC reported.
UKIP leader Nigel Farage has said that he fully anticipates a victory. He said it "will be an earthquake because never before in the history of British politics has a party seen to be an insurgent party ever topped the polls in a national election."
UKIP is among a host of anti-immigration and Euroskeptic parties across the continent gaining strong support in the elections.
As UKIP continued to record wins across the country, Farage said the impact of the results would be felt in the long-term. "We may see one party forced out of his position as a result of tonight and I suspect the PM [David Cameron] will face pressure from his own party for a much tougher negotiating stance. Who's to say in a years time what UKIP can achieve in a general election in what is likely to be a hung parliament. I am delighted with the way this election has gone and the peoples party are marching their way into Europe. I think anything is possible after tonight's result."
The party's communications director Patrick O'Flynn, who was elected an MEP for the East of England, said the party's achievement was "quite unprecedented."
Speaking after his win he said: "We want our country back and we are going to have a really good crack at getting back. The British people have spoken, they want control of their nation."
"The political earthquake is underway tonight," he added. "Any party that doesn't hear the message loud and clear is in for another shock less than a year from now when we fight again at the general election."
The rise of UKIP saw Labour conceding defeat, with early results indicating that Labour are being pushed into second place.
In a personal cause for embarrassment for Labour leader Ed Miliband, UKIP topped the poll in Doncaster, where he is an MP. UKIP had 35 percent of the vote, up 19 points on 2009. Labour was pushed into second with 34 percent.
Defending their position, a senior Labour source maintained that while it looked as if UKIP was ahead, the vote for the official opposition party was "up significantly" on the 15.7 percent it achieved in 2009.
Nick Clegg's Liberal Democrats party has suffered the greatest losses with calls for him to step down as leader after he acknowledged that they face the possibility of losing all of their 11 MEPs.
Lib Dem party president Tim Farron said: "It's as bad as I feared. Whatever we end up with we fought a campaign I am extremely proud of. Nick Clegg has fought against the anti-European campaign for UKIP. We stood up to it and we're being punished for it."
Tory Cabinet minister Philip Hammond has claimed that the vote for UKIP is skewed by "lender voters" who would abandon the party and return to the Conservative fold for the 2015 general election.
Hammond said: "UKIP is a protest party. Most of the people who are voting for UKIP -- not all of them, but most of them -- are disillusioned voters of other parties who have moved to Ukip to send us a message, and we've got a year to show them that we've got that message.
"We've got to reiterate our continuing story about how our economic plan is delivering for Britain, recognising that not everybody is feeling the benefit of that yet. We've got to make sure they do and we've also got to express the specific concerns that people are articulating about immigration and about Europe."
If the result is confirmed as a UKIP win, it would be the first time since 1984 that the official national opposition party, in this case Labour, has failed to top the poll in the European elections.
Cameron now faces renewed pressure to consider local electoral deals with UKIP at next year's general election.
In the rest of Europe, France's far-right National Front was on course for a massive victory in European elections as the country swung behind its anti-immigration, anti-EU agenda.
Early estimates suggested the number of Euroskeptic MEPs in Brussels could double.
© Copyright IBTimes 2022. All rights reserved.
FOLLOW MORE IBT NEWS ON THE BELOW CHANNELS