Ukraine Army Eliminates 810 Russian Soldiers In One Day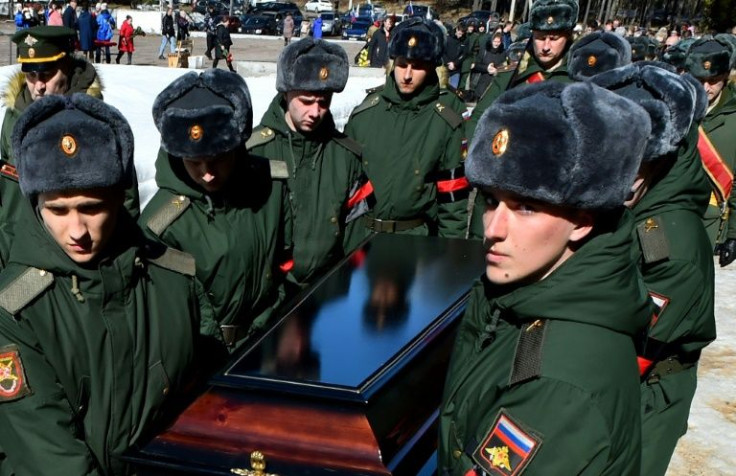 KEY POINTS
Russia suffered 810 combat losses between Wednesday and Thursday
The country has lost a total of 109,720 military personnel in its invasion of Ukraine
Russian losses also included thousands of pieces of military equipment
Russia suffered 810 more casualties in Ukraine over a single day this week, the Ukrainian military announced, amid calls for a ceasefire between the two sides.
A total of 109,720 Russian military personnel have been killed since the conflict began in February 2022, the General Staff of the Armed Forces of Ukraine claimed in its most recent casualty report released Thursday.
The figure was up from the 108,190 Russian combat losses reported the previous day.
Russian losses in Ukraine also included 3,041 tanks, 6,108 armored fighting vehicles and 2,051 artillery systems, among other pieces of military equipment, according to the updated data provided by the Ukrainian military.
Russia's government last provided an official death toll from the war in September last year when the country's defense ministry claimed that 5,937 Russian soldiers had died in Ukraine up to that point.
In comparison, Ukrainian officials said in early December that up to 13,000 of Ukraine's troops have been killed in the conflict.
Both Russia and Ukraine may be underreporting their casualty counts, the United Kingdom's Ministry of Defense has suggested.
Russian President Vladimir Putin ordered the head of Russia's Ministry of Defense, Sergei Shoigu, to impose a 36-hour ceasefire on the Ukrainian frontline beginning 12 p.m. Moscow time Friday for the Orthodox Christmas holiday.
"Based on the fact that a large number of citizens professing Orthodoxy live in the combat areas, we call on the Ukrainian side to declare a cease-fire and give them the opportunity to attend services on Christmas Eve, as well as on the Day of the Nativity of Christ," Putin's order read, according to a report by the Associated Press.
Ukrainian President Volodymyr Zelensky did not explicitly state that his forces would reject the ceasefire, but he did question the motives behind Putin's gesture during an address.
"Now they want to use Christmas as a cover to stop the advance of our guys in the Donbas for a while and bring equipment, ammunition and mobilized people closer to our positions. What will it give? Just another increase in the count of losses," Zelensky was quoted as saying by AP.
The Donbas is a region that includes Ukraine's eastern Donetsk and Luhansk provinces, both of which are partially occupied by Russian forces.
The United States has "little faith in the intentions" behind Putin's announcement, according to State Department spokesman Ned Price.
Russian officials "have given us no reason to take anything that they offer at face value" and the offered truce seems to be a play "to rest, refit, regroup and ultimately re-attack," Price claimed.
Ukraine will accept a temporary truce only when Russian forces "leave the occupied territories," Mykhailo Podolyak, an adviser to Zelensky, said.
It was unclear if Russia would uphold its own ceasefire even if Ukraine continued to fight.
Putin called for a ceasefire after Russian bishop Vladimir Mikhailovich Gundyayev proposed a truce.
Gundyayev, also known as Patriarch Kirill of Moscow, is the head of the Russian Orthodox Church.
© Copyright IBTimes 2023. All rights reserved.