In Ukraine Crisis, Italy's Hunger For Russian Gas Weakens Western Coalition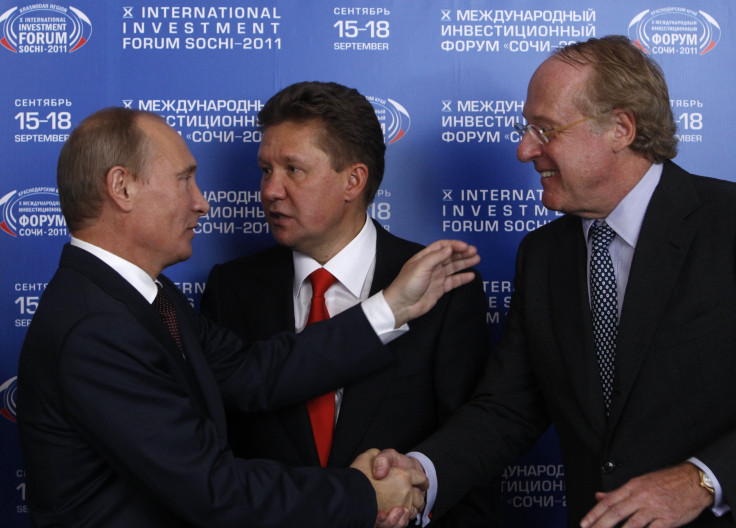 ROME -- When Russian gas giant OAO Gazprom (MCX:GAZP) announced on Tuesday it would stop discounting gas deliveries to Ukraine starting April, over the crisis that has the two nations on the brink of war, Italy's brand-new government and its energy executives surely got the message. Moscow was again threatening gas supplies, in a stark reminder that Europe can't afford to irk a longtime partner that provides much of the energy its consumers and companies need. Europeans remember well the energy nightmare of 2006 and 2009, when a dispute over gas prices with Ukraine, a key hub for supplies, caused widespread disruption across the continent.
Of all the United States' European partners, Italy is perhaps the most reluctant to embark on an all-out clash with Russia. The Italian position can be seen as laying bare all the cracks that could emerge should tension with Moscow escalate, requiring consensus from the European Union, the Group of Seven and NATO.
The reason Italy isn't keen on confronting Russia is that the country imports more than 90 percent of the gas it consumes, and Russia provides most of it, with 31 percent. Algeria provides 29 percent and Libya 9 percent, according to 2012 data from the Oxford Institute for Energy Studies. Russia also accounts for almost a quarter of all Italian crude oil imports, according to the International Energy Agency. (So does Libya.)
As recently as January, Paolo Scaroni, chief executive of ENI (BIT:ENI), Italy's biggest industrial firm by market capitalization and the world's 19th-largest oil company, said Europe "could strengthen commercial and political ties with our traditional energy suppliers, and especially Russia."
So when Gazprom Chief Executive Alexei Miller was quoted on Tuesday by Russia's Interfax news agency as saying he would stop deliveries of discounted gas to Ukraine, many in Italy's capital read it as a carefully timed reminder that Moscow is ready to play the energy card with the West too.
The Italian government was quick to reassure that, even in the worst-case scenario of Russian gas flows through Ukraine being halted, Italy would be fine. It mentioned a "strategy of energy supply differentiation" based on liquid natural gas shipping terminals and a new pipeline pumping gas from Azerbaijan, on the Caspian Sea, through the length of Turkey, to Greece and Italy.
But both projects are far from complete, and that might help explain why Italy appeared reluctant to antagonize Russia. To be sure, the Italians aren't alone: Other European countries are almost as energy-dependent on Russia. So the U.S. and its partners in the Group of Seven industrialized nations issued a statement on Monday that was, according to G-7 diplomatic sources, a watered-down version of what the U.S. had wanted. Washington was hoping to more bluntly warn Russian President Vladimir Putin of the consequences of an escalation in Ukraine.
The joint statement from the U.S., United Kingdom, Canada, France, Germany, Italy and Japan condemned Russia's "clear violation of the sovereignty and territorial integrity of Ukraine." After what those G-7 sources described as "intense debate" and under pressure from Washington, G-7 leaders eventually agreed on a compromise: suspending participation in the preparations for the upcoming G-8 summit in June in Sochi, Russia, which Moscow sees as an opportunity to grab the global spotlight after the Olympics it hosted there. That statement fell short of threatening Moscow with expulsion from the G-8. But even the toned-down version wasn't wholeheartedly backed by all European members.
Following the G-7 statement, as EU foreign ministers gathered in Brussels, Italian diplomatic sources there said Italy was actually reluctant to even just halt preparations for the Sochi G-8 summit. They said Italy considered it a "last-resort move, to be assessed based on developments on the ground."
Such a position appeared in stark contrast with what Italy had agreed when it signed the G-7 communiqué. Italy's Foreign Minister Federica Mogherini reassured G-7 partners that Italy wasn't breaking ranks. "There was a long discussion yesterday that led to a unanimous communiqué released by the White House," she said on Monday. The Group of Seven "doesn't mention boycotting, but a suspension of participation in preparing meetings" ahead of the G-8, Mogherini said.
The office of Italy's prime minister, Matteo Renzi, in a first test of diplomatic skills after holding the post for barely two weeks, was forced to rush out a statement saying Italy "is totally in line with the other Western countries on the situation in Ukraine." The vague wording used in the statement, however, highlights just how difficult a balance Italy has to strike in following its Western peers without irking its key economic partner in Moscow.
Foreign policy experts in Italy said the country's position, given its economic ties with Russia, was so awkward that the best thing for the Renzi government was to adopt a low profile and let others take the lead. Carlo Jean, a defense commentator and retired Italian Army general, said that "given Italy's economic and strategic interest in Russia, the best solution for the country is to align itself to what Germany will do."
That may not help solve Italy's dilemma. The Germans are in a somewhat similar bind; they share with the Italians a dependence on imported natural gas that helps make Russia alone the top supplier of gas to the EU, accounting for almost 40 percent. As many as 12 pipelines, five of which run through Ukraine, make the EU the destination for 85 percent of all the gas Russia exports. And the 28 EU nations are also the largest investor in Russia, with roughly 75 percent of foreign assets there.
Italy also needs to protect its companies' direct investment in Ukraine. ENI owns most of the shares in Wstgasinvest, a Ukrainian company that holds rights for exploration and development of shale gas in the west of the country, as well as similar agreements involving a large plot off Crimea's eastern coast. Unicredit SpA (BIT:UCG), Italy's largest bank, was listed by Citigroup among one of the most exposed to Ukraine, with a EUR 2.3 billion loan exposure. Among the 160 or so Italian companies operating in Ukraine are cement-maker Buzzi Unicem SpA (BIT:BZU), aerospace and defence group Finmeccanica SpA (BIT:FNC), and beverage maker Campari SpA (BIT:CPR).
For now, all those companies, and their nation's government, have only one certainty. German Foreign Minister Frank-Walter Steinmeyer expressed it succinctly on Tuesday, after meeting his Russian counterpart Sergei Lavrov and finding that there was no agreement on political dialogue to resolve the Russia-Ukraine crisis. "Time is short," he warned.
FOR FREE to continue reading
✔️ Unlock the full content of International Business Times UK for free
offer available for a limited time only
✔️ Easily manage your Newsletters subscriptions and save your favourite articles
✔️ No payment method required
Already have an account? Log in
© Copyright IBTimes 2023. All rights reserved.