Ukraine Military Eliminated 470 Russian Soldiers In 24 Hours; 300 Total Helicopters Destroyed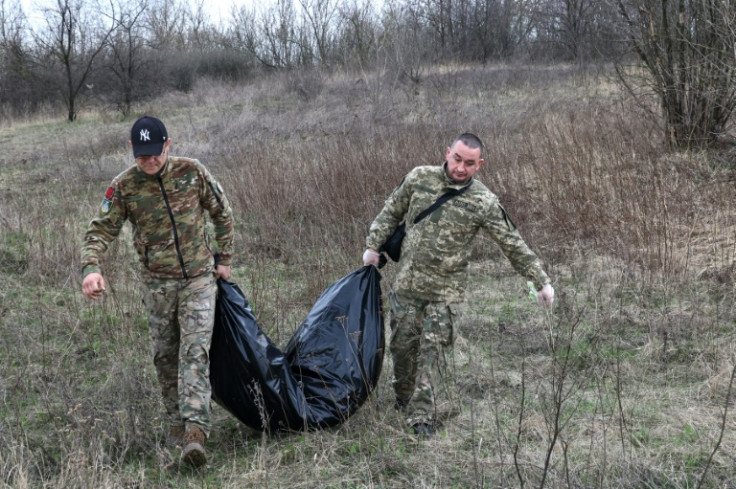 KEY POINTS
Russia's death toll is now at 216,650 after Ukrainian forces eliminated 470 more Russian soldiers
Ukraine has destroyed 300 Russian helicopters since the war broke out in February 2022
Eleven people were killed in Ukraine's president's hometown due to Russia's missile strikes
Russia suffered additional heavy casualties on the battlefield this week as Ukraine is in the midst of its major counteroffensive.
According to a tweet by the Ukrainian Defense Ministry Wednesday, Russia lost 470 military personnel in the past 24 hours, bringing its death toll to 216,650 since its invasion of Ukraine began more than a year ago.
Ukrainian forces also destroyed several pieces of Russian military equipment Tuesday, including four tanks, six armored personnel vehicles (APVs), 20 artillery systems, one air defense system, and two unmanned aerial vehicles (UAVs).
Since the start of the war in Ukraine on Feb. 24, 2022, Russia has lost a total of 3,935 tanks, 7,642 APVs, 3,766 artillery systems, 363 air defense systems, and 3,309 combat drones.
The Ukrainian Defense Ministry also said it has destroyed 300 Russian helicopters as of Tuesday.
"We like Russian helicopters in this condition," Ukraine's defense ministry said in a separate tweet, alongside a photo of a destroyed Russian helicopter.
According to the latest situation update by the General Staff of the Ukrainian Armed Forces, the embattled country's air force carried out 11 strikes on Russia's manpower concentrations and three other strikes on enemy anti-aircraft missile systems Tuesday.
On the same day, Ukraine's missile and artillery units also launched an attack against Russia's control post, three manpower concentrations, weapons and military equipment, an ammunition depot, an anti-aircraft missile system, an artillery system at a firing position, an anti-aircraft defense system, and a radio-electronic warfare station.
However, Russia also continues to carry out strikes against various Ukrainian troop formations and civilian infrastructures, according to the Ukrainian military.
In the past 24 hours, Russia launched another barrage of air and missile attack using 16 Kh-101/Kh-555 air-based cruise missiles and four Iranian-made Shahed-136/131 attack drones.
Ukrainian forces managed to destroy 11 incoming Russian missiles and one attack drone. However, some of the Russian attacks caused civilian casualties and destroyed vital civil infrastructure in the war-torn country, according to Ukraine's military.
Russia also launched 29 air strikes and 20 multiple-launch rocket system (MLRS) attacks on Ukrainian settlements and troop locations Tuesday.
Kryvyi Rih, a city in central Ukraine and the hometown of Ukrainian President Volodymyr Zelensky, was hit by an overnight Russian missile strike that killed at least 11 people.
Oleksandr Vilkul, Kryvyi Rih's mayor, said six Russian missiles were fired, hitting five locations, including a residential building and a storage facility housing consumer products.
Local officials added that a Ukrainian power station was also damaged by the latest Russian attack, which caused power interruption for 9,000 residents.
"More terrorist missiles. Russian killers continue their war against residential buildings, ordinary cities and people," Zelensky said, according to the Financial Times.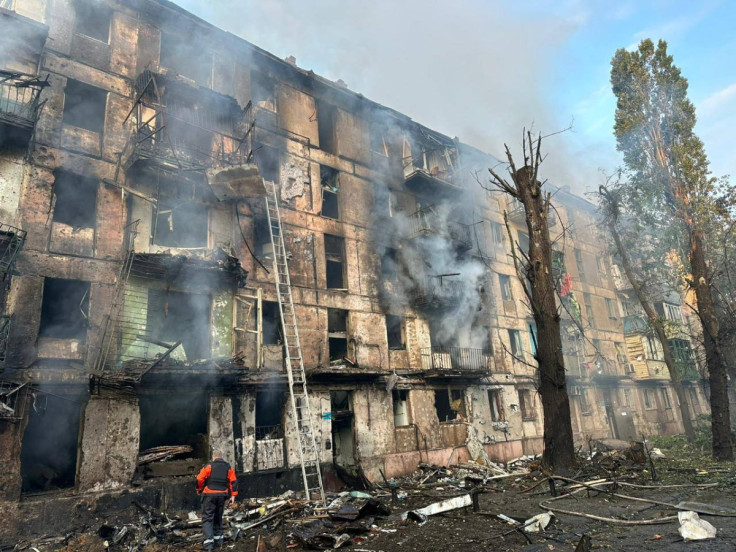 © Copyright IBTimes 2023. All rights reserved.