Ukraine's Army Can't Fight Without Western Help, Says Ukrainian Security Chief Andriy Parubiy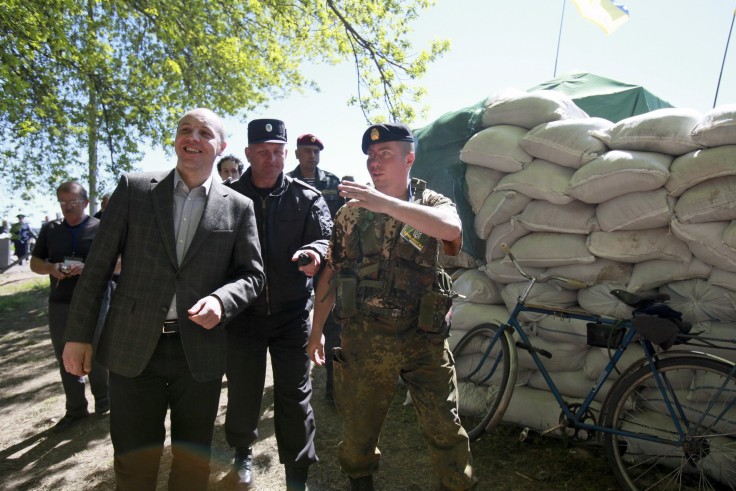 KIEV, Ukraine -- As Ukrainian government troops battle pro-Russian separatists in the east, the country's security chief admits that the army, weakened by years of corrupt government, is not in fighting shape -- and will not be, unless the West steps in to help.
"We need elementary items such as bulletproof vests, night-vision goggles, and helmets for our soldiers," Andriy Parubiy, the secretary of the National Council of Defense and Security, said in an interview here.
Since being appointed on Feb. 27, after the deadly protests known as EuroMaidan that ousted President Viktor Yaunkovych, Parubiy has had to deal with crises in Crimea and eastern Ukraine, while also managing ill-equipped armed forces inherited from Yanukovych.
"When we came to power following the Maidan, we saw that the army was lacking financial and material resources," Parubiy said. "Much of the army's property had been looted or stolen and we did not have enough money to put an army on full-scale combat readiness."
Russian knowledge that the Ukrainian army was in no shape to counter a military operation may have played a part in persuading Moscow to occupy Crimea in March. The first decision the interim government made, Parubiy said, was scrambling to get the army ready to face a possible Russian incursion.
"We were able, in a short period, to get our army ready and put it in the main positions from which Russia could attack -- the north, south, and east," he said.
Parubiy has admitted that Ukraine needs support from its allies. He has asked for military aid, specifically for antitank and antiaircraft weaponry, as well as basic items. We turned to the U.S., U.K., and NATO asking for support. … Part of this assistance has already arrived, but we are still waiting for more."
According to Parubiy, the ousted government, led by pro-Russian Yanukovych, deliberately weakened the Ukrainian armed forces with support from the Kremlin -- and Russia is still directly orchestrating the conflict in Ukraine.
"We have a lot of direct evidence on Russia coordinating and financing events taking place in Ukraine, mainly the presence of GRU [Russian military intelligence] officers, direct financing from Russia to Ukraine, as well as direct access for the pro-Russian volunteers using trucks from the Russian border to Ukraine," he said.
Russians citizens, including Chechen fighters, it has now been revealed, are fighting alongside pro-Russia separatists.
"Our border guards are constantly stopping big trucks full of armed people trying to get onto Ukraine's territory. How do those people move through Russian territory and how do they go through the Russian border if Putin says he has no relations with them and none with the situation taking place in Ukraine?" Parubiy said.
Parubiy, who was involved in far-right politics and actively participated in both the Orange Revolution of 2004 and the 2014 EuroMaidan movement, served as commander of the protesters' self-defense forces. Along with Oleh Tyahnybok, he co-founded the Ukrainian Social-National Party, which has been compared to the German Nazi party and was a precursor to the current right-wing nationalist Svoboda Party. Per Anders Rudling, a professor at Sweden's Lund University and an expert on Ukrainian extremists, has called Svoboda "a neo-fascist party."
Since being appointed Ukraine's security chief, Parubiy has renounced party affiliation. He has kept his post under the new administration of Petro Poroshenko, the chocolate tycoon who was elected in the May 25 presidential ballot.
Now, Parubiy said, the new government must embark on "deep reforms" to ensure the armed forces are never again in such a compromised state.
"This is a long-term process that cannot happen within the blink of an eye," he said, detailing a recent trip to Brussels, where he asked western partners to provide Ukraine with experts who could give a detailed analysis of the armed forces.
"Our reform has to prepare the army, national guard, and police to be able to meet the challenges we are facing right now," Parubiy said.
© Copyright IBTimes 2023. All rights reserved.