Umpqua Community College Shooting: Reports Of Shots Fired At Oregon School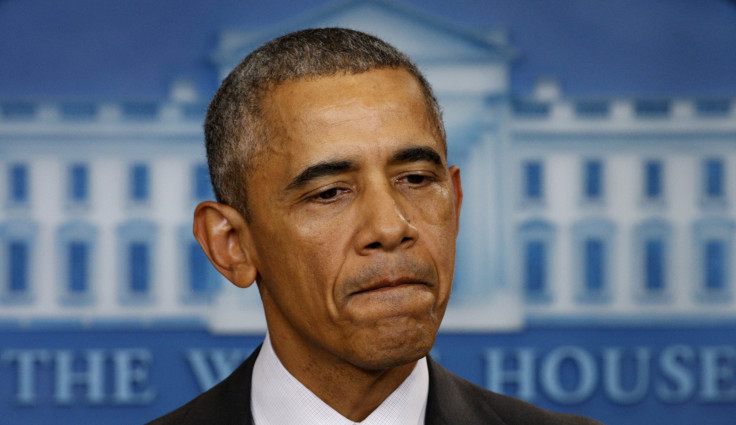 UPDATE 8:50 p.m. EDT: Law enforcement officers identified the Umpqua Community College shooter as Chris Harper Mercer, age 26, according to CBS News. Officials said he was not a student at the school.
UPDATE 6:30 p.m. EDT: "There's been another mass shooting in America," said President Barack Obama. "That means there is another community stunned with grief." In a news conference from the White House, the president -- clearly shocked, saddened and angry -- responded to a shooting on the campus of Umpqua Community College in Roseburg, Oregon, that reportedly left 10 people dead.
The president, who said he has visited Roseburg in the past, said the U.S. is the only advanced nation that does not have "sufficient common-sense gun safety laws." He noted that U.S. states with tough gun laws have fewer shootings, and that other nations have enacted tougher laws after a single incident -- while the U.S. has failed to act after multiple deadly incidents.
"Somehow this has become routine. The reporting is routine. My response here at the podium becomes routine," he said. "We've become numb to this."
It was reportedly the 15th time Obama has commented on a mass shooting while president.
Obama named multiple cities where mass shootings had taken place, including Newtown, Connecticut; Tucson, Arizona; and Aurora, Colorado. "It cannot be this easy for someone who wants to inflict harm on other people to get his or her hands on guns," he said.
The president said that after each shooting has occurred, critics have accused him of "politicizing" the issue of gun violence.
"This is something we should politicize," the president countered, noting the number of incidents that have taken so many lives in recent years. The president challenged the media to tally the number of Americans killed by terrorism in recent years, and compare that figure to the number of Americans killed by gun violence. He said the gun violence number would be far larger.
Obama compared the effort and financial investment that goes into fighting terrorism and preventable deaths, such as those from auto accidents, and suggested that similar efforts were not being made to prevent gun-violence deaths -- because of politics.
"If you think this is a problem, then you should expect your elected officials to reflect your views," Obama said. He asserted that tougher gun legislation continued to stall in Congress despite the fact that a large majority of ordinary Americans want Congress to take greater action to prevent gun violence.
"Our thoughts and prayers are not enough," he said.
UPDATE 6:02 p.m. EDT: Police recovered three pistols and one rifle from the shooting scene in Roseburg, Oregon, but it was unclear whether all the weapons belonged to the slain gunman, CNN reported.
UPDATE, 5:45 p.m. EDT: Oregon State Police have confirmed that 10 people were killed in Thursday's shooting at a community college in Roseburg, CNN reported.
UPDATE 5:03 p.m. EDT: Oregon Gov. Kate Brown offered her condolences to the victims' families at a news conference late Thursday afternoon in Portland. Brown, who was heading to Roseburg, Oregon, to the site of the campus shooting, confirmed that the shooter was a 20-year-old male who died after an exchange of gunfire with the police.
"We are holding the community of Douglas County in our hearts today," Brown said. "The work of the first responders is harrowing."
Brown assumed office in February and has passed legislation to tighten the state's firearm laws. In May, she signed a bill requiring background checks on private gun sales -- the first time in 14 years the state passed laws for stricter gun control.
"We have an obligation to protect Oregonians from gun violence," Brown said. "If we want to keep our kids, schools and communities safe, we must make it harder for dangerous people to get guns."
UPDATE 5 p.m. EDT: The gunman reportedly revealed his intentions online, CNN reported.
UPDATE, 4:51 p.m. EDT: The gunman was a 20-year-old male, Gov. Kate Brown said in a news conference, CNN reported.
UPDATE, 4:45 p.m. EDT -- A sheriff in Oregon reported that the gunman is dead, CNN reported, and no law enforcement officers were injured at the scene.
UPDATE, 4:19 p.m. EDT -- Oregon Gov. Kate Brown, a Democrat who took office on Feb. 18, 2015, tweeted sympathies to those affected: "My thoughts are with the families and victims of today's tragedy."
UPDATE, 3:44 p.m. EDT -- The attorney general of Oregon, Ellen Rosenblum, said the death toll has risen to 13, according to MSNBC, while the number of wounded is higher than 20. She also told MSNBC that authorities believe the shooting was the work of a lone, male shooter.
Further, the Obama administration responded to the tragedy with an urgent call for legislation to control firearms.
UPDATE, 3:25 p.m. EDT -- Mercy Medical Center in Roseburg tweeted it had received nine patients linked to the Umpqua shooting.
The college foundation's executive director, Dennis O'Neill, told the News-Review he was on campus during the emergency Thursday. "We locked our door and I went out to lock up the rest rooms and could hear four shots from the front of campus," he said. "We have heard there are casualties but know nothing more at this stage."
UPDATE, 3:05 p.m. EDT -- Oregon State Police Lt. Bill Fugate confirmed to KATU that seven people had died in the shooting with at least 20 injuries, the Associated Press reported.
The Bureau of Alcohol, Tobacco, Firearms and Explosives tweeted that it was sending agents and a dog team to the campus. Special agents were already on the scene.
UPDATE, 3 p.m. EDT -- The Douglas County Sheriff's Office posted on Facebook that it received a 911 call at 10:38 a.m. local time reporting a shooting. Officers from several areas responded, and students and staff were moved to the fairgrounds.
UPDATE, 2:35 p.m. EDT -- NBC reported that the shooting suspect "was down" Thursday.
While casualties and injuries remained largely unconfirmed, Umpqua students were posting tweets Thursday about what they experienced on campus.
UPDATE, 2:25 p.m. EDT -- KATU News, a station based in Portland, tweeted that Oregon State Police confirmed 15 dead as a result of the alleged shooting. The police department itself had not tweeted about the incident.
UPDATE, 2:15 p.m. EDT -- CNN and other media reported Thursday that there were up to 10 fatalities at the campus, which has about 3,000 full-time students, and that the campus was on lockdown. The school's website was inaccessible Thursday.
Tim Gordon, a reporter with KGW in Portland, tweeted that 15 to 20 people had been injured in connection with the shooting.
Original story: Umpqua Community College students and local reporters tweeted Thursday about an active shooter on campus there in Roseburg, Oregon. Injuries and further details were unclear.
FOR FREE to continue reading
✔️ Unlock the full content of International Business Times UK for free
offer available for a limited time only
✔️ Easily manage your Newsletters subscriptions and save your favourite articles
✔️ No payment method required
Already have an account? Log in
© Copyright IBTimes 2023. All rights reserved.