Unmanned Aircraft Crashes On South Korea's Baengnyeong Island; Authorities Investigating If It Came From North Korea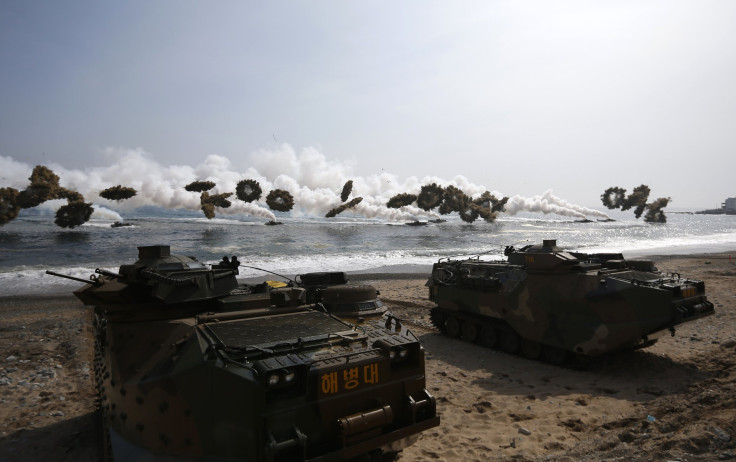 An unmanned plane crashed Monday on a South Korean island near the disputed border with North Korea, leading authorities in the South to launch an investigation into the aircraft's origins, news reports said.
The drone reportedly fell on Baengnyeong Island around the time that North Korea fired artillery rounds in the waters close to the disputed border, causing the South to retaliate in kind. The South Korean military is now investigating if there are possible links to the North's espionage activities, by dissembling the drone. The drone measured about 7 feet to 10 feet in length and ran on a Japanese engine and Chinese parts, and was equipped with a small camera.
"As an in-depth analysis is currently under way, we cannot confirm which country made this drone. But there is a possibility that it belongs to North Korea," the source said, according to Yonhap News Agency. The drone found is said to be similar to the one found on March 24 in the town of Paju in the Gyeonggi province, south of the demilitarized zone, Yonhap added, citing an official.
In 2010, North Korea had fired close to 110 artillery shells near the Northern Limit Line, or NLL, followed by a drone later that day to conduct surveillance missions near the border islands. Over the weekend, about 100 rounds of shells were reportedly dropped into waters south of the NLL, while South Korean marines stationed on Baengnyeong Island fired about 300 shells into North Korean waters in return.
North Korea is said to have developed unmanned aerial vehicles based on China's D-4 and has stationed them near front-line troops to monitor the actions of South Korea's military, Yonhap reported. Such fixed-wing drones are capable of conducting missions within a 2.5 mile radius and can land on a parachute; carry a payload weighing about 55 pounds and fly at a height of 1.9 miles at a speed of 100 miles per hour, according to Yonhap.
© Copyright IBTimes 2023. All rights reserved.