US Army Ranger School Now Open To Women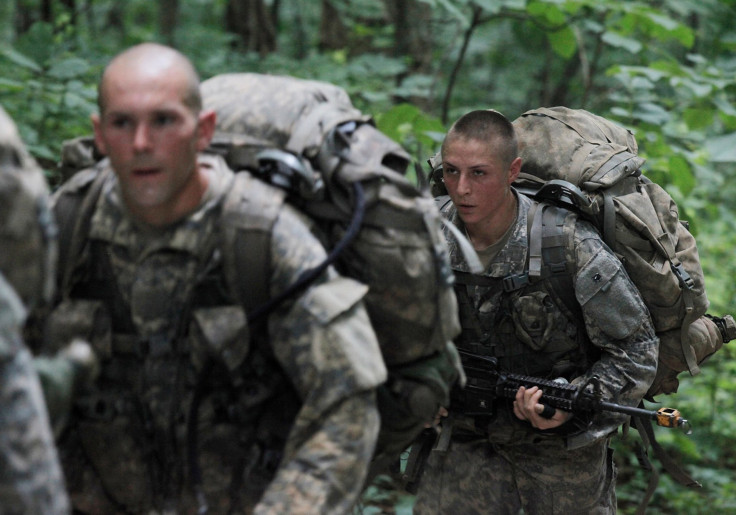 The Army's Ranger Elite School is officially open to both men and women, the Army Times reported Wednesday. Until April, only men could attend the school, but it is now open to all qualified personnel, regardless of gender, the Army said.
In late April, the Army Ranger School began a gender-integrated assessment of the rigorous course, consisting of 19 women. The assessment was the first of its kind and was implemented as part of the Army's wider effort to determine whether it should open combat arms jobs to women, and if so, how. On Aug. 21, two women, Capt. Kristen Griest and 1st Lt. Shaye Haver made history when they became the first women to graduate from Ranger School and earned the coveted black and gold tab. There is still one female soldier from the original group working toward the tab, and she advanced to the final phase of Ranger School last weekend.
"We must ensure that this training opportunity is available to all soldiers who are qualified and capable, and we continue to look for ways to select, train, and retain the best soldiers to meet our nation's needs," Army Secretary John McHugh said in a statement, the Army Times reported.
Griest and Harver completed the Ranger school on their third attempt; they had previously failed at the Darby phase of the three-phase school, but restarted as "Day-One Recycles," which is a procedure used when students struggle with one part of the course but do well in other areas. On average, 37 percent of Ranger School graduates recycle at least one phase.
"I was thinking really of future generations of women, that I would like them to have that opportunity, so I had that pressure on myself," Griest said, according to National Public Radio. "And not letting people down that I knew believed in me, people that were supporting me."
Some people have criticized the integrated assessment, questioning whether the Army has lowered its high standards for the school. Army officials, though, have insisted that the standards have not changed.
Despite graduating from Ranger School, Griest and Harver, along with any other women who graduate, are still currently unable to join infantry, armor and special operations force units, including the 75th Ranger Regiment. The Pentagon is expected to decide next year on its recommendations for those ranks. Meanwhile, the Army has opened its combat engineer and field artillery military occupational specialties to women.
© Copyright IBTimes 2023. All rights reserved.