U.S. China Strategic And Economic Dialogue: Currency Manipulation Still The Hot Button Issue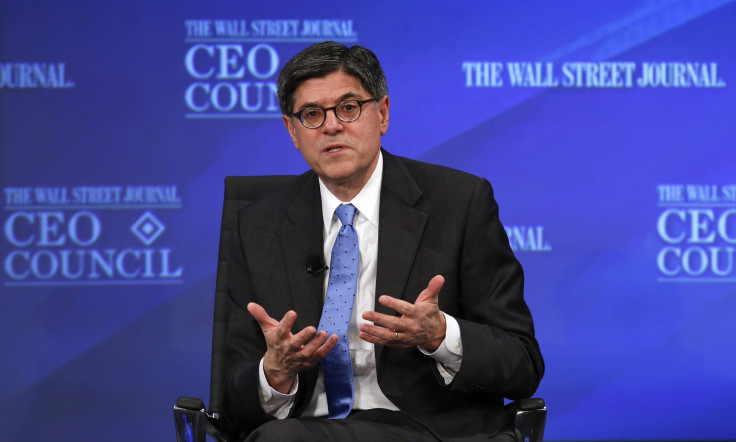 The U.S.- China Strategic and Economic Dialogue (S&ED) conference kicked off Tuesday in Beijing, attended by government officials to address bilateral concerns in hopes of stabilizing Sino-American relations. Treasury Secretary Jacob Lew, who will be attending the meeting, has repeatedly called for China to allow its currency to appreciate without officially labeling the country a currency manipulator.
Lew and Secretary of State John Kerry are attending the meeting with their Chinese counterparts, Vice Premier Wang Yang and State Councilor Yang Jiechi, and will likely tackle the issue of reinforcing economic issues, which have been jeopardized as a result of conflicting geopolitical strategy interests.
Lew and other Treasury officials insists the Chinese yuan is undervalued and are urging the government to take further steps to liberalize the currency. But are American accusations of currency manipulation a political perch to show the public China is being held accountable?
An editorial by China's state-run Xinhua News Agency unsurprisingly thinks so.
"Lew's complaint seems to be pointing to the fact that the renminbi has depreciated over 2 percent against the dollar in the first six months of this year," a trend that seems insignificant considering the currency's 36 percent rise since 2005, when the country began its efforts to loosen control.
"All these meaningful steps in the right direction have been overlooked by U.S. politicians, whose fixation on the value of the renminbi has grown tiresome and outdated both technically and politically," the editorial also wrote.
Axel G. Merk, the president and chief information officer of Merk Investments seems to agree, explaining a grace period for changes to reflect on the currency valuation is also necessary.
"The accusations for currency manipulation are misplaced," Merk said via email. "China's State Administration for Foreign Exchange [SAFE], has taken very prudent steps to get the currency to be a major, free floating currency. Moving a huge economy to a free float is no small undertaking."
Merk explains late last year, SAFE announced greater currency volatility would be introduced to quell further finger pointing and allow more market-based pricing for the exchange rate. Volatility followed as expected, setting off some reports the Chinese economy was plunging.
"All of this is a healthy process to provide a disincentive to speculators, yet an incentive to prudent hedging," Merk said.
Additionally, the Hong Kong-traded yuan gained for the third straight day as China's state-run central bank boosted the currency's fixing ahead of the meeting. The People's Bank of China raised the reference rate by 0.05 percent, to 6.1626 to the dollar.
It seems as if China is finally heeding calls to allow for a market-determined currency.
Still, the currency issue still seems to be a main economic and political bullet-point for Chinese criticism. Currency rates continue to be a touchy subject as the U.S. consistently alludes to the possibility of pegging China as a currency manipulator in a semiannual report by the Treasury Department.
During the 2012 presidential campaign, China's government was heavily criticized by candidates, particularly in regard to the government's control over the currency exchange rate. Republican candidate Mitt Romney even said putting China on that list would be one of his first moves as president, if elected.
But the Treasury Department under the Obama administration has passed on naming China in the report 11 straight times, despite with their continued dissatisfaction with the undervalued yuan. Labeling China a currency manipulator would allow the possibility of added tariffs, sanctions and other trade actions, undoubtedly anger China, and ultimately harming economic relations between the two countries. Instead, tough conversation and inexplicit 'threats' seems to be the most effective way to goad China into negotiations on currency without further jeopardizing relations.
Beijing bumped the yuan when Lew's predecessor, Timothy Geithner, talked tough on currency manipulation ahead of a 2010 Group of 20 meeting. The yuan also saw a rise after the House and Senate votes on currency legislation in 2010 and 2011.
Whether or not the increased value of the yuan is reflective of effective American strong-arming or just the independent and deliberate efforts of China's government taking place coincidentally is unclear. But ahead of the S&ED meeting, Lew is sticking to tough talk.
In an interview with Caixin, a Chinese economics magazine, Lew's stance did not waver.
"The points I made today and the points we will continue to make, as we build up to the S&ED, is that the yuan is going to have to be able to float with the market if it's going to move to being a market-determined exchange rate.
"That means not intervening if you're with the band that's been set."
FOR FREE to continue reading
✔️ Unlock the full content of International Business Times UK for free
offer available for a limited time only
✔️ Easily manage your Newsletters subscriptions and save your favourite articles
✔️ No payment method required
Already have an account? Log in
© Copyright IBTimes 2023. All rights reserved.