U.S. Consumers Lift Inflation, Spending Expectations, NY Fed Survey Finds
U.S. consumers upped their outlook for where inflation will be a year from now and in three years time, and they expect to spend substantially more on food, gas and rent in the next 12 months, according to a survey released on Monday by the New York Federal Reserve.
Expectations for where inflation will be in one year increased to 6.0% in February from 5.8% in January, returning to the high reached in November for the survey, which was launched in 2013. Expectations for inflation three years out rose to a median of 3.8% from 3.5%, remaining below the levels seen in November and December of last year. The rise in inflation expectations reverses some of the declines seen in January.
Graphic: Inflation expectations edge higher: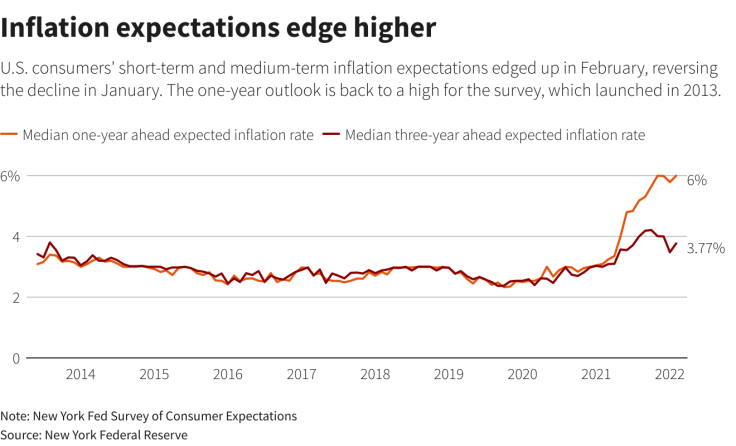 U.S. households are coping with the fastest pace of price increases in 40 years and policymakers are watching closely to see if the shock leads to higher inflation expectations, which could fuel further price hikes, or if consumers largely view the surge in prices as temporary. While near-term inflation expectations have soared, consumers' longer-term expectations have so far been less affected.
The Russian invasion of Ukraine, which has led to higher fuel prices and may lead to increased food costs, adds more uncertainty to the outlook.
A measure of market-based U.S. inflation expectations by the London-based ICE Benchmark Administration (IBA) showed that near-term forecasts jumped sharply in response to government data that showed inflation running about 7%, and rose again after the Russian attack. Long-term inflation expectations inched higher following the Russian invasion.
Fed officials are expected to take a key step in the fight against inflation when they meet this week on Tuesday and Wednesday by raising interest rates from near-zero levels, roughly two years after they slashed rates in response to the coronavirus pandemic.
The U.S. economy is on more stable footing now, with the unemployment rate at 3.8% and wages rising. But many households are also struggling with rising costs.
As of February, consumers said they expect their spending to increase by 6.4% in one year, up sharply from the 5.5% anticipated in January and reaching a new high for the survey. They also expect food prices to increase by 9.2% in one year, up from the 5.9% expectation in January, and gas prices to rise by 8.8%, up from a previous estimate of 7.3%.
The New York Fed's monthly survey of consumer expectations is based on a rotating panel of 1,300 households.
© Copyright Thomson Reuters 2023. All rights reserved.