US Defense Spending: Amid Tight Military Budget, Air Force F-35 Joint Strike Fighter Military Purchases May Need To Be Reduced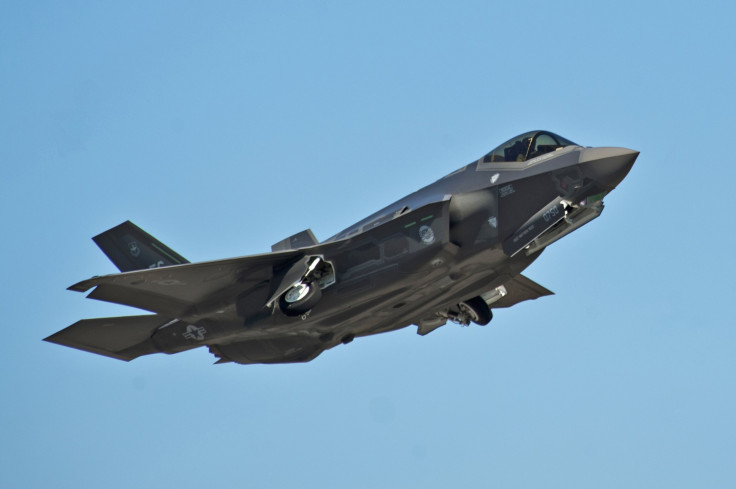 The United States Air Force may have to reduce the amount of F-35s it buys over the next 10 years as aircraft research and procurement threatens to overwhelm an already tight military budget, according to a Congressional research report released earlier this week. The Air Force is looking at the possibility of cutting back on the 60 F-35 purchases a year that are currently proposed over the next decade.
The current Air Force budget through 2020 is $72.7 billion and is meant to cover costs of nine aircraft programs. Forty-two percent of that will be spent exclusively on the F-35. While it was not immediately known how many aircraft the Air Force will cut annually from the proposed 60, a reduction of 10 per year over the next five years would represent a saving of around $5 billion, provided the price of the aircraft remains around $100 million each, according to a Bloomberg report Monday that cited the confidential Congressional report.
Lockheed F-35 Lightning II Overview | AxleGeeks
The cost of each aircraft varies depending on how many of them foreign customers commit to buying. For example, after the Canadian elections, new Prime Minister Justin Trudeau withdrew from the program, saying that the world's most advanced multirole aircraft did not meet the country's defense needs. Ottawa's withdrawal adds around 0.7 percent — near $1 million — to the cost of each aircraft for other buyers, Lt. Gen. Chris Bogdan, chief of the Joint Program Office for the F-35, told a U.S. House Armed Services subcommittee in November.

While most of the Air Force's aircraft programs are well-established with costs that cover only manufacturing and upgrades, it will have to consider the introduction, development and continued manufacturing of Boeing's $46 billion KC-46 aerial refueling tanker and Northrup Grumman's $80 billion Long Range bomber contract before the end of the decade.

The U.S. had planned to build more than 2,300 F-35s over the next 40 years, replacing several aircraft programs across all the military branches, but it is now considering increasing the amount of F-15, F-16s and F-18s as increased airstrikes against ISIS put pressure on current Air Force resources.
© Copyright IBTimes 2022. All rights reserved.
FOLLOW MORE IBT NEWS ON THE BELOW CHANNELS