US Economy Adds Lower-Than-Expected 142,000 Jobs In September, Unemployment Rate Remains At 5.1%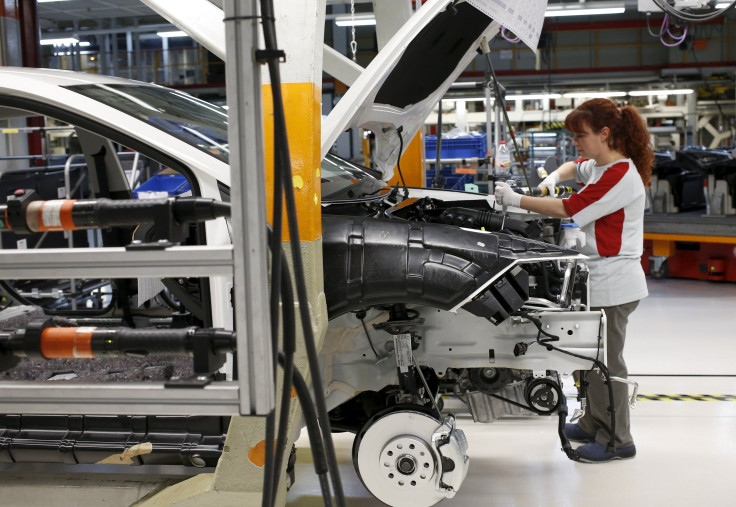 This story was updated at 11:45 a.m. EDT
U.S. employers added 142,000 jobs in September and the unemployment rate remained at 5.1 percent, the Labor Department said Friday. The report was forecast to show employers adding 203,000 jobs last month and the unemployment rate was expected to hold steady at 5.1 percent, according to analysts polled by Thomson Reuters.
Amid the recent stock market turmoil and concerns of a slowing global economy, economists question whether the U.S. is strong enough to move away from crisis-level interest rates. In September, U.S. Federal Reserve left interest rates unchanged last month but left the door open to hiking rate as early as October. Nearly half (47%) of experts predict the central bank will raise rates in December, according to Bankrate.com.
Even so, many economists are still not seeing the accelerated growth that suggests the economy needs to slow -- or that businesses are experiencing wage pressure.
Wage growth -- which has been stagnant for years -- remained at 2.2 percent. The average hourly earnings for private-sector workers fell by 1 cent to $25.09. For most workers, however, real wages have fallen or remained flat for more than three decades.
Part of the reason real wage growth remains stagnant is because the recovery has come with stronger employment growth in low-wage industries, such as accommodation and food services, temporary help services, retail trade and long-term health care. These jobs account for nearly two-fifths of all new jobs added since the labor market bottomed out in February 2010, according to the Center for American Progress.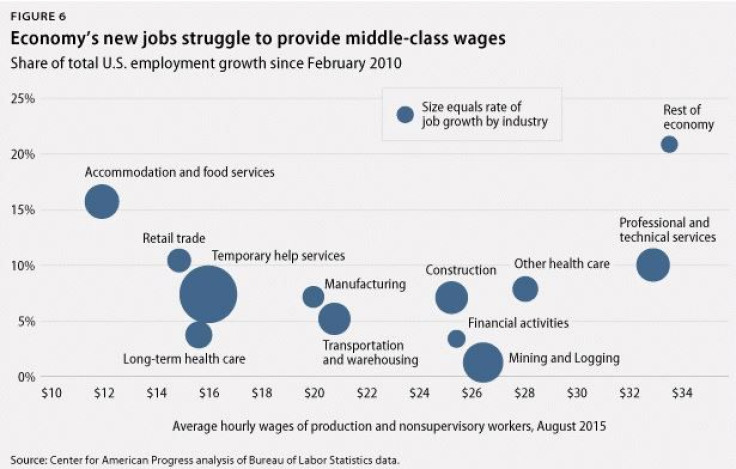 Energy Job Losses Continue, While Manufacturing Extends Losses
Part of the weakness in the recent slowdown in employment growth was a result of the drop in manufacturing jobs. The sector is "clearly suffering from weak exports growth," Gad Levanon, managing director of economic outlook & labor markets at the Conference Board, said in a note. Manufacturing jobs fell by 9,000, the second consecutive drop.
The breadth of payroll job growth was widespread in services in September, but weak in goods-producing industries.
The precipitous drop in oil prices over the last year has led to job losses related to the oil and mining sector as investment in those areas declines. Mining jobs fell by 10,000, the ninth straight monthly decline totaling 102,000 jobs lost.
Throughout the post-recession recovery economists have worried that the jobs created have overwhelmingly been in relatively low-paying sectors of the economy, including retail and fast food. But high-end jobs in professional services continued to show growth. Private service-producing industries added 131,000 jobs in September, including a gain of 31,000 in professional/business services.
The Federal Reserve's Next Moves
Another issue the U.S. economy has faced throughout the recovery is fiscal drag, including less public investment, says William Spriggs, chief economist at the AFL-CIO. "We never had the true rebound during this recovery compared with prior recoveries," Spriggs said.
Congress passed a budget extension this month to avert a partial government shutdown, but could face similar issues again in December.
The last government shutdown in the fall of 2013 shaved three-tenths of a percent off real gross domestic product growth in the 2013 fourth quarter, according to the Bureau of Economic Analysis.
"The Federal Reserve has to be cautious because Congress is unpredictable," Spriggs said.
Unemployment Rate vs Labor Force Participation Rate | StartClass
Participation Rate Remains Near 40-Year Low
Somewhat troubling, though, the labor force participation rate continues to drop, which indicates more Americans giving up on finding work.
The number of Americans who have been out of work for 27 weeks or longer was essentially unchanged last month, at 2.1 million, constituting 26.6 percent of the unemployed. Meanwhile, many Americans who work part-time jobs want to work full time, and nearly two-thirds who are able to work have dropped out of the labor force, the highest proportion opting out of the workforce since the 1970s.
The labor-force participation rate remains at its lowest level since the late 1977s, a near 40-year low. That rate fell to 62.4 percent from the prior month, according to the report released Friday.
Prior Jobs Reports Revised Lower
One thing to consider is the August payrolls report is notoriously revised higher. However, the change for August was revised from 173,000 to 136,000. Over the past 5 years or so the August payroll count tends to be revised up by 75,000 to 100,000 over time, John Canally, chief economic strategist at LPL Financial, said in a note.
The change in total nonfarm payroll employment for July was also revised lower from 245,000 to 223,000.
The U.S. had previously added at least 200,000 jobs per month for 12 consecutive months following February's strong jobs report, a feat not seen in 20 years. However, the reports over the last two quarters haven't been as stellar.
© Copyright IBTimes 2022. All rights reserved.
FOLLOW MORE IBT NEWS ON THE BELOW CHANNELS