US Flies B-1B Bomber Over Korean Peninsula Amid Rising North Korea Tensions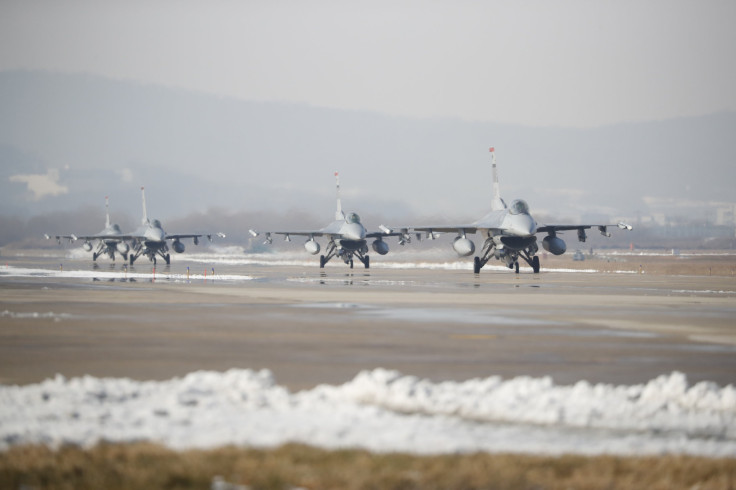 In a show of force against North Korea, the United States flew a B-1B supersonic bomber over South Korea as part of the ongoing joint Seoul-Washington air combat drills. The move came amid growing tensions in the Korean Peninsula over the Kim Jong Un regime's testing of nuclear and ballistic missiles.
The Guam-based bomber simulated land strikes at a military field near South Korea's eastern coast, South Korea's Joint Chiefs of Staff (JCS) said in a statement. The five-day drills that began Monday involve more than 200 aircraft, including six U.S. F-22 and 18 F-35 stealth fighters.
"Through the drill, the South Korean and U.S. air forces displayed the allies' strong intent and ability to punish North Korea when threatened by nuclear weapons and missiles," the JCS said.
This was the first time that the U.S. deployed six F-22 at one time in the Korean peninsula. Six F-35As and a dozen F-35Bs, operated by the U.S. Marine Corps; two B-1B Lancer bombers, six EA-18G Growler electronic warfare jets, and dozens of F-15C and F-16 fighter jets took part in the drills along with South Korea's F-15K, KF-16, FA-50 and F-5 fighters, as well as other planes.
The joint drills began just days after North Korea fired a new intercontinental ballistic missile (ICBM), dubbed the Hwasong-15, and announced the completion of its "nuclear force."
Following the latest provocation, the U.S. and South Korea began their military drills, which have been condemned by North Korea as a threat to its security. The reclusive country claimed through its state media Tuesday that the "U.S. imperialist war mongers' extremely reckless war hysteria" has put the region at risk of a nuclear war.
Announcing its latest missile launch, Pyongyang declared that it is a "responsible nuclear power," and that the new type ICBM Hwasong-15 can hit anywhere in the U.S. Tensions increased between North Korea and the U.S. in recent months after Trump vowed in September to retaliate with "fire and fury" if Kim's regime continued testing its ballistic missiles.
Meanwhile, in an interview with CNN aired Tuesday, South Korean Foreign Minister Kang Kyung-wha said North Korea developed its nuclear missile capability at a faster-than-expected pace but it is yet to master the technology.
"There is no concrete evidence that they have mastered the technology that is required to be able to put a nuclear device on a long-range nuclear missile," she said, referring re-entry capability, remote targeting and miniaturization of a nuclear warhead. "They have not yet reached the final, final completion stage yet. I think that would be the shared view of all the technical expertise around this program."
Kang also warned that a war on the Korean Peninsula would be "catastrophic" and "unimaginable," and would destroy all the democracy and thriving market economy that South Korea has built so far. She called on the international community to implement all UN Security Council sanctions against North Korea in a bid to end the country's nuclear advancement.
"The whole point of the global unity around the Security Council sanctions is precisely that the global community has to put the pressure and implement the sanctions in a concerted way so that it does make a difference for the North Korean regime, that it does force a change of course from the North Korean regime," she said.
© Copyright IBTimes 2023. All rights reserved.