US Health Rankings: 2015 Data Show Costs Of Preventable Diseases, Hospitalizations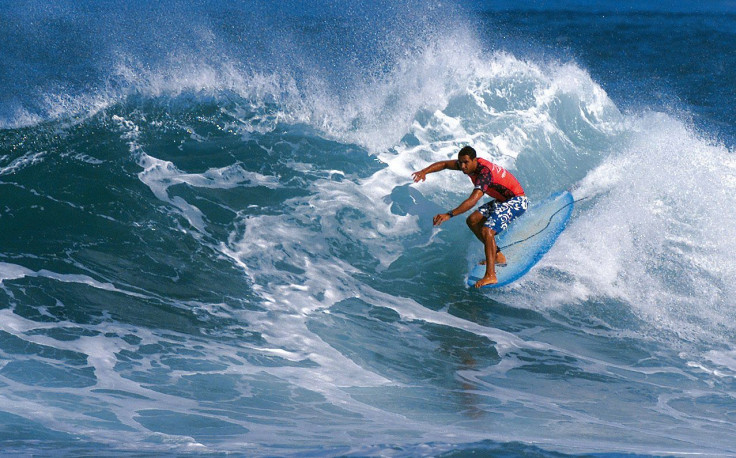 Which state is the nation's healthiest? A hint: It has a drinking problem, but relatively few people smoke. Public health funding is the second highest of any state at more than $200 per person, and only 6 percent of residents lack health insurance.
For the fourth year in a row, Hawaii captured the esteemed title of the nation's healthiest state as judged by the nonprofit United Health Foundation, which is supported by UnitedHealth Group. The organization released the 26th edition of its annual report on American health on Thursday. Its state-by-state rankings illuminate striking differences in the rates of diseases, behaviors and public health investments among states.
Officials often refer to these rankings when developing programs to address specific health issues such as obesity or smoking and to borrow ideas from other states that have performed better in particular areas. For example, North Dakota has the lowest rate of drug deaths in the country, while Alaska has the highest rate of violent crime. Despite progress, 21 percent of Texans still lack health insurance. Tennessee somehow managed to cut physical inactivity among its residents by 28 percent in the past year.
Louisiana is the nation's unhealthiest state in this year's report. "When I look at it, the first thing I think is — well, I'm not surprised," Mark Diana, a health policy expert at Tulane University in New Orleans, says. "Louisiana is usually near the bottom and it reflects to me a fairly persistent set of challenges the state faces. I could probably summarize it easiest by saying — it's a poor state."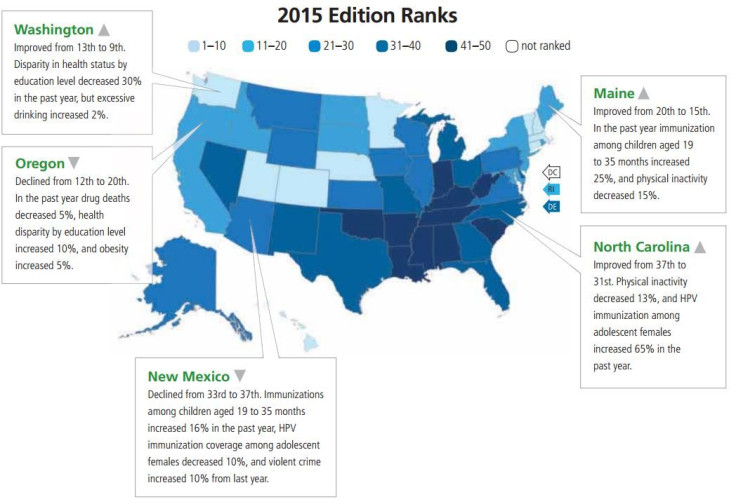 The rankings also illustrate both progress and challenges the U.S. healthcare system faces in managing costs. One important nationwide measure is the rate of preventable hospitalizations, which occur when a patient is admitted for a condition such as an asthma attack that could have been addressed by a primary care physician, or someone who was discharged returns because of a problem that could have been managed through follow-up care.
Preventable hospitalizations are expensive — in 2006, they made up about $1 for every $10 spent nationwide on hospital-based care. Minnesota alone has figured it could reduce healthcare costs by $400 million a year simply by avoiding these stays.
Because of the high cost, private insurers and Medicare have begun to fine hospitals for each patient that returns within 30 days. Last year, the rate of preventable hospitalizations dropped by 8 percent, from 63 to 58 discharges per 1,000 Medicare beneficiaries. That means about five hospital stays were avoided for every 1,000 patients who visited the hospital.
Dr. Reed Tuckson, senior medical adviser to the United Health Foundation, attributes that success to a shift toward healthcare models that emphasize quality of service over the speed at which it is delivered. "It used to be that hospitals made money when people came back in," he says. "Now, not only is there not an incentive, but there's a penalty."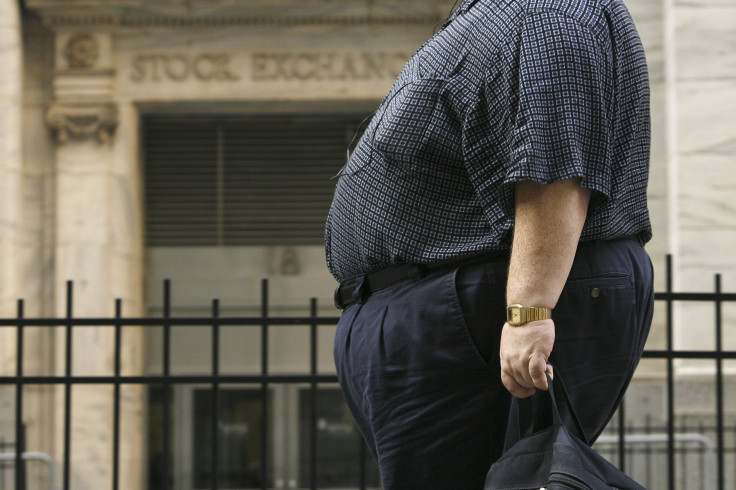 There's plenty of bad news in the new report. Nationwide obesity rates have increased over the past two years to 30 percent of adults. Ten percent of Americans are now diabetic. While the number of smokers continues to slide, 1 in 6 people still light up regularly.
Together, Tuckson says, all of these trends indicate that America is still struggling unnecessarily against a slew of preventable and costly conditions. The U.S. Centers for Disease Control and Prevention (CDC) estimates that smoking costs the nation $300 billion a year in direct health costs and lost productivity. Obesity-related diseases, not all of which are preventable, require another $190 billion in medical costs, or about 21 percent of annual medical spending.
"We are living longer, but we are living sicker," Tuckson says. "We celebrate it, but at the end of the day no one paying for healthcare can afford to continue to pay this much money to treat diseases that really should not have happened in the first place."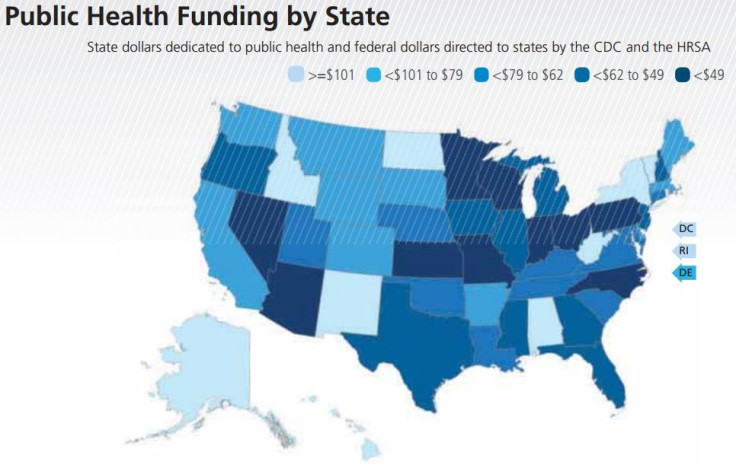 North Carolina's Immunization Rates
Drilling further into the findings offers clues for how America can both improve health and reduce expenses. For example, one health measure the report tracks is HPV vaccination rates for adolescent girls. The HPV vaccine protects against human papillomavirus (HPV), which is the most common sexually transmitted infection and can cause cervical, vaginal, penile, throat and anal cancers. One recent study suggested the Canadian healthcare system could save millions of dollars by preventing cases of throat cancer through the HPV vaccine, which costs roughly $400. Separate analyses by the CDC and the World Health Organization indicate that the vaccine is cost-effective.
The CDC recommends the vaccine for all boys and girls who are 11 or 12 years old. But uptake has lagged — in 2014, 4 out of 10 teenage girls and 6 of 10 boys hadn't begun the series. The vaccine requires three shots over the course of six months, but many patients fail to complete the full series. Some parents simply aren't aware of it, while others worry that giving it to girls will embolden them to engage in riskier sex, even though that concern has been discredited.
Over the past year, North Carolina saw the biggest gain in immunization of adolescent girls. Its rate jumped 65 percent, from covering 33 percent of girls to 54 percent. Jennifer Smith, an HPV expert at the University of North Carolina at Chapel Hill, says that boost was due in part to public health officials' willingness to make in-person visits to physicians and clinics through a program called AFIX and discuss how their specific vaccination rates stacked up against other clinicians in the state. Highlighting this information created a friendly sense of competition among healthcare providers, and drove immunization rates up.
"We know a doctor's recommendation is the most important thing that will drive uptake on the population level," Smith says. "If parents are coming to a clinic with their children for adolescent health services and are not offered vaccination, that's a missed opportunity."
Still, the vaccination rate is low from a public health perspective. Smith says the state and a coalition called Cervical Cancer-Free North Carolina want to make it even easier for adolescents to complete the three-part series, perhaps by allowing pharmacies to administer the shots or setting up vaccination stations in schools.
Why Louisiana Lags
In Louisiana, this year's least-healthy state, 35 percent of adults are obese, and 11 percent suffer from diabetes. More residents smoke than in most states, too.
Tuckson agrees with Diana that many of Louisiana's problems are rooted in poverty. The median annual income in the state is about $45,000 compared with $53,000 across the U.S., and 19 percent of residents live below the federal poverty level. It can be hard for residents in low-income communities to find fresh food at the grocery store or take time from work to visit a doctor. "There is a very clear relationship that we've noticed in America between socioeconomic status and overall healthiness," Tuckson says.
Amelia Burns, press secretary at the Louisiana Department of Health and Hospitals, says the department's $9.7 billion budget addresses some of the state's challenges through a network of community-based partners called the Well-Ahead Louisiana initiative that encourages healthy eating and exercise and promotes tobacco-free spaces. The state also recently increased its cigarette tax by 50 cents per pack.

But at the same time, total public health funding from federal and state sources for Louisiana has been reduced by 33 percent over the past five years, dropping from $95 per resident to just $64. Diana at Tulane says that's likely because healthcare and education are two of the most flexible areas of the state budget, so legislators often raid them for funds. Research has suggested that investing in public health programs focused on nutrition, physical activity and smoking prevention can generate a return of $5.60 for every dollar spent.
"Clearly, we need data to understand how we're doing and without good solid data, we can't make a case for action," Diana says.
© Copyright IBTimes 2022. All rights reserved.
FOLLOW MORE IBT NEWS ON THE BELOW CHANNELS