US, Japan FX Row Overshadows G-7 Meeting; Leaders Eye Brexit Threat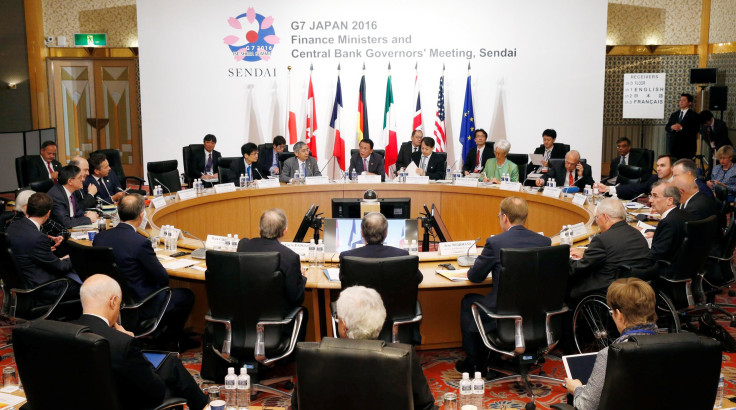 The United States issued a fresh warning to Japan against competitive currency devaluation on Saturday, exposing a rift on exchange rate policy that overshadowed a Group of 7 finance leaders gathering hosted by the Asian nation.
Japan and the United States are at logger-heads over currency policy with Washington saying Tokyo has no justification to intervene in the market to stem yen gains, given the currency's moves remain "orderly."
In bilateral talks ahead of the second day of G-7 talks in Sendai, Japan on Saturday, U.S. Treasury Secretary Jack Lew told Japanese Finance Minister Taro Aso that it was important to refrain from competitive currency devaluation.
"Secretary Lew underscored that the commitments made by the G-20 in Shanghai to use all policy tools to promote growth – fiscal policy, monetary policy and structural reforms – and to refrain from competitive devaluation and communicate closely have helped to contribute to confidence in the global economy in recent months," according to a statement by the Treasury Department.
"He noted the importance of countries continuing to adhere to those commitments," the statement said.
As years of aggressive money printing stretch the limits of monetary policy, the G-7 policy response to anemic inflation and subdued growth has become increasingly splintered.
Germany has shown no signs of responding to calls from Japan and the United States to boost fiscal spending.
Washington also warned Tokyo against relying too much on monetary policy with a senior U.S. Treasury official saying structural reforms are being put in place in Japan "but slowly."
The official also said Japan should ensure its fiscal policy does not hurt its economy, calling for either a delay in next year's scheduled sales tax hike or fiscal stimulus to compensate for the drag on the economy.
With the once close-knit group divided on how much each country should boost fiscal spending, the G-7 finance leaders will call for a mix of monetary, fiscal and structural policies to boost demand - but leave it to each country to decide its own policy priorities.
"I'm aware that there are countries that can deploy fiscal stimulus, while others cannot due to their own situations," Aso said on Friday, suggesting that Tokyo was backing down from its earlier calls for joint G-7 fiscal action.
While headwinds like weak emerging market demand persists, the G-7 finance leaders appeared to have a slightly more optimistic view of the global economy as calm returns to financial markets.
"We agreed that the world economic environment is better than some feared a few months ago," German Finance Minister Wolfgang Schaeuble told reporters after the first round of talks in Sendai, northeast Japan, on Friday.
Brexit Warnings
Leaders at the meeting are also likely to warn that a British exit from the European Union, dubbed "Brexit", would be a global threat.
Britain's finance minister, George Osborne, who supports the campaign to remain in the European Union, warned of the economic damage a Brexit would cause.
"Everyone here at the G-7 in Japan is clear and that is that it would be bad for the British economy if we left the European Union," Osborne told BBC in Sendai on Friday.
In the second-day session on Saturday, the G-7 finance leaders will discuss steps to address volatile capital flows, combat tax evasion and boost cyber-security.
While no communique will be issued, Aso and Bank of Japan Governor Haruhiko Kuroda will brief reporters Saturday afternoon on the discussions.
© Copyright Thomson Reuters 2023. All rights reserved.
FOLLOW MORE IBT NEWS ON THE BELOW CHANNELS