US Navy Tours Chinese Aircraft Carrier Liaoning Amid South China Sea Tensions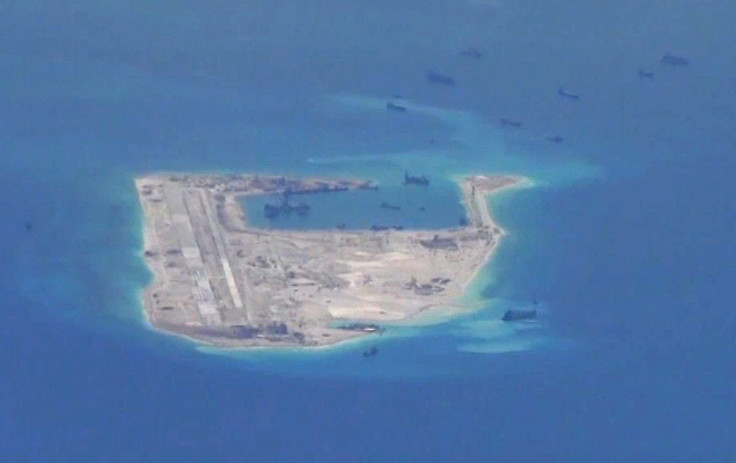 Twenty-seven U.S. Navy commanders and captains quietly climbed on board Monday the Liaoning, China's only aircraft carrier, where they discussed a variety of topics including training personnel and medical protection. The next day, they visited the Chinese Navy's submarine academy and held more talks, all to little fanfare, the Associated Press reported Wednesday, citing the Chinese navy's official microblog. The U.S. Navy's website did not appear Wednesday to contain any reports of the visits.
The visit comes amid reported tensions between the two countries after the U.S. Navy said in early October that it would attempt to send a warship into the vicinity of the islands that China has constructed in the South China Sea, an act largely seen as an attempt by Beijing to lay claim to the sea and its wealth of resources including fishing grounds, shipping lanes and, potentially, oil and gas reserves. The U.S. has said that such artificial territory does not count as sovereign land and portrayed the building of islands as constituting an act of aggression. If the warship visit does happen, it would be the first time since 2012 that the U.S. has challenged China on such grounds.
"Some nations view freedom of the seas as up for grabs, as something that can be taken down and redefined by domestic law or by reinterpreting international law," Adm. Scott Swift, a commander in the U.S. Navy, said the day before the U.S.'s plans to send a warship were announced, Reuters reported. "Some nations continue to impose superfluous warnings and restrictions on freedom of the seas in their exclusive economic zones and claim territorial water rights that are inconsistent with [the United Nations Convention on the Law of the Sea]. This trend is particularly egregious in contested waters."
In February, 29 Chinese naval officers visited the U.S., and Commander Zhang Junshe, the head of that group, said that the countries were carrying out these exchanges to "[reduce] miscalculations and misjudgments and [boost] mutual understanding and trust," according to the Global Times.
© Copyright IBTimes 2023. All rights reserved.