South China Sea Dispute 2015: Malaysia Outraged By China's 'Provocation' In Spratly Islands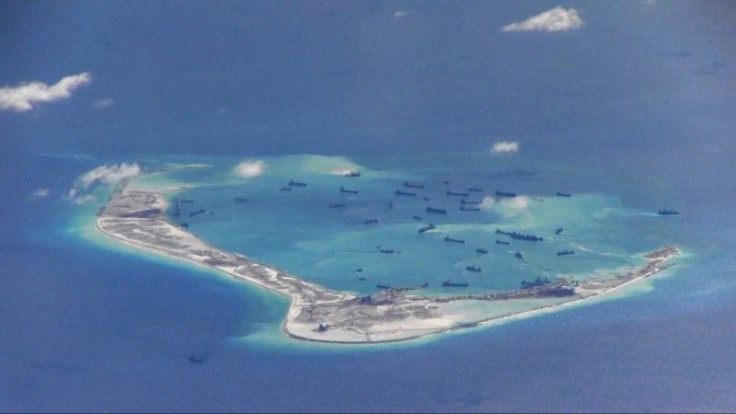 The Malaysian Armed Forces chief slammed China's "unwarranted provocation" in the South China Sea in a rare public statement Sunday. Despite unresolved claims regarding the sovereignty of regions in the South China Sea, Chinese authorities have been constructing artificial islands, including a pair of lighthouses completed Saturday, without the approval of neighboring countries.
"I would like to address the issue of the unwarranted provocation by the Chinese over the construction on the garrisoned islands of the South China Sea," armed forces chief Zulkefli Mohd Zin said during a security forum in Beijing on Sunday, as reported by Reuters. Chinese authorities have been carrying crates filled with tons of sand to the region as they create several artificial islands aimed at reinforcing their land claim over the region throughout the year, revving up efforts over the past few months. Several other nations, including the Philippines, Brunei and Malaysia have also submitted claims.
Zulkefli's remarks on China's "unwarranted provocation" came just one day after China completed construction of a pair of lighthouses on the Spratly Islands. Experts said construction of the lighthouses was part of China's attempt to boost the legitimacy of its claim of sovereignty, Reuters reported.
China's actions, including the construction of an airstrip wide enough for military-grade aircraft, have outraged members of the international community, drawing the attention of the United States as well as several countries in Europe. The Spratly Islands have been disputed territory for several decades, and China has made the largest claim of sovereignty.
The islands are small and mostly uninhabited. But they sit in the middle of several lucrative trade routes, and since they are largely unexplored, they could contain precious natural resources.
"So time will tell as to what China's intention is," Zulkefli said, adding "in the meantime we have got to accept the reasons given by the government of the People's Republic of China as to the purpose of the development of these islands."
© Copyright IBTimes 2022. All rights reserved.
FOLLOW MORE IBT NEWS ON THE BELOW CHANNELS