US-North Korea Diplomacy: Where We Stand After 20 Years Of Failed Talks, Nuclear Threats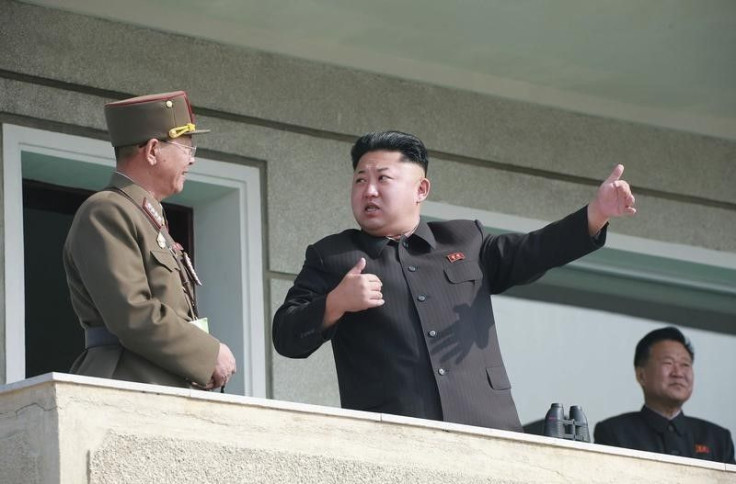 The United States and North Korea were at the brink of war in 1994 when the U.S. military drew up plans to prevent North Korea from acquiring raw materials for nuclear weapons. Since then, the two countries have gone through various diplomatic relations – from the U.S. near-success in getting North Korea to denuclearize, to secret nuclear testing in North Korea leading the parties to abandon dialogue, to the recent imposition of sanctions and possibly relisting of the isolated country as a state sponsor of terrorism. Below is a history of how recent U.S. administrations have tried to deal with North Korea.
Clinton Administration
Then-President Bill Clinton was in talks with North Korea's founder, Kim Il Sung, about easing sanctions and nuclear weapons non-proliferation in 1994 when stalled diplomatic progress resulted in Kim unloading a nuclear reactor, which would have yielded enough raw materials to make nuclear bombs. The U.S. military responded with plans to send cruise missiles and stealth fighters to strike the reactor to stop the recovery of materials, former Pentagon officials said, according to CNN. "I believe it would have resulted almost certainly in war," said Robert Gallucci, who headed the State Department's diplomatic relations 1994. He was sure an attack on the reactor would spark another war on the Korean peninsula, which would have resulted in a million deaths, according to Pentagon forecasts.
The Clinton administration and Kim's government managed to draw up in 1994 what was known as the "Agreed Framework," an agreement between the two countries that would see North Korea take steps to denuclearize in exchange for energy aid and normalized relations. "That was the first meaningful bilateral attempt to halt North Korea's nuclear program," said Charles Armstrong, professor of Korean studies at Columbia University in New York. That agreement would eventually break down nine years later.
Bush Administration
James Kelly, then assistant secretary of state, visited North Korea on October 2002 to look into allegations that the country had a uranium enrichment program. The U.S. delegation reported that North Korea admitted to refining uranium, while Pyongyang denied having said so. Relations between the two countries soured, and North Korea withdrew from the Nuclear Non-Proliferation Treaty in 2003. In 2005, Pyongyang announced it had built nuclear weapons as a self-defense measure, and conducted tests the following year.
As the Agreed Framework broke down, the Six-Party Talks began in 2003 to ensure some relations between Pyongyang and the rest of the world. The United States, South Korea, China, Japan, and Russia were part of the talks with North Korea to discuss ending the North's nuclear program. That, too, came to an end in 2009.
Kim Jong Il, who succeeded his father as leader of North Korea in 1994, labeled the Bush administration as being hostile to its regime, with President George W. Bush naming North Korea part of the "axis of evil" in his 2002 State of the Union Address. The Six-Party Talks continued working, however, on denuclearizing North Korea in exchange for normalized trade and political relations with the outside world. In 2008, Bush removed North Korea as being a state sponsor of terrorism from its list – which it has been on since 1987 – as part of the denuclearization deal. "It was the closest thing we had to a peace deal," said Scott Snyder, director of the U.S.-Korea Policy Program at the Council on Foreign Relations. "The removal of North Korea from that list was the first step toward it."
Obama Administration
Diplomatic relations have been stuck for the last five years, according to Armstrong, and any U.S. efforts to revive talks were thwarted in 2009 when North Korea went ahead with its satellite launch despite international pressure against it. "Rules must be binding. Violations must be punished," President Barack Obama said in a speech in Prague about the satellite launch.
The Obama policy toward North Korea was one of "strategic patience," described by the Council of Foreign Relations as a slightly more passive approach to ensure that any engagement with Pyongyang did not result in "requisite political benefits and could expose the administration to great political risk." "I'm tired of buying the same horse twice," then-Secretary of Defense Robert Gates said in July 2009, according to the New York Times.
North Korea–U.S. relations took a new dip when the North was recently alleged to have hacked Sony Pictures Entertainment over the anti-North Korea film "The Interview." Washington has since placed sanctions on Pyongyang in retaliation, with some speculating that the isolated country might even be put back on the list of terrorism state sponsors.
© Copyright IBTimes 2023. All rights reserved.